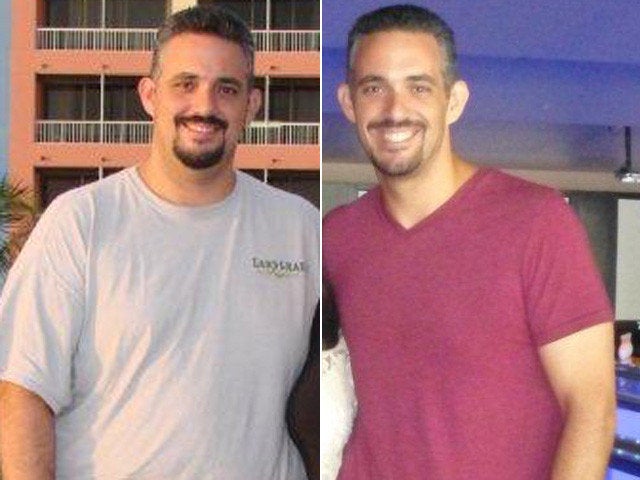 Got a success story of your own? Send it to us at success.stories@huffingtonpost.com and you could be featured on the site!
Name: Richard Ruiz
Age: 35
Height: 6'3"
Before Weight: 370 pounds. I likely weighed more, but I only weighed myself after I started cutting back on food.
How I Gained It: I had been gaining weight since high school. It was a slow progression, but really started to take off in college. Surprisingly, I never snacked on sweets or extra meals. I stuck to two meals a day, but both were very unhealthy. An average lunch would be a McDonald's double quarter pounder with cheese, a 10-piece order of chicken nuggets, large fries, a Coke and a double cheeseburger for the drive back to the office. I never had any veggies and always had heavy starches at dinner. I was wearing 4XL clothes and size 54 pants. I was huge.
Breaking Point: One year ago, I made a decision to change my life. I decided that I didn't want to be the cause of my family having to be in a hospital waiting room wondering if I would survive a heart attack, or a diabetic stroke or any other health issue from me being morbidly obese. My wife and kids mean the world to me, and I can't believe that I allowed myself to weigh 370 pounds.
How I Lost it: I originally set a goal of losing 120 pounds in one year. I started using Weight Watchers online for men and started to go to my local 24-Hour Fitness religiously, Monday through Friday. I would do at least 45 minutes of either the treadmill, the step machine, spinning, swimming or some combination of them, with some light resistance training on Tuesdays and Thursdays.
Not one week has gone by that I haven't gotten in at least five workouts, even when traveling for business and on vacation. I wake up at 4:30 in the morning and am at the gym by 5. That way, I wouldn't be able to come up with an excuse at the end of the day to avoid going to the gym. And I didn't want to interfere with my family time; I'd rather lose sleep than spend less time with them.
When I was losing weight, I was eating salads, lots of veggies and sometimes snacking on healthy options. Now I'm eating five meals a day with more of a focus on protein, since I've recently switched my routine from weight loss to muscle building. Now, I do about 45 to 60 minutes of weight training Monday through Friday, and finish it off with about 15 minutes of either the treadmill or the step machine.
Today, I'm wearing size 36 pants, size large shirts (even some mediums!). I'm the healthiest I have been in ages. I'm lighter now than I was in high school. I can now fly in a plane without needing to ask for a seat belt extender. I can play with my kids without getting winded. Like I said, my wife and kids mean the world to me. My wife has played a huge role in my success; she has completely switched the way we eat at home. She gets the kids ready in the morning while I'm at the gym. It's a huge commitment from her, and I could not have done it without her. I am so happy that I'm healthier now for them and can be here for them longer. That's what motivated me.
Current Weight: 216 pounds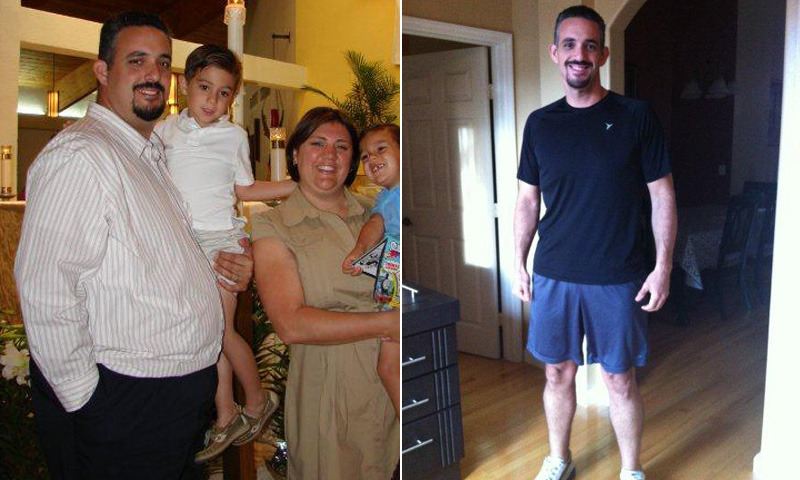 Check out more of our inspiring weight loss stories below: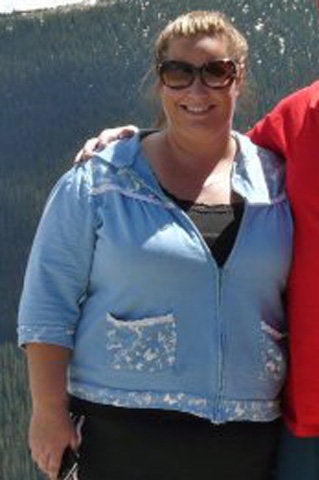 Weight Loss Success Stories
Related