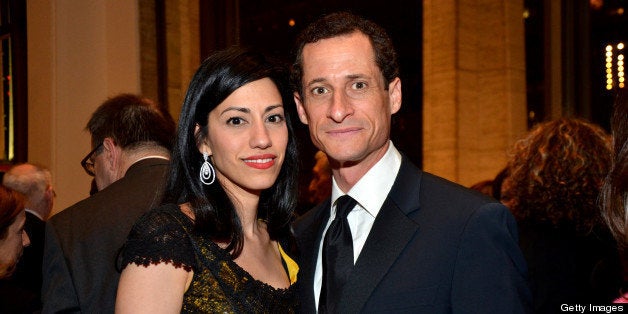 I was having dinner Tuesday night with a major political consultant and asked when did he think Anthony Weiner would finally make it official that he was running for mayor?
Weiner after all was always one of the most active, and colorful members of the NY Congressional delegation. I have known Weiner as a journalist for more than twenty years, having interviewed him on NY1 News, numerous times over the years. The question was not would Weiner run again for mayor, but when?
The political consultant, responded accurate to the letter, "Well very soon. Memorial Day is almost here. So basically he has to the end of the week."
We parted ways, and just like the snap of a finger two hours later, about midnight, Weiner was officially a candidate, via the Internet, immediately pounding away at protecting the middle class.
I moderated a 2005 four-way debate for mayor, and Weiner stole the show. Before a live audience, he had the crowd in the palm of his hands. Weiner is personable, and may ride that "protect the middle class" mantra all the way to becoming mayor of New York.
Guess what he says repeatedly in the video which runs a little longer than two minutes: "I am running for mayor because I have been fighting for the middle class and those struggling to make it my entire life, and I hope I get a second chance to work for you."
Weiner mentioned a better school system, high rents, jobs with good benefits disappearing, and helping small business owners, but the way he went about his announcement was smart.
Borrowing a page directly from Hillary Clinton when she announced in 2007 that she was running for president, via the internet, Weiner controlled the message and made sure supporters of Howard Stern's radio show were not there this time to heckle him (like they did before).
The NY tabloids will go after Weiner, and as far as potential protestors, that may come as well. But that's for another day, another time. Weiner got his message out on his terms.
Watching Weiner's video, I immediately thought back to 1993.
It was clear he was borrowing a page from someone else, the playbook of the man who would later go down in history as "America's Mayor," Rudy Giuliani.
Looking at Weiner's spot, was I watching a Giuliani for NY Mayor commercial again?
Legendary political consultant David Garth had Giuliani -- who had high negatives -- turn to his wife at the time, Donna Hanover, who was effective in TV commercials countering criticism from Incumbent Mayor David Dinkins. Donna Hanover was even the sole subject of a commercial to fend off negative attacks of Giuliani who was known as a tough as nails U.S Attorney. You can see one of the Hanover ads here, but unfortunately there is no audio.
Fast forward to Weiner's video. Weiner's wife, longtime Hillary Clinton aide Huma Abedin sitting at his side offered this comment about her husband: "We love this city and no one will work harder to make it better than Anthony."
So Weiner's comeback tour is underway. He also says in the video: "I made some big mistakes and I know I let a lot of people down, but I have also learned some tough lessons."
One question is how aggressive are the other Democrats in going after Weiner. They ignore him at their own peril so that won't happen. The candidates know Weiner is a serious candidate and must be taken as such a major threat. (He also has more than $4 million in the bank, and just a few weeks ago already polled at number two in the crowded primary.)
There is already bad blood between Weiner and Democratic front-runner Christine Quinn. When I interviewed Weiner just a few weeks ago on RNN-TV, he declared he would not vote for Quinn for her supporting changing the term limits law which provided for Michael Bloomberg to have a third term.
So much for Democratic unity.
Many of you don't think Weiner can be elected. The same comments were made when I predicted a relative unknown, a political novice named Michael Bloomberg, would be the next Mayor of New York. The second response: With all due respect, my friends, call South Carolina or his Washington office and ask for Congressman Mark Sanford.
Calling all HuffPost superfans!
Sign up for membership to become a founding member and help shape HuffPost's next chapter