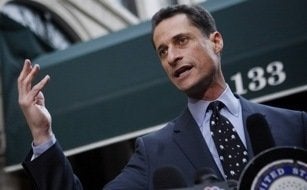 At least one leading House progressive is blaming the White House for the likely death of health care legislation, arguing that President Obama never forcefully made the case for reform.
Rep. Anthony Weiner (D-N.Y.) told the Huffington Post on Tuesday evening that, with some difficulty, he believed that passing a bill in the immediate future was not likely to happen. Part of the problem, the New York Democrat insisted, was that House Democrats no longer believed that the rest of their agenda was contingent on health care's passage.
"I don't think people are buying it as much as they were," said Weiner. "We have been asked to accept as an article of faith that success on health care was a building block for anything else we do all year. And I think increasingly my colleagues are saying: 'Really? I think we can bounce back OK if we move on from it for now.'"
Another major problem for Weiner -- which other Democratic lawmakers have largely kept to themselves -- is a lack of compelling leadership from the White House.
"There is never a big legislative thing like this that happens without the full-throated and muscular advocacy of the president. They just don't happen without it. Now, they decided we are going to do this a little differently, we are going to sit back and kind of let the legislative process go through its ebb and its flow and its groans... To the credit of the president and [Chief of Staff] Rahm [Emanuel], they've gotten further than anyone else has gotten. But what they sacrificed in that was a clear message where voters came away with the idea of: 'Hey, we are getting something of value here,'" Weiner said
For Weiner, the administration misfired by thinking health care could be crafted through negotiation and not the powers of persuasion -- not using the bully pulpit.
"[Obama's] kind of populist thing on taxing the banks, I wish we had seen a little bit of that on health care. He hasn't been really willing to do that. If he went around and did a push on the public option three or four months ago, I don't know," he said. "If he would have been in Nebraska and just given some cover. Go to the University of Nebraska and say to the same 20,000 kids he spoke to during the campaign, 'Look, I need you again and here is what this is about.' Because look, I believe on the merits it was the right thing to do. And then you have the added value that it turned out whenever we talked about it, it was popular."
One of the foremost advocates for a comprehensive health care overhaul, Weiner's quick souring on the process has taken other party members by surprise. While both he and House Financial Services Committee Chairman Barney Frank (D-Mass) have in recent days read health care reform's last rites, leadership continues to insist that legislation will be passed. The administration and its allies have warned House Democrats that their political fate is more threatened if they fail to pass reform than if they rally behind the passage of the Senate's bill (with the promise of future changes).
"If you run away from it, you're still going to get attacked," David Plouffe, Obama's former campaign manager, said on Tuesday evening during a panel discussion moderated by the Huffington Post.
For Weiner, those warnings -- certainly after the Senate election in Massachusetts -- now ring somewhat hollow. The party is bleeding independent voters, he warns. And progressives aren't too pleased either. The predominant concern of voters is the economy and jobs. And until Democrats can earn the trust of their constituents on that front, massive policy reforms become electoral back-breakers.
"The president of the United States has to be more forceful in what he is in favor of and that he kind of gets the idea that the American people aren't happy with the direction we are going. And that simply passing a bill and getting a point up on the board is not going to change that," said Weiner. "On a substantive level, I think this health care package might be doomed and it might not be the worst thing in the world to step back and say we are going to return with jobs first or we are going to do something that more people have a basic handle on, and then maybe we will return and take a deep breath. We need to get our balance back."
The White House did not return a request for comment.
Popular in the Community