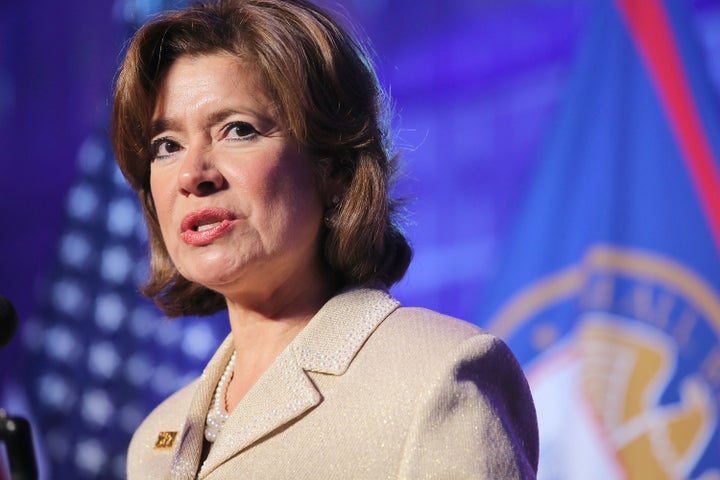 The planned sale of The Weinstein Company to Maria Contreras-Sweet, who ran the Small Business Administration under President Barack Obama, has reportedly fallen through after her investor group got a look at the finances of the multimedia production company.
"We have received disappointing information about the viability of completing this transaction," Contreras-Sweet said in a statement Tuesday. "As a result, we have decided to terminate this transaction."
Per Variety, Contreras-Sweet's group was due to make an initial payment of about $1.5 million on Tuesday. Presumably, that didn't go through. The contract carried no penalty for its dissolution ― often called a breakup or termination fee ― so there would have been little incentive for Contreras-Sweet and her group to see it through after realizing the numbers were unfavorable.
Rather than buy the company outright, it seems the group plans to acquire TWC assets at a discount in bankruptcy.
"I believe that our vision to create a women-led film studio is still the correct course of action," Contreras-Sweet said in Tuesday's statement. "To that end, we will consider acquiring assets that may become available in the event of bankruptcy proceedings, as well as other opportunities that may become available in the entertainment industry."
The original terms of the deal involved a $500 million bid, plus the assumption of $225 million worth of debt and an $80 million compensation fund for victims of TWC co-founder Harvey Weinstein's harassment and abuse.
Weinstein has been named in multiple well-substantiated allegations of sexual assault and harassment, with claims stretching back decades. After women began coming forward in autumn, the company board fired Weinstein, who later checked himself into rehab. Last month, prosecutors in New York announced they're filing a lawsuit against TWC for failing to protect employees from Weinstein's harassment.
Calling all HuffPost superfans!
Sign up for membership to become a founding member and help shape HuffPost's next chapter