Bono was the strangest looking cat I'd ever seen. Apart from his enormous head, shaggy feet and the feather duster tip of his ridiculously long tail, he was entirely shaved.
Dancing across the floor of the Bidawee shelter, he resembled a tiny black lion. I couldn't decide if this kitten-sized creature was ugly or incredibly beautiful.
"We all think you should take Bono," said Jon Delillo, the shelter's cat assessment manager.
My heart sank. Every feline I've been involved with, from Cleo to our psychotic Siamese Jonah, has had a ridiculously large personality. Cats who dangle from curtains and demand I write books about them are wonderful but exhausting.
Several months earlier my U.S. publisher, Michaela, suggested I foster a cat while visiting New York. Safely cocooned in Melbourne, Australia, I couldn't imagine anything could go wrong.
Friends warned me not to agree. It was crazy, they said. But the quirkiness appealed.
When people think of doing community service while abroad, they associate it with digging wells and slapping mud huts together.
I liked the notion of visiting the center of the Western World not as an author or tourist but as a person willing to put something back, and maybe leave a tiny corner better off.
My visit would have more meaning than dizzy rounds of interviews and sight seeing. I'd return home nourished not numb. Who knows? Maybe I'd even spearhead of a new form of travel to the world's great cities.
Besides, I was pretty safe to say yes. The prospect of finding a pet friendly apartment in New York was close to zero.
The universe and my daughter Lydia have a habit of making things happen. After weeks trawling the Internet she found a pet friendly apartment not far from the U.N. building.
Which is how I ended up in an animal shelter trying not to fall for the charms Jon insisted Bono possessed.
If I was going to foster any kind of feline, it was going be a "normal" one who'd doze on a window ledge and behave like a proper cat. Such as the elderly tortoiseshell waddling past on her way to the food bowl.
A hyped-up punk rocker called Bono was definitely not on my To Foster list.
"We had him shaved because his fur was matted, " Jon explained, smiling fondly down at him.
As Bono pranced past the cages, dodging occasional bats from larger cats, his Ugg boot feet barely touched the floor. He had an overstated style that might appeal to a rock star, or a self-proclaimed hipster like Lydia.
"He's adorable!" she cried.
Between Lydia and Jon, I was in a rock and hard place sandwich.
That was when I made tactical error number one. I listened to Bono's story. Rescued from a municipal shelter on Long Island six months ago, Bono is about four years old -- usually a good age for a cat to be adopted. His looks and friendly personality attract many potential owners.
However, when they learn he has chronic kidney failure and about three years to live, they back off.
"He may never get out of here," said Jon scooping Bono into his arms. "He deserves a holiday."

Tactical error number two was to look into the amber orbs of Bono's eyes. Their unworldly beauty shone right into my heart. I reached out to touch him, but he wriggled from Jon's arms and sprang on to the floor.

"Has he ever had a home?" I asked.

"He's too sociable not to have lived with people before," Jon replied.

While Bono showed no interest in me, he stepped tentatively toward Lydia when she crouched and spoke softly to him. He even allowed her to scratch his forehead briefly.

Jon demonstrated how to give Bono his daily pill. It didn't look much harder than administering Jonah's antipsychotic dose back in Australia. Tilt the head gently back, prise the jaws open and aim the pill for the depths of the throat.

"He could gain a pound or two," Jon added. "He's a fussy eater. Maybe you could try giving him some fresh turkey."

Bono certainly was scrawny. Being the smallest cat in the shelter and at the bottom of the food chain, he probably burnt up a lot of nervous energy.

Jon loaded up some bags with Bono's favourite food along with a soft, high walled bed.

"He's going to be freaked out," he advised. "Keep him in a small space like a bathroom for the first couple of days. Take it slow. He may hiss to begin with. Don't push the interaction."

Even though Bono was a clear favourite with staff, Jon reminded us he's a stranger to one on one relationships with people.

At the shelter, it's not unusual for a cat to spend 15 hour stretches in his cage. Any time we gave him would be more than he's accustomed to.

"Put him at his leisure to interact with you. Talk to him. The sound of the human voice works wonders. When we get feral kittens we often read them books."

Not for the first time, I felt humbled by the enormous heart of animal welfare workers. Reading to kittens indeed.

As Lydia carried Bono home inside his case to our pet friendly apartment, we fussed and cooed like a pair of first time mothers. Two golden eyes gazed out through the wire mesh.

"I hope we haven't made a mistake," I said.

It wasn't long before I thought we most definitely had.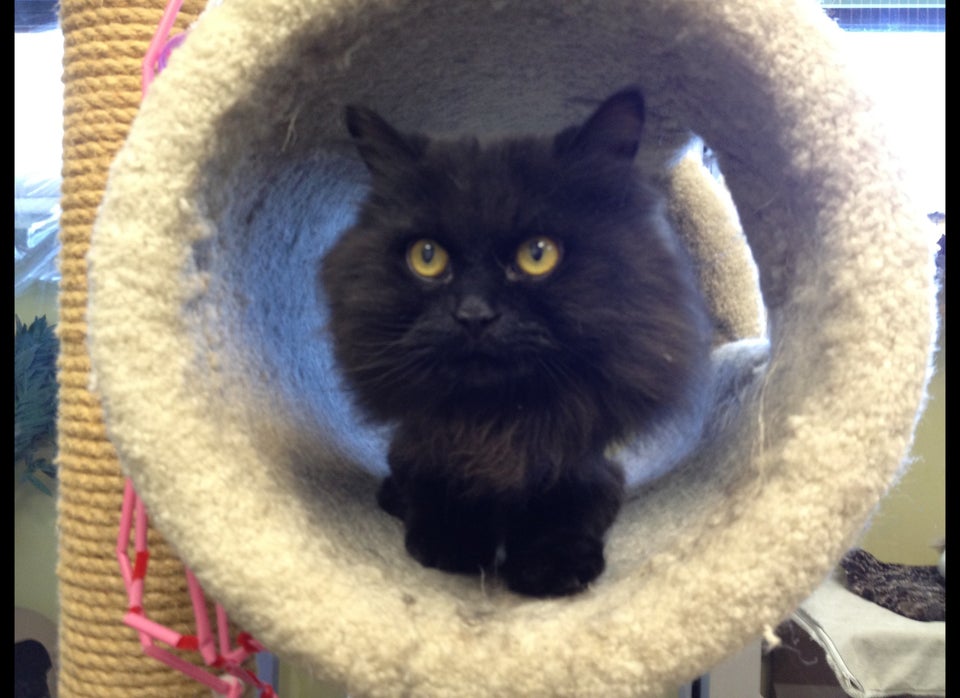 Welcome Bono: How fostering a cat while visiting New York can be a key to the city's heart
Popular in the Community