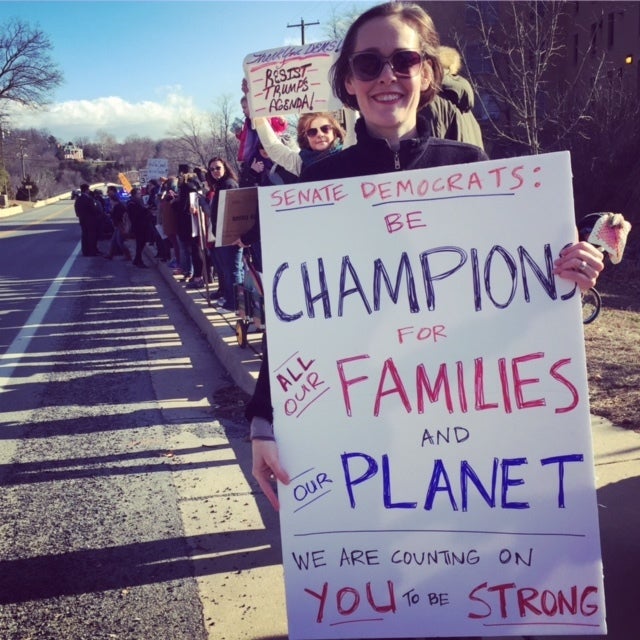 Many things about the Women's March last weekend made me hopeful that a new spirit of activism was being born in this nation ― living in a town of 2,000 people that organized seven buses to the march, stepping off one of those buses and into a river of humanity that flowed from the bus to the metro to Independence Avenue, witnessing the leadership of women of color and young women in D.C., seeing photos of family and friends who had never marched before joining rallies across the country. It was one of the most powerful days of my life, and I felt like I was helping to make history.
Yes, the Women's March gave me hope that a new era of activism was dawning in America. But it was the rally Thursday morning in Shepherdstown that confirmed it.
Just Wednesday, word began to spread locally on social media that the likes of Bernie Sanders and Elizabeth Warren ― leaders that Americans are counting on to block the Trump agenda ― would be in town for two days, for the winter retreat of the Senate Democrats. A CNN truck appeared by the public library. The West Virginia Women's March group announced a rally.
In less than 24 hours, at least 300 people ― almost a quarter of the population of our town ― had assembled outside the Bavarian Inn with signs and banners, and by 9:45 a.m. that feisty crowd had the ear of every Democratic US Senator in the nation. Over 700 people streamed through over the course of the day. By that evening, video footage of the rally by local small business owner Maria Allen, which is included with this post, was front and center on the Rachel Maddow Show (listen at the 26-minute mark here), and Senator Franken made it clear we had gotten the attention of all the Senate Democrats.
If you were worried that the Women's March was a flash in the pan, worry no more. I'm here to report from small town America that a new era of activism is upon us.
As one participant in the Shepherdstown rally told a reporter, "I've never fought for anything like I am now." Millions of us can relate, and we're turning out, from the hundreds who rallied at the White House on Tuesday just hours after Trump signed executive orders to move forward the Keystone and Dakota Access Pipelines, to the thousands who flooded the streets of Philadelphia for three straight days of massive protests against congressional Republicans meeting in Philly for their retreat.
Trump's first few days in office have been rough, from issuing orders on the Keystone and Dakota Access Pipelines, to suspending grants and websites and free speech at the EPA, to targeting immigrants and initiating the border wall. And that's just the tip of the iceberg. Fighting back is going to take the kind of sustained activist spirit I just saw in my town this week, and that I hope you're seeing in your town, too.
We can block the Trump agenda ― make no mistake about it. Most of the big changes Trump wants have to go through the U.S. Congress, which is where all those Senate Democrats come in. If they stay strong and united, many of Trump's bad ideas will be dead in the water. That's why we have to keep turning out to rallies, going to events with our elected officials, meeting with them and their staff, calling and writing and posting on their social media pages, and making sure they hear the voice of the people.
For those items on Trump's agenda that don't involve Congress, we'll fight back in the courts and in our communities. When it comes to climate change and clean air and water, states and cities are still the places where most decisions are made about how we make energy, and the number of coal power plants and solar panels we have four years from now will be determined by grassroots Americans ― not Donald Trump.
As one example of how we keep moving forward, just yesterday a New York utility approved, with the support of Governor Andrew Cuomo, the nation's largest wind farm off the shores of Long Island, which will produce enough energy to power 50,000 homes and support lots of good jobs. This victory came shortly after the Governor committed in his 2017 State of the State to build enough offshore wind to power 1.25 million homes over the next decade and directed his agencies to begin to plan the pathway to 100 percent clean energy for New York. This milestone victory was the result of a five-year campaign by a coalition of over 40 environmental groups (including Sierra Club's Beyond Coal Campaign), labor unions, and community leaders.
This is the kind of progress that Donald Trump can't stop, and we're going to keep moving forward. Here is how you can help right now:
Join a Sierra Club rapid response team in your state by filling out the form at sc.org/RR.
Plan to march with us in DC on April 29, or at a sister event near you, at the sure-to-be-massive People's Climate March.
White folks ― we must educate ourselves about white privilege and work to end racism. I encourage you to check out Showing Up For Racial Justice for resources and actions.
Most importantly, get together with friends and starting plotting what you can do in your community, with your networks, to make sure decision makers are hearing your voices. Show up. Stand up. Speak up. We need you, now more than ever. Join us, and let's keep making history together.
Popular in the Community