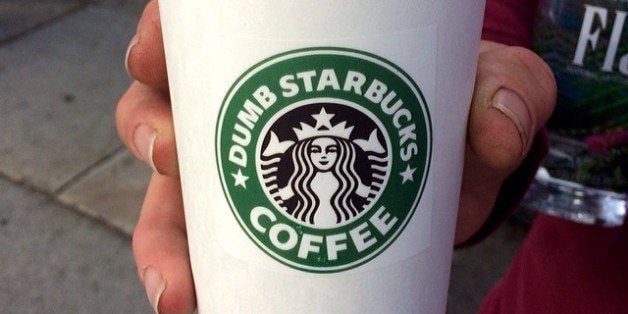 Nearly two years ago, on February 7th, 2014, a small strange coffee shop opened. The coffee shop, purposefully named "Dumb Starbucks," gained the attention of a confused few, who mistook it for the actual Starbucks, but overall flew under the radar. The next day, business was booming. Word had spread of this strange new Starbucks rip-off called "Dumb Starbucks," and the line to get a cup of Dumb Coffee suddenly became two hours long. News sources across the country, and world, became intrigued as well, questioning the legality and purpose of this strange store. The day after, Dumb Starbucks announced a Brooklyn location opening later in the Spring; meanwhile business was still through the roof. On the 4th day of Dumb Starbucks's life, it met a quick demise at the hands of LA health inspectors, who never gave the establishments the necessary permits to serve food and drink.
Dumb Starbucks turned out to be the creation of Nathan Fielder in his TV show Nathan for You. The point of the show is for Nathan to approach failing small businesses and give them some sort of gimmick that would help them stand out from the competition. In this episode, Nathan suggested to the owner of a failing coffee shop that they should abuse "parody law." This law states that any business name or logo can be used, as long as it's being used as a parody. The way Nathan made a parody of Starbucks was to just slap the word "dumb" in front of everything. Nathan's goal for this business was to have people mistake it for a real Starbucks so they would get in the door and feel obligated to order since it looks the same. Nathan never expected his creation to become the subject of international news and discussion.
People began to see Dumb Starbucks as art, especially since Nathan said it was. To make the parody law work, they couldn't be a restaurant, but an art gallery. This meant that the food and drink could be considered part of the art, which also meant they didn't need a permit (or so they thought) to serve food and drinks. When one customer asks who is responsible if they get sick from the food, Nathan responds with, "Well, since it's considered art, we'd say that if you do get sick, it's part of the experience with the art..." This answer didn't go over great at first, but people saw Dumb Starbucks as something much more than just the mediocre food and drinks.

Dumb Starbucks suddenly became a massive message. People saw it as a fight against big corporations, and supported Dumb Starbucks in its David-and-Goliath-like-fight against the big guy. Before it became known who had actually started Dumb Starbucks, a rumor spread that it was the creation of world-renowned infamous street artist Banksy.
Nathan was astonished at the reaction, and irony of the whole situation. He was compared to Banksy for creating a business that happened to screw the real infinitely larger version of itself due to a loophole, yet his goal in creating the business was to make money. People interpreted this rip-off as a shot at big businesses and corporations, and instead gave money to a business whose only goal was to make money. Just like with anything, you can interpret it however you wish, it still sent a great message even though that wasn't the end-goal of the business at all.
Related
Popular in the Community