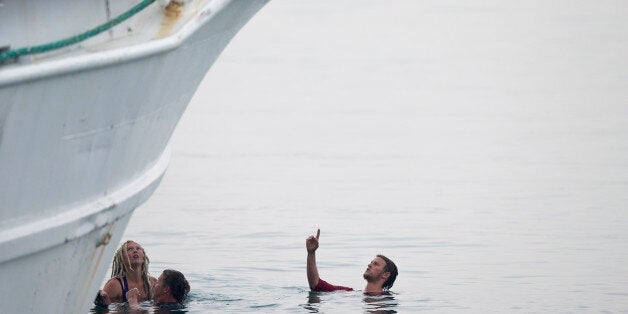 This summer the images of drowning and dead people will stalk you in the media. The recent images of a dead African baby pulled from the sea is now being compared to the September 2, 2015 images of Aylan Kurdi lying face down on the beach of a Turkish resort in Bodrum. They look peaceful, almost sleeping. But that is not the reality of drowning at sea. Our crews deal with this on a regular basis and we choose to head out because we know we will save more lives than will perish.
Last year the impact of that single death mobilized global citizens into donating 2.4 million euros to the Migrant Offshore Aid Station, an NGO I started in 2013 with my wife Regina. We took that money and outfitted a ship, the Responder whose fast rescue boats are now named Alan And Galip in honor of the two boys. We have a perfect record of no deaths caused by rescues and we hire only the best professionals on board. We have media embeds and document everything we do so we operate in a transparent manner.
I am sure people's sense of humanity will be outraged again as we set out on June 6 to begin our third season rescuing people in the Mediterranean. We set out with some apprehension that this year will be very different, almost like a war.
War is defined as "a state of armed conflict between different nations or states or different groups within a nation or state." We have a group of nations in Europe that are using a massive moat, new walls, barbed wire and push backs to repel desperate people from other states. And we have people in those nations who refuse to lose their humanity and let people drown needlessly. A war of conscience perhaps.
This year will be busy. So far 203,981 people have braved crossing the Aegean and the Mediterranean in 2016. The weather is just turning friendly for the people waiting patiently for a space on a boat that may or may not make it to Italy from Libya or Alexandria, Egypt.
The scale of mortality so far this year is daunting. Take out the word "armed" and you have a snapshot of what MOAS experiences in the Mediterranean with death rates that this year already exceed 2,200. The figure rivals or even exceeds the civilian death toll in war zones like Afghanistan, Nigeria, Somalia, Kurdistan, Yemen and Libya.
And many of these families are fleeing war or persecution in any case; bombings in Syria, a stifling dictatorship in Eritrea, ethnic cleansing in Iraq, terror threats from Boko Haram, al Shabaab, ISIS, al Qaeda. Many other young Africans also also fleeing the crushing effects of growing up in countries unable to offer them any real opportunities for a bright and decent future.
They come from all parts of the world, Africa, the Middle East, South Asia and Asia all want a better life. The deaths by drowning are just a cruel form of collateral damage as each person consciously makes a decision to run for it knowing full well that high odds of abuse, injury or death that await them.
As of June 1, 2016 according to UNHCR statistics the death toll in the Mediterranean stands at 2,510 dead and drowned compared to 1,855 last year at this time and only 57 when MOAS started in 2014.
If you dig into those numbers for the Central Med this year you see a mortality rate of 1 in 23. In other words, for every 100,000 people that get on a leaking raft or rotting fishing boat in Libya or Egypt, 4,339 people will likely drown; a statistic that compares to the mortality rate in many modern combat zones and even in some older European wars. The same wars that sent crowded boats of European refugees to America, Israel and other safe harbors.
And this number of dead does not include what MOAS calls the "Dead Zone" the first few miles from the Libyan coast. We know from the bodies recovered on the Libyan shores, week-in, week-out, that there are hundreds more migrants who die in these waters but that their deaths never get reported. If Europe had to engage with this tract of sea, the death toll would be far higher.
This year MOAS will do it's best to save lives with our two ships. So far, the Phoenix and the Responder have saved more than 13,000 people. The Phoenix is just back from the Andaman Sea where it was engaged in a research mission intended to bring attention to the plight of the Rohingya in Myanmar and Bangladesh.
The Responder arrived in Malta this week from the Aegean where the crew battled winter storms and angry political winds to rescue hundreds of desperate Syrian families. We are heading out again with two 100km/h Scheibel drones. For the first time, we will scan the Dead Zone in Libyan waters and hoping that we along with other search and rescue partners can reduce this holocaust in the Mediterranean.
With this in mind, we expect this year to be especially challenging, despite the presence of more rescue ships in the Central Mediterranean; an uplifting trend started by MOAS in 2014. There is currently an ongoing conflict with the Islamic State in the Libyan coastal city of Sirte and there is a build up of movement in Egypt, from where the journey is even more arduous than it is from Libya. But we can thank our supporters for showing that no matter what obstacles are thrown our way, we will continue to save lives at sea.
We accept that Europe cannot shelter or accept any person that chooses to enter legally or illegally, Europe has an obligation to protect their borders and Europeans are entitled to have a safe nation of law-abiding citizens. After all that is whey they are coming to Europe. But why must they brave a higher death rate?
Europe has learned the hard way that intolerance is not a good answer to fear and that is why Europeans are a union of tolerant, industrious people that need migrants and experienced workers to build their futures. Europe does not need to become a brutal, unyielding, prejudiced place that builds new walls, barbed-wired faces and hate campaigns to keep potential migrants out. This only plays into the hands of extremists, the exact people many of these refugees are fleeing from.
We hope we can make a difference at sea, and we hope concerned citizens will make a difference on land.
Calling all HuffPost superfans!
Sign up for membership to become a founding member and help shape HuffPost's next chapter