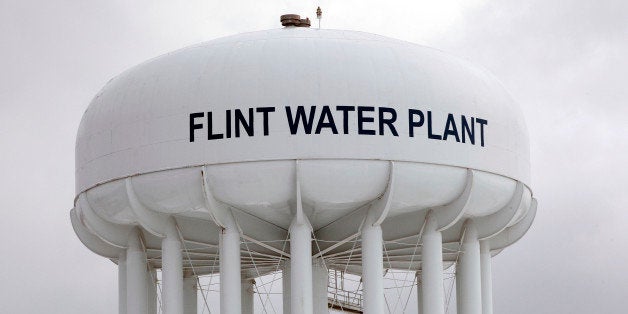 It used to be one of those "ugly American" tourist jokes. When you were about to travel "south of the border" or to some other semi-civilized place, people would say: "Have a great time. But don't drink the water!" There was even a 1969 movie with that phrase as its title.
Half-a-century after that movie, welcome to Flint, Michigan.
The residents of Flint can't drink their water right now because it is contaminated with lead. And lead isn't like the stomach parasite you might get "south of the border" either. It's permanently toxic and it damages the brain.
The proximate cause of this disaster is a decision to change Flint's water supply. Stuck in a financial crisis, Flint was taken over by a state-appointed emergency city manager. Several, in fact, in rapid succession. Looking to cut costs, one manager decided in 2013 to switch to a new regional water authority; the water coming from the City of Detroit was just too expensive. The cost-saving scheme had a hitch, though. The new supplier would take water directly from Lake Huron, but that system was not scheduled to go on-line until 2016. So in the interim Flint would get its water from the Flint River instead.
By the spring of 2014 residents were complaining about the taste, smell and color of their new water. Tests revealed it was full of E. coli, and residents were instructed to boil their water before using it. More tests early in 2015 started to turn up lead, probably from corroding pipes. After much hemming and hawing, a small-scale cover up, and a Reagan-esque use of the passive voice -- Republican Governor Rick Snyder finally admitted that "things were not fully understood" without ever being specific about who didn't understand what -- a public health emergency was declared on October 1, 2015.
For Flint residents, and for the city's parents in particular, this is an urgent crisis. Local pediatricians report that the percentage of kids with unsafe exposure to lead may have doubled because of the change in water supply. I can't even imagine the dread those parents must feel right now. For the rest of us, however, Flint should stand as a cautionary tale for our time, a symbol of an age where all public spending is viewed as bad and where we have been content to let our infrastructure crumble rather than raise the money to fix it.
It goes without saying that clean water is a basic necessity of life, and the United States once led the world in providing access to that resource. When Philadelphia opened the first municipal water system in the world in 1801, pumping water into a reservoir and then through pipes into city homes, it was regarded as one of the engineering marvels of the age. It was a must-see stop for any European visitor, and New York and Boston followed suit with their own municipal water systems in the 1840s.
As the nation industrialized and urbanized at an astonishing pace at the turn of the 20th century, state and local governments busied themselves with all sorts of civic improvements. Clean water, sanitary sewers, paved streets, gas and then electric lighting, parks, schools and libraries. We continued to invest in those things in the 20th century too. President Dwight Eisenhower's interstate highway project is probably the single largest civil engineering project in history.
Then we throttled back or stopped altogether. We took it all for granted, clean water and the rest. We assumed it would always be there and, more to the point, that we wouldn't have to pay to maintain all those systems. Tax cuts and austerity budgets today -- fixing the things that need to be fixed sometime later. Ronald Reagan didn't preside over the shrinking of government so much as an Age of Deferred Maintenance. He -- we -- have kicked the cans down increasingly pot-holed roads.
Let me be more specific: between 1950-1970 infrastructure spending amounted to 3 percent of GDP; by the end of the 1980s it had been reduced to 2 percent. In the 1970s the federal government's contribution to infrastructure projects stood at roughly 40 percent; by 1989 it had been cut to 25 percent. The accumulated bill for our generation of neglect, according to the American Society of Civil Engineers, stands at $3.6 trillion and rising. And as the highway bridges collapse and the water systems fail, billionaire NFL owners make even more money from publicly funded stadiums.
Flint's tap water serves as indictment of all those who believed that the private sector can fulfill our social needs and that tax cuts matter more than public investments. So welcome to Flint, USA! A great place to visit -- just be careful drinking the water.
Steven Conn is the W. E. Smith Professor of History at Miami University in Oxford, Ohio. He edited the book To Promote the General Welfare: The Case for Big Government (Oxford University Press).
Popular in the Community