Warning: This article contains erotic depictions of cute, furry animals and may not be appropriate for work environments.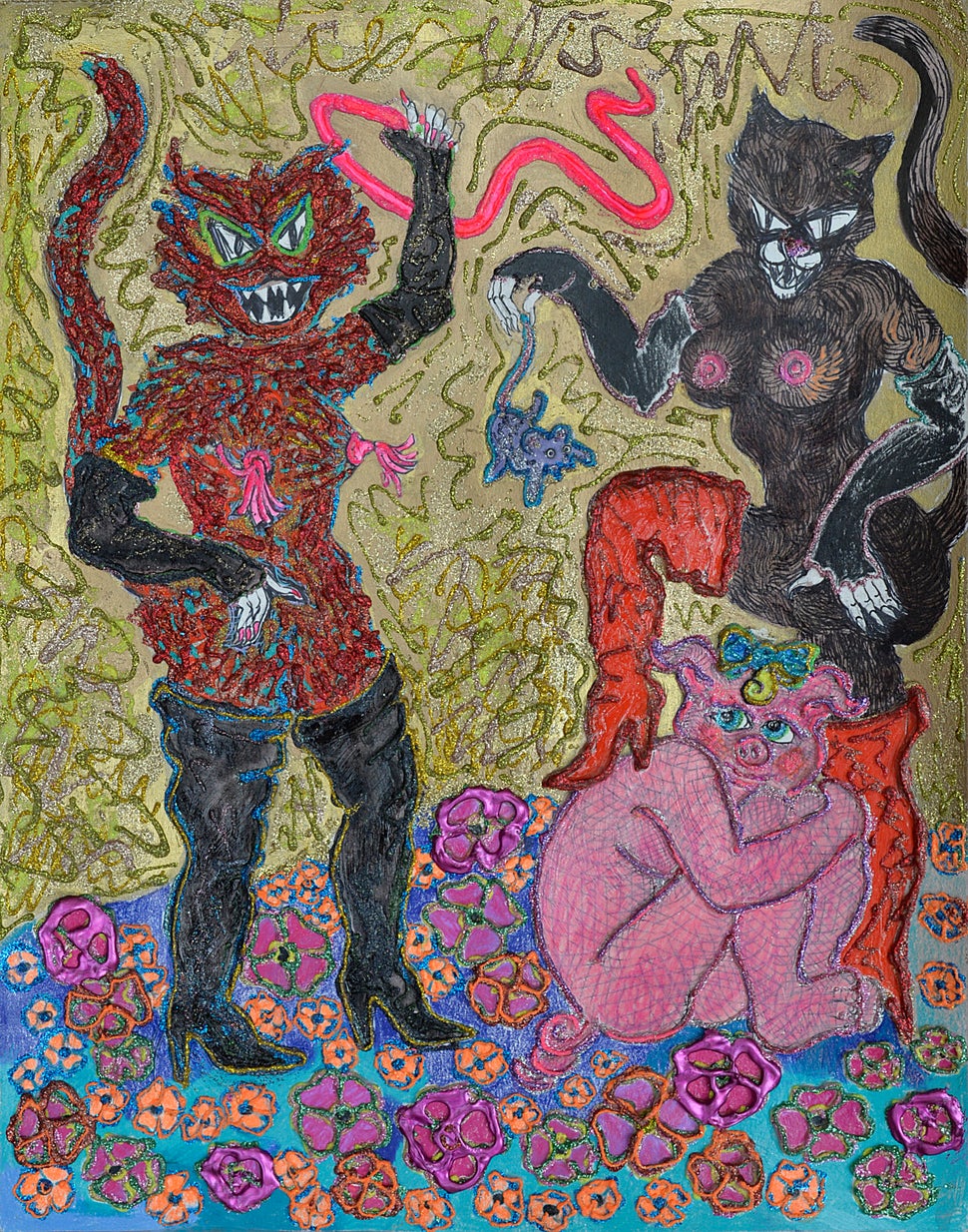 In the human world, a sex kitten is a grossly misogynist term used to describe a young woman who exudes a mythical combination of innocence and sexuality, a synthesis primed to arouse dudes. In Irena Jurek's hand-crafted world, a glittery, X-rated bizarro zootopia, the sex kitten is replaced with a grown-ass cat woman. While the sex kitten is submissive and sweet, seducing her suitors with a coquettish babydoll pose, Jurek's cat woman dominates the scene, taking charge of her sexuality with a wild, almost frightening intensity.
In the image above, titled "This Lil Piggy," two fierce cat women heckle a pristine little piggy, who seems to seriously regret venturing to market. Donning thigh high boots, fingerless gloves and tassel pasties, one cat brandishes a shocking pink whip above her head, while the other dangles a mouse before the petrified piglet. These cats are not just sexual, they're rowdy, savage, feral. It almost seems as if Jurek's attempt to give her figures sexual agency was derailed by their untamable ferocity, and now they've run amok. 
"There is a very feminist idea behind them that can't be denied," Jurek explained to The Huffington Post. "It's taking these figures -- sex kitten, the sex bunny -- and changing the power dynamic. There's always so much going on in terms of power, sexuality, and even cruelty, in the way people interact with one another. The images look very fantastical but underneath it's all very familiar."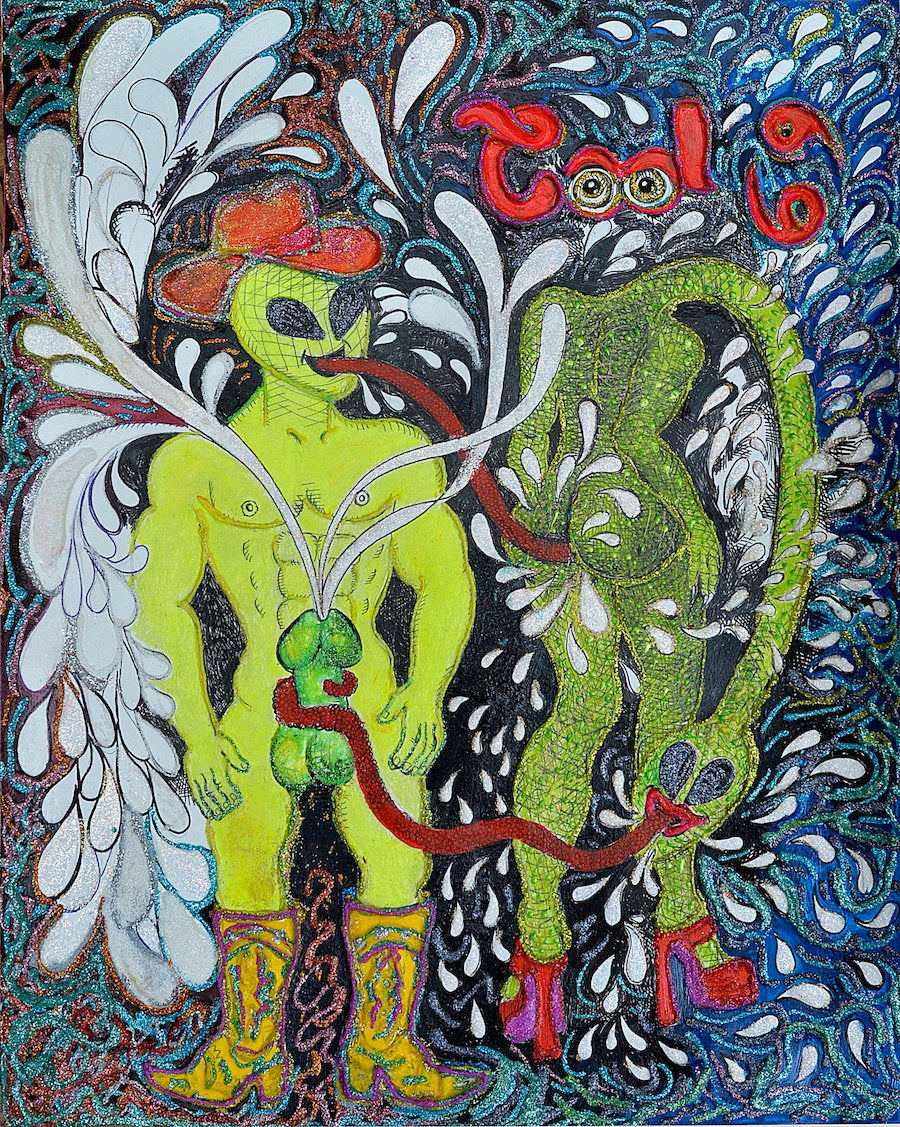 Jurek's work is currently on view in an exhibition titled "Body Talk" at Mass Gallery, featuring three artists exploring the visible and invisible oddities that spring from the universal experience of existing in a body. "We all tap into a psychological space, in addition to the physical," Jurek said. "Although I can only speak for myself, I do get the impression that we are all talking about how bizarre the experience of navigating through the world in a physical, impermanent body actually is. Within all of the work there is this surreal sense of ferocity which taps into the grotesque."
The exhibit features work by Johnston Foster, who creates brightly colored sculptures that resemble hallucinatory doppelgängers to scientific models, breaking down the human body into objective parts that then balloon into fanciful absurdity. And then there's Jared Theis, whose video works explore imagined mythologies in which organisms evolve through their own fanciful rituals. For Jurek, the focus is on the feminine perspective. "You cannot talk about the body without talking about gender, and my work is very much about the experience of being alive as a woman."
Born in Krakow, Poland in 1982, Jurek moved to Chicago when she was just over 2 years old. As an only child, she spent nearly all her free time reading and drawing. Even as a kid, she mostly drew what she describes as "furries" -- anthropomorphic animals engaging in humanlike activities. Specifically, Jurek drew "a lot of bird princesses" -- princes and princesses with beaks, which helped assuage the problem that she couldn't quite draw faces yet.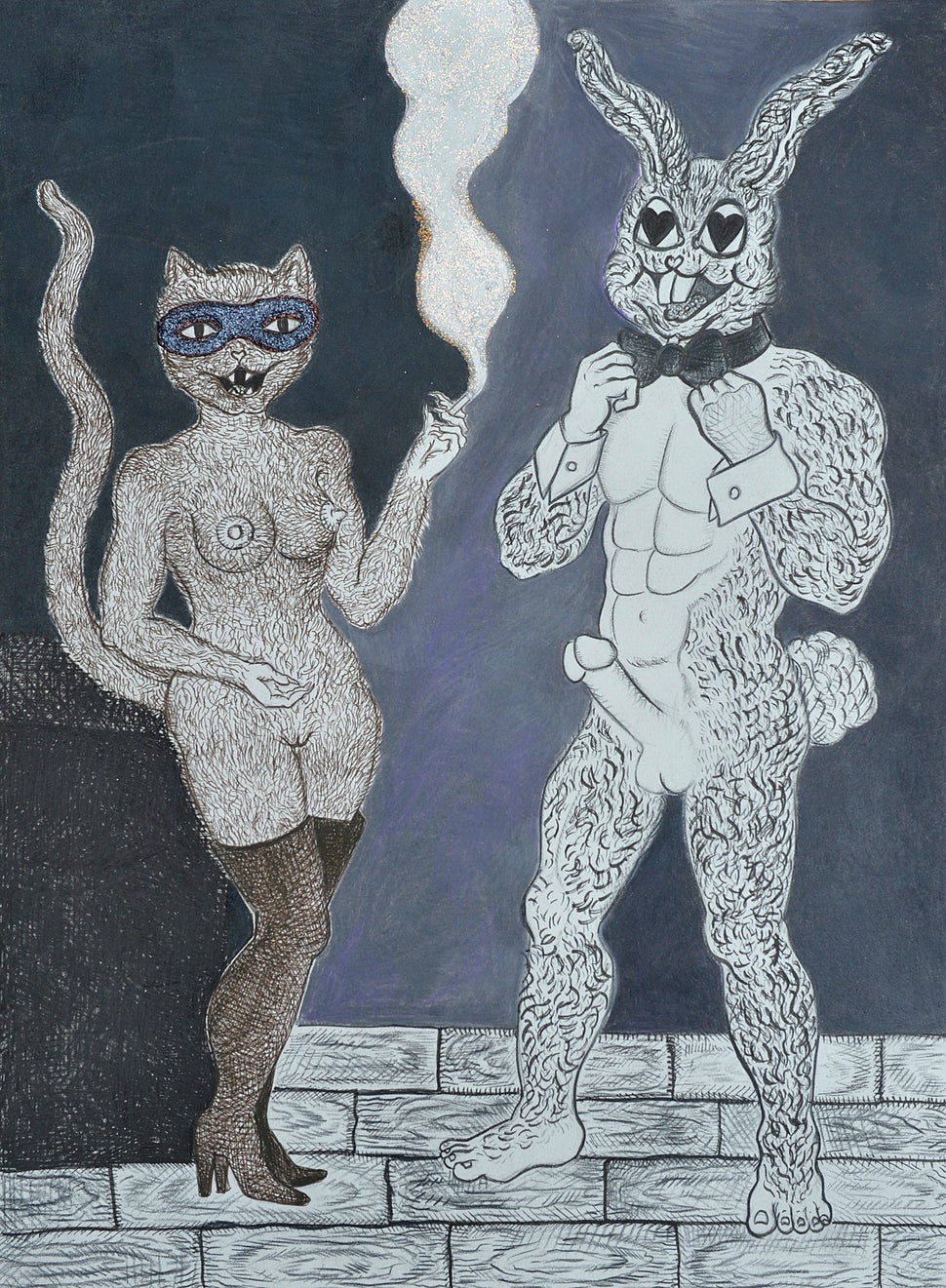 As a teen, Jurek recalled sex ed as an unnerving experience, teaching students to fear their bodies and desires. "It was all AIDS, dying, death," she said. "We were pushed to be terrified of our bodies." The only class that meant something was art class, and thus, that was the only homework that ever got finished. 
Later, in art school, Jurek felt pressure to make "serious work, whatever that means." Before the Internet provided unlimited access to the expansive landscape of contemporary art, Jurek felt pressure to emulate work from an older, Modernist generation. "It was awful, it wasn't really at all my personality," she said. In her sketchbooks she'd doodle cartoon characters similar to the ones that now occupy her work, but for a while she didn't consider them "serious art" material. 
It was a Jeff Koons retrospective in 2008, oddly enough, that helped Jurek realize there were artists who took playful art very seriously. She had just finished graduate school and was inspired by Koons' "over-the-top decadence and absurdity." Another influence was painter John Currin, whose portraits of women combine classical Renaissance softness with lurid pornographic details that skew his subjects to appear sexualized, awkward and grotesque. "I remember at age 20 realizing these women hanging in museums were these dumb things for men to have their way with," Jurek recalled. "It really bothered me."
Though Jurek was disturbed by the misogynist bent of Currin's work, she's hesitant to moralize when it comes to individuals' tastes. "What we're turned on by and what we believe in doesn't always add up," she said. This dogged ambivalence appears constantly throughout Jurek's work, which alludes to the often confusing complexity of sexuality through her furry allegorical friends. "It's not always as simple as 'men objectify women.'"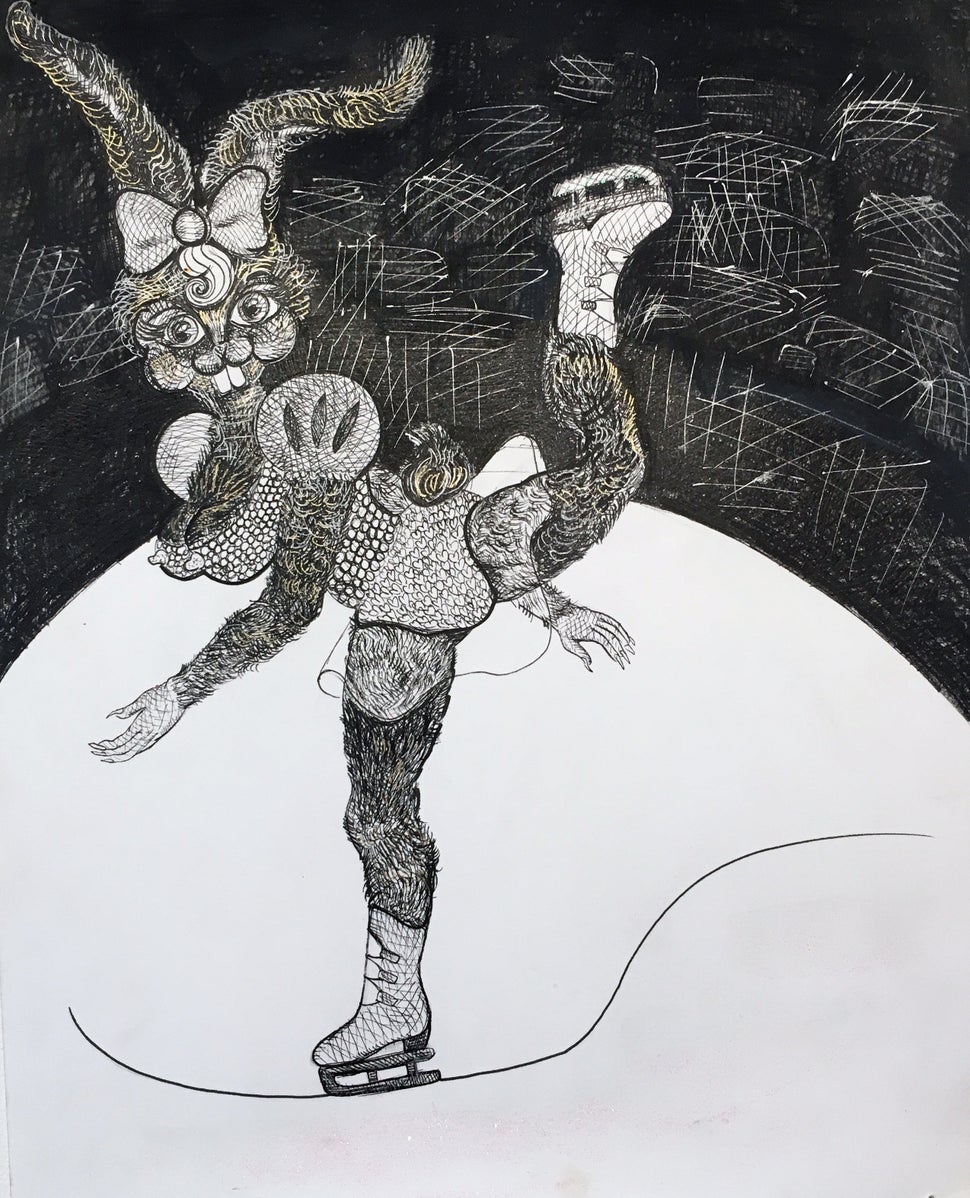 There are no strict laws governing Jurek's animal kingdom. In some images, for example, a wolf embodies the stereotypical persona he's often allotted in cartoons and folklore: sneaky, sexual, dangerous. But in some images, wolves are portrayed quite the opposite, as cowardly and meek. "What you see is not always what you get," Jurek said. "We take a shorthand approach to things and we stereotype. Just based on what people dress or the way they speak, sometimes the surface doesn't really add up with what's underneath. Sexuality is more complicated than people want to admit."
I ask Jurek if she's seen "Zootopia," the animated film about a world full of animals who've evolved past their stereotypes, though are still often reduced to them. While "Zootopia" revolves around the roles of predator and prey, Jurek's zoological realm is perhaps governed by the laws of attraction, with the roles of dominant and submissive, Madonna and whore, sexy kitty and big bad wolf, all thrown out of whack. 
For Jurek, the humor that comes across in her drawings, which take on average about 40 hours to create, comes relatively naturally. "I joke about everything," she said. "It's a defense mechanism." As for the narrative concepts, she obsessively keeps lists of ideas, source images and potential inspiration. "Right now I'm working on an idea of a female pig devouring a sausage man on a plate," she explained. "Obviously its phallic and sexual but it's also a form of cannibalism. I often have all these things flying around in my head, it can be a mess in there."
In relation to the larger "Body Talk" exhibition, Jurek's work speaks to the animalistic instincts that govern our bodily existence. While Jurek's view of sexuality and physicality growing up was governed by shame, judgment and fear, today, she described, is a different, more sex-positive world. "It's about health, sexual pleasure, and enjoyment," she said.
"Body Talk," featuring work by Johnston Foster, Jared Theis, and Irena Jurek runs until April 16, 2016 at Mass Gallery in Austin, Texas.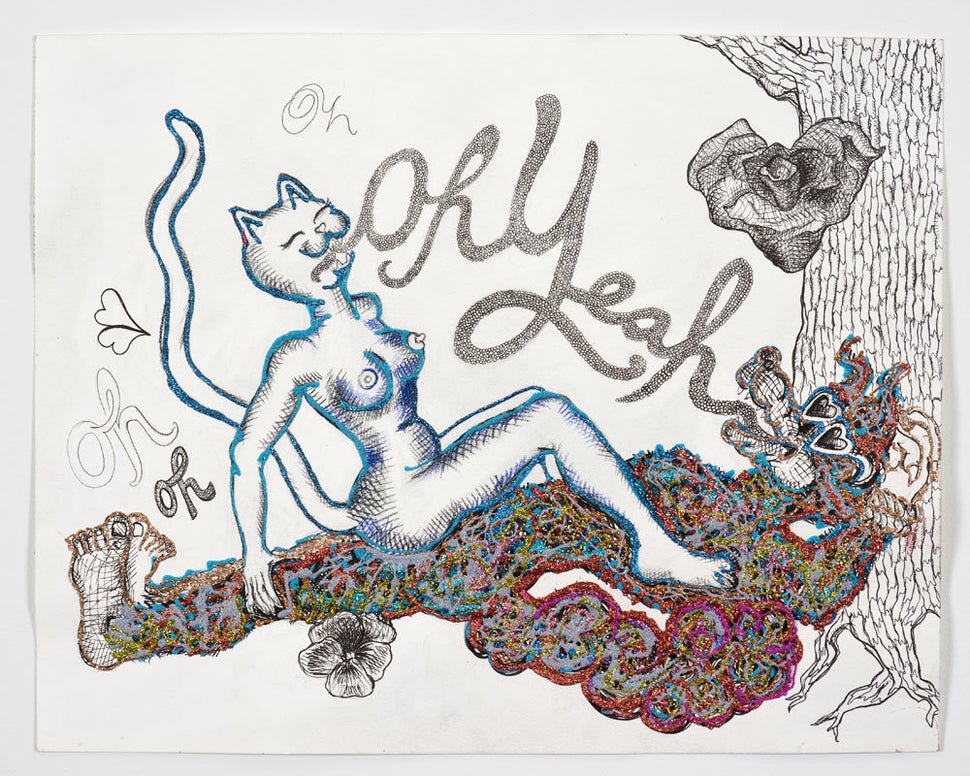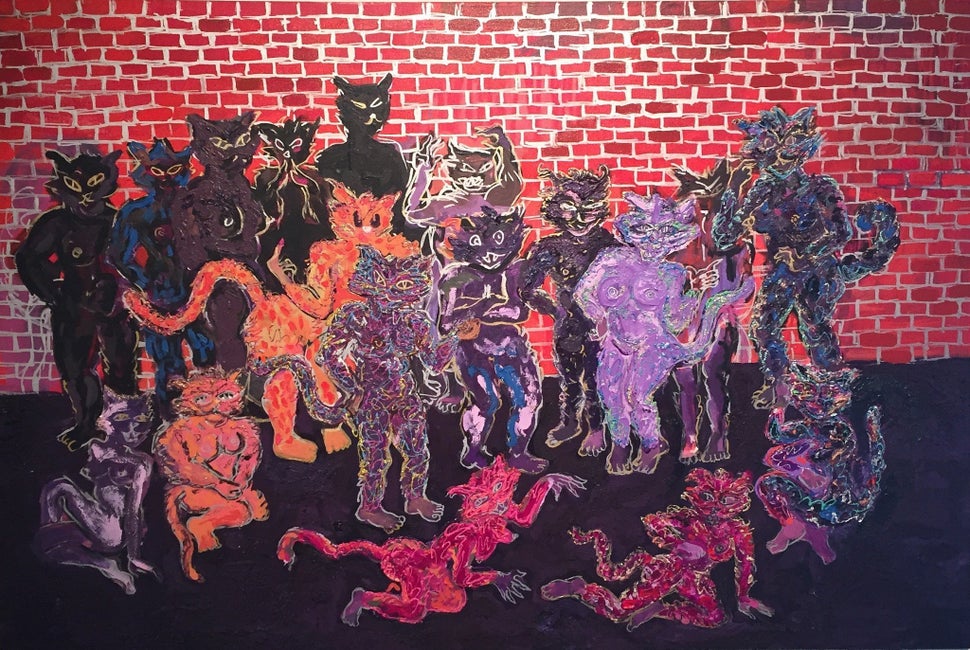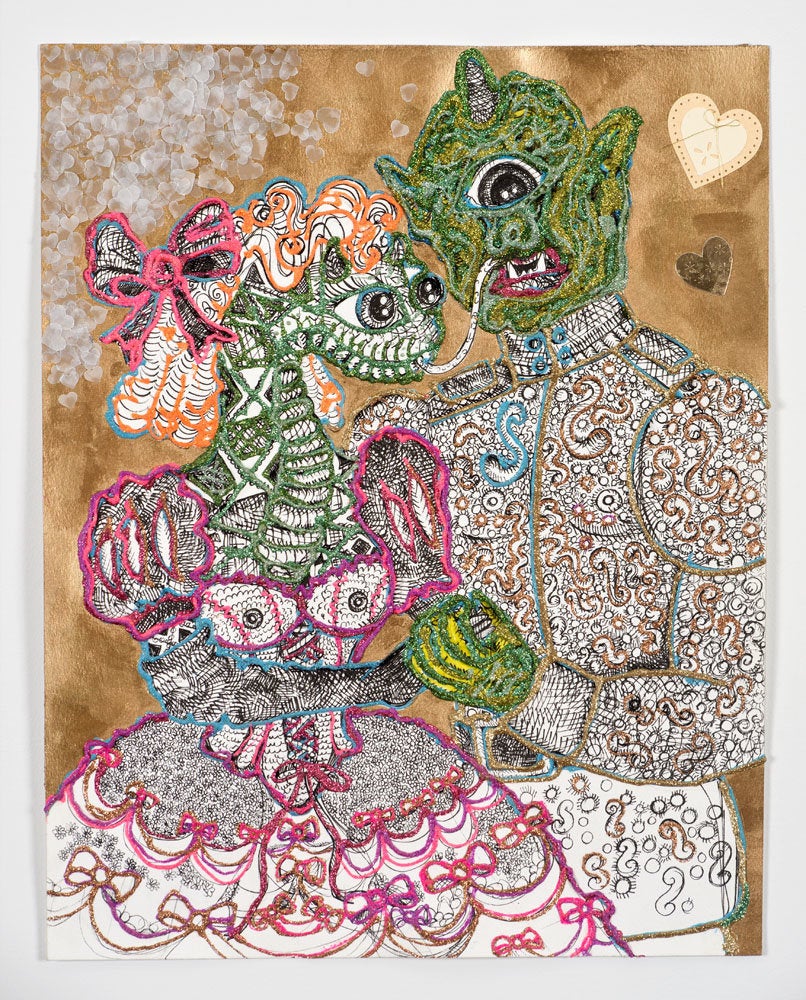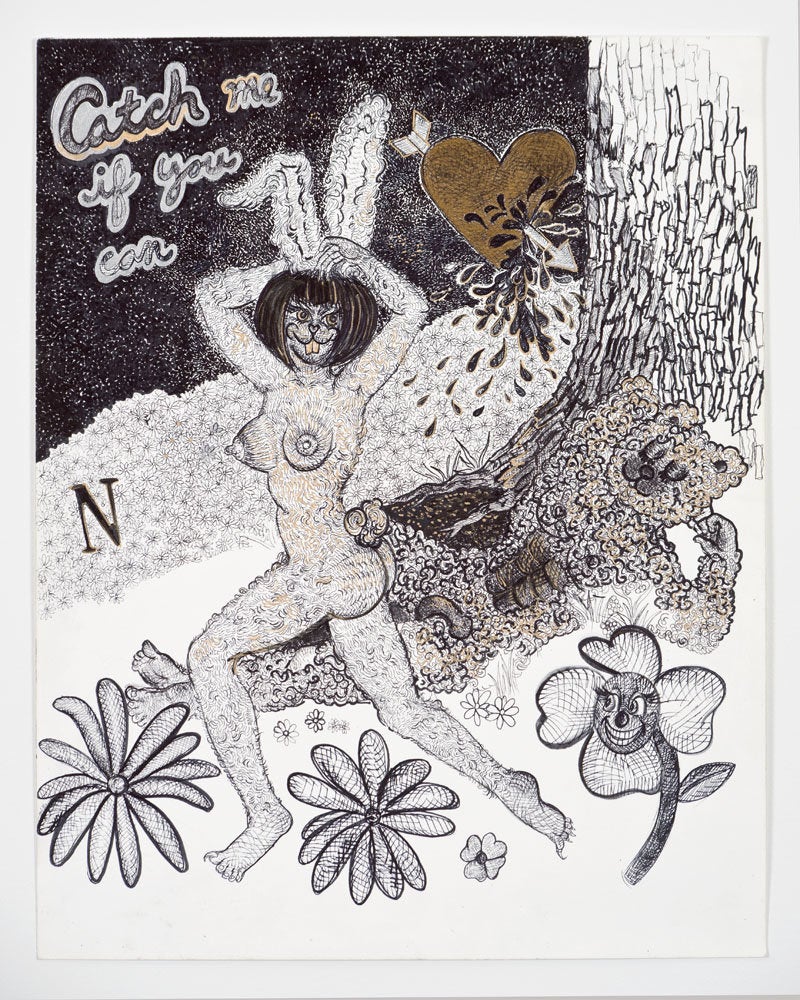 Calling all HuffPost superfans!
Sign up for membership to become a founding member and help shape HuffPost's next chapter
BEFORE YOU GO
PHOTO GALLERY
30 Artist Names You Are Probably Pronouncing Wrong