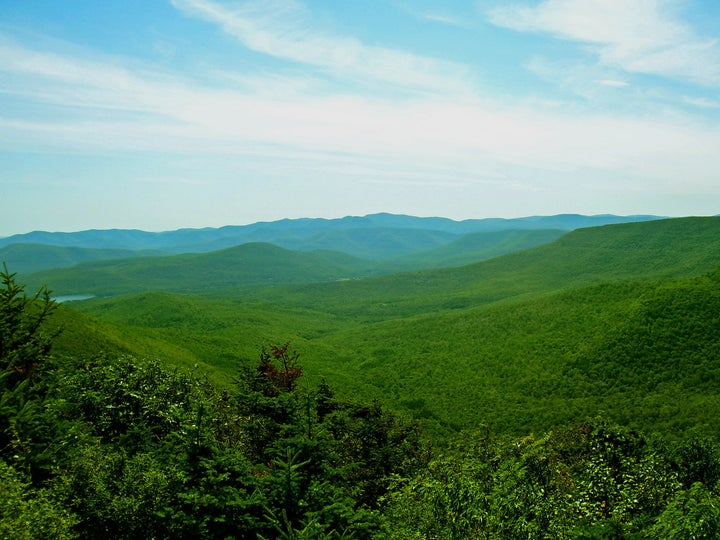 The first thing I thought while watching this film was, "I feel sorry for my young nephews." Because, no matter what they do or where they go in their travels, they'll never know what it's like to experience a summer in the Catskills. To those of us who were lucky enough to take part, it was more than just a "vacation." It was a ritual. A part of who you were, and who you would become. A rite of passage for every Jew -- and some Italians -- raised in the tri-state area and beyond.
Originally colonized by Jewish farmers and settlers who were offered cheap land in upstate New York, the Catskills became a haven for metropolitan Jews who sought to escape the discrimination of the surrounding areas. It was not only the birthplace of the "all-inclusive" vacation but of American stand-up comedy, as well. The "Borscht Belt" was the launching pad for a laundry list of legendary comedians: Lenny Bruce, Buddy Hackett, Sid Caesar, Alan King, Andy Kaufman, Jackie Mason, Robert Klein, Jerry Seinfeld, Bill Maher and more.
But more than that, to those of us who remember walking down those tacky hallways and through the brightly lit lobbies that led to the massive, airplane-hangar-like dining rooms, it was a cultural phenomenon all its own.
In the documentary Welcome to Kutsher's: The Last Catskills Resort, husband and wife filmmakers Caroline Laskow and Ian Rosenberg attempt to revisit a time gone by and answer the question, "What was it about the Catskills, and Kutsher's in particular, that made going there such a unique and cherished experience?"
Through interviews with the likes of the hotel's longtime owners, Helen and Mark Kutsher, as well as the current activities director and other assorted characters whose lives were shaped by the resort, Laskow and Rosenberg easily succeed in capturing a small bit of the essence of what it was like to be a part of that time, as well as pay homage to the founders of the 100-year-old hotel. (Rumor has it that "Kellerman's," the fictional resort in the classic '80s movie Dirty Dancing, was based on Kutsher's.)
One priceless moment in the film that's worth noting is the footage of a young, seven-foot-plus Wilt Chamberlain who, while working as a bell hop at the resort, wouldn't bother to climb the stairs. He'd simply wait for you to open your window, then hand your luggage up to you on the second floor.
Growing up in New Jersey and having a mom in show biz, I was lucky enough to get a rare glimpse into the innermost workings of these vacation paradises as, during the '70s and '80s, my mother was one of the most sought-after opening acts for all the resorts in the area: Kutsher's, The Concord, The Raleigh, The Nevele, etc.
From the time I was one until I was 21, my sister and I would schlep along with my mom and dad as they drove the hour and a half up the thruway to Kutsher's stage door. My father would conduct the hotel orchestra and mom would work the crowd into a frenzy, crooning classics from Peter Allen to Shirley Bassey to Broadway showstoppers. Then came the headliners. Watching these future legends from the wings, I learned valuable lessons in comedy. Such as, "No matter how hilarious, one comedian will never laugh at another comedian's joke. He'll simply say, 'That's funny.'" Or, "If you like your job, don't call Bill Cosby by his first name." (Today, my mom performs to the same folks she sang to at the hotels three and four decades ago down at the retirement homes in Boca.)
As I got older, I worked as a busboy and waiter, and learned that the true meaning of respect is how many coffee pots you have at your station. Same as in a prison, coffee pots were currency like cigarettes, thus the waiters with two or perhaps even three coffee pots, per table, ran the joint and were given respect. The waiters were so paranoid of each other that they would chain their coffee pots to serving stations between meals with bike chains and a padlock. No joke.
As ridiculous as the waiters were, the busboys had it worse, for they had the dreaded "bread line." For some unknown reason, in a resort that held 1000 people, the bakers would only bake enough bread to feed 900. This unexplainable phenomenon occurred every day at every meal. God forbid you were last on the bread line and wound up giving your guests dishes of butter to go with their butter. You not only got the third degree from every Jewish grandmother this side of the Mississippi, you were also stiffed at the end of the meal and had to show up a half hour before everyone else to make sure it didn't happen again. Of course, you could sell your soul to the guy with three baskets of bread and offer him your Air Supply tickets for one of his baskets, ensuring your table would be happy and your girlfriend would never speak to you again.
The experiences I, along with many others, had while working and playing at these hotels are irreplaceable because they occurred during a moment in time when everything, and everyone, was different. Even if they built an exact replica of each and every hotel that populated the region during its heyday, and filled it to capacity, it still wouldn't capture the meaning of what a trip to the Catskills was. It was Dirty Dancing, The Flamingo Kid, A Walk on the Moon, Broadway Danny Rose and Mr. Saturday Night, all rolled into one.
Sadly, Welcome to Kutsher's ultimately focuses on the baron wasteland the Catskills have become since the demise of "Avalon." With the rejection of legalized gambling by the state gaming commission, the once-popular destination is now a ghost town. They've tried everything from indie music festivals to "orthodoxing" it, but, so far, nothing's worked. (Mark Kutsher's son, Zach, has, along with his partners, recently opened, Kutsher's Tribeca, an upscale NYC eatery that combines the "Borscht Belt with Balthazar.")
Still, one can't help but feel privileged to have been part of the experience that was the Catskills. Unlike any other vacation spot in the world, no matter how big or small your room, no matter how rich or poor you were, no matter if you were the help, the boss or the guest, you were family. Good luck getting that at Club Med.
The Catskills, and Kutsher's Country Club, were part of a time, a place and, more importantly, a collective innocence we shall never see again. Cue Don Henley.
Information about the film, as well as future screening locations, can be found by visiting the movie's website.
Popular in the Community