Oh hi! B and I really weren't expecting anyone other than ourselves in our relationship, but make yourself at home, I guess.
This is the Trophy Case of Previous Fights and Unresolved Issues. We used to keep it hidden away in the garage, but since everyone is always trying to get a peek of it we decided to move it to the living room because it's something we have to live with. Our guests can glance at it from a comfortable distance, but don't touch the glass.
On the Wall of Memories there you can see all the pictures we've taken to rub our single friends' faces in it. They are so alone. The prom one is blown up since we were both in way better shape back then than we are now. I can say that, but B can't or I swear to God I will cry for five hours.
Would you like a refreshment? We have some Tears Of Our Parents For Dating Interracially in the pitcher. My parents' version is slightly salty but ultimately okay, while his parents' version is extra sweet due to the antifreeze they keep trying to slip me. We have some kimchi pupusas since we figure that's an accurate representation of what our future Korean-Salvadoran children might look like: tan, yet confusing. Damn B, I said future. You can unclench.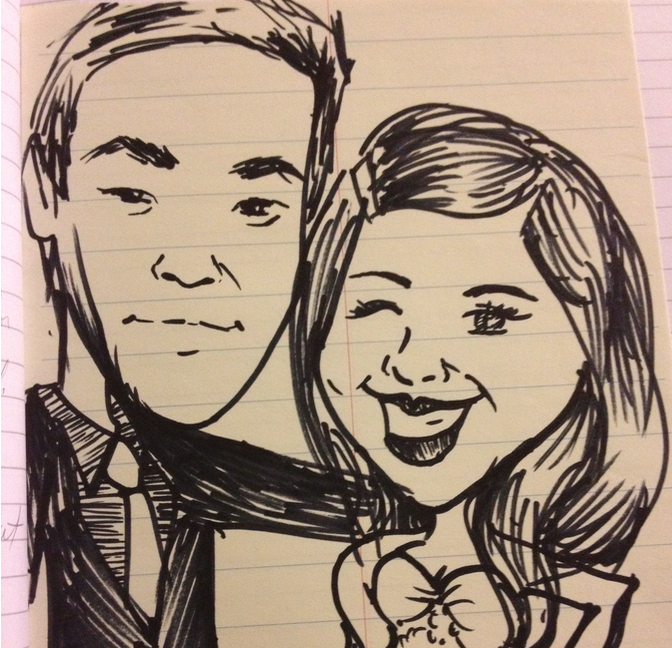 My friend drew this because everything about my relationship is adorable.
Anyway, what brings you over? We haven't had anyone else inside our relationship for a while since we installed the Deadbolt Lock Against Unsolicited Opinions. Did one of your friends who married a high school sweetheart recently get divorced and you feel compelled to tell us in the most condescending tone imaginable? Did you want to know what it's like dating a person of another race and want to ask us something that you think is harmless but is racist and gross?
Or are you here to ask me what birth control I'm on? Or how I feel about him living in co-ed college housing? Or to tell me you saw him with a girl (gasp!) at a cafe (gasp!) in the raptures of friendship?!? Or to tell him I (gasp!) went to a frat party (escándalo!) and had one alcohol (the shame!)?!? Oh my gosh, are you here to try to bang one of us?
Oh, you got wind that I'm done with college and that B will be done in a year and want to know what happens next. That's disappointing. Follow us to the None Of Your Mothereffing Business Yard. Mind the dog crap.
On the left of our spacious backyard you can see all the Rats' Asses We Don't Give about your opinion. The Rats' Asses are reserved for our careers, our families, each other, our friends, and hamburgers. On the right there's the Pile of Bodies made of everyone that's asked us when we're moving in together and acted aghast when we shrugged. The ones with the missing limbs took it a step further with "but... don't you want to live together?"
Now they're dead and have no arms. That lone beheaded figure you see was a special one who smugly said, "You know by seven years, I had a ring and two kids." I took her ring and shoved it up her ass.
Straight ahead you'll see a mural painted on our garage door. It has little pug puppies all over it and text that reads:
JUST BECAUSE OTHER HIGH SCHOOL SWEETHEARTS BECOME BABY MAKING FACTORIES AFTER COLLEGE DOESN'T MEAN WE WILL, WE ARE HAPPY GOING AT OUR OWN PACE AND NEITHER OF US IS READY NOR WANTS TO MOVE IN, WE ARE PERFECTLY FINE LIKE THIS AND ARE EXACTLY WHERE WE ARE MEANT TO BE IN OUR INDIVIDUAL LIVES AND AS A COUPLE, HOLY SHIT, LEAVE US ALONE!
Let's go back into the house. Don't forget that your bag is on the Couch of Weird Sex Shit.
Thank you so much for coming into our relationship. Now get the hell out.
This piece was originally published on Medium.
Calling all HuffPost superfans!
Sign up for membership to become a founding member and help shape HuffPost's next chapter