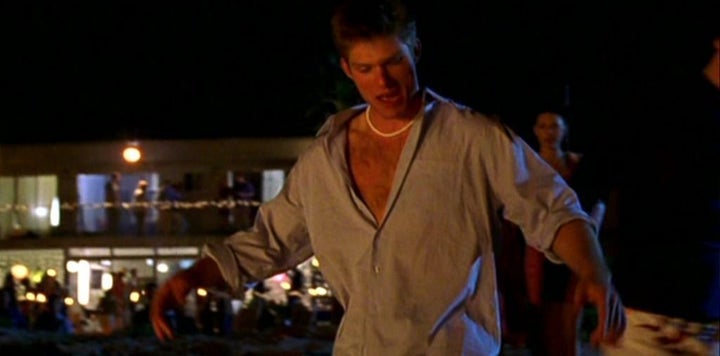 "I don't even know if I can tell you this, but I will," said actor Chris Carmack, who played Luke Ward on "The O.C." -- a character most famous for punching the show's protagonist, Ryan Atwood, in the premiere and snarling, "Welcome to the O.C., bitch!"
Luke was going to have an equally iconic moment later in the first season, but it didn't make it past the censors.
"You know, there was another line that never got to be on the show," Carmack said to The Huffington Post. He recalled the show's creator, Josh Schwartz, telling him, "So we got to give you the line, 'Welcome to the O.C., bitch!' ... You're going to have the next one too." The line?
"Julie, you are such a MILF." 
Carmack laughed and then stated that it might have been "Julie Cooper, you are such a MILF," as his memory was hazy. In any case, the line referred to character Marissa Cooper's mom (Melinda Clark), with whom Luke ends up having an affair through the first season.
"It was going to be great, but it did not make it past the censorship," Carmack said, gamely lamenting for the fans of the '00s show, "It never was to be."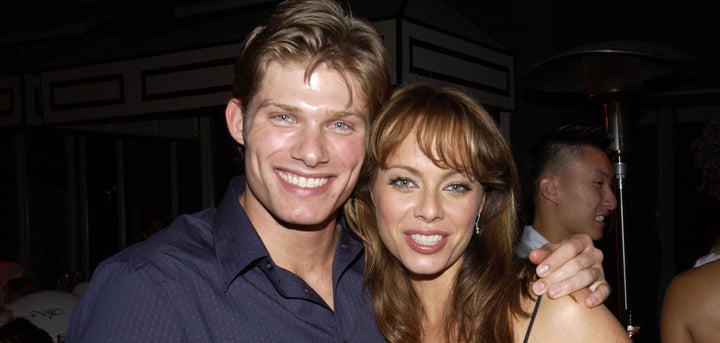 Schwartz and Carmack also had a "moment" over the "Welcome to the O.C., bitch!" line, with both knowing from the start it would be a thing. "Josh was sitting down with this smirk on his face and he was like, 'You're never going to guess what you get to say!'" Carmack remembered. Carmack asked Schwartz what the line would be and then, as the actor recalls, "[Schwartz laid] it out there like a gem."
Affecting a dramatic voice, Carmack said the line as Schwartz said it to him. Because this article doesn't have it already featured enough:
"Welcome to the O.C., bitch!"
"Of course I was laughing. 'Ah, that's awesome! That's going to be the best line!'" Carmack recalled himself saying.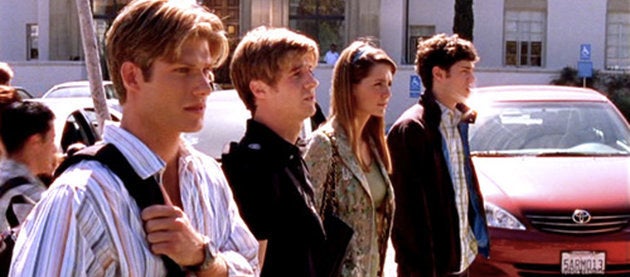 There's still another white whale of a mystery that swims around the Pacific waters out from "The O.C." How did Luke go from being the despicable villain in the first few episodes to transforming into easily one of the most likable characters on the show, right along with Seth Cohen?
Although Carmack demurred at the notion Luke received his own cult following -- laughing again while saying, "Well, I've never heard that. You're the first person to ever say that" -- he did talk about how he thinks the transformation came about.
"Of course, playing the asshole jock gets old fast, so I was happy for the transformation. "You start with a character and then you start writing for the person," Carmack said, referring to the show's writers. "I think that Josh realized I was just a big goofball at the end of the day and really gave Luke some goofball moments to make him a little more human."
In talking with Carmack, his goofy nature is actually evident, and his statement comes across as believable rather than the backdoor braggadocio it could have been. Luke became likable because Carmack is simply ... likable. Mystery solved.
And this is also why Carmack's forthcoming EP, "Pieces of You," -- about which HuffPost will release an upcoming feature, and which Carmack will be debuting at Nashville's Grand Ole Opry this Friday -- works when it probably shouldn't have.
Carmack now plays the character Will Lexington on the show, "Nashville." Will is an upcoming musician that sings and plays guitar. Carmack is, by default of his job, also living in Nashville, and is an upcoming musician that sings and plays guitar. Both Will and Carmack get the same sort of write-ups in music publications like Pitchfork. "You know, it's funny, Will has beaten me to the punch a few times and I've beaten Will to the punch a few times," Carmack said about his and his character's alike paths. He laughed, saying, "It's exceptionally weird."
Actors try and make the jump to music all the time and, in the rare chance it works, it's sort of inexplicable. How is Drake, Drake? But although Carmack is making a more tepid, experimental go at this far smaller in ambition than the chart heights of "Hotline Bling," the actor may just be able to convince you he can be someone else, too.
PHOTO GALLERY
14 TV Shows Netflix Should Remake
Calling all HuffPost superfans!
Sign up for membership to become a founding member and help shape HuffPost's next chapter