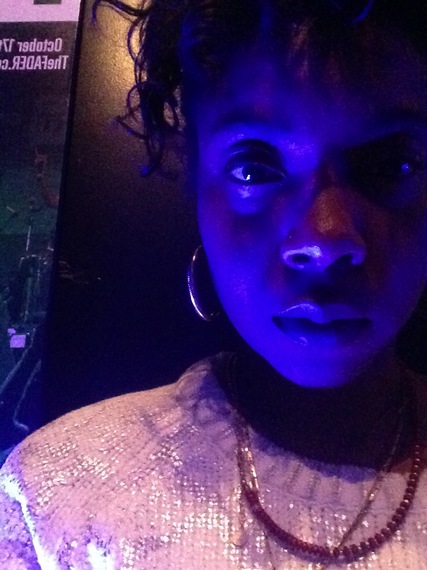 I suppose one should always aim to do the work that they're most passionate about. But when you're an overachiever like me, in an arena where your work is 24/7 and sacrifice is the name of the game, it's hard to separate real life from work life. At some point during my 20s, the lines blurred and the two became synonymous. I forgot that I used to listen to music, read a book, watch a film or make art for fun's sake and not for profit or more followers. How I miss those days... The days of organic reckless abandon, when there wasn't a strategy or a motive behind every move! These days it seemed like the entire world was being filtered through this curated lens, where 20-somethings (and those who won't quit 'turning up') are gods (because they know no boundaries and are willing to go to any extreme for little in return), and the only freedom the rest of us have is to stand in line, single file.
Where did my free spirit go? Was I missing something? Was I jealous bitter? Was I uninteresting? Or had the tequila gone to my brain? Sigh... This 'woe is me' act was draining....
This much I know for sure: revolutions, paradigm shifts and some of the world's greatest innovations have been sparked by young people. While being older just means you're wiser, more steady and have heaps of experience to support or negate what you believe. And I knew for sure that I wasn't getting any younger, that on the surface my energy was diminishing (and fast), and that my peers and I were no longer the "it kids." There was a new generation in town, and they were stronger and faster. And the last few nights (dare I test my memory for the order in which they came?) were a testament to that theory....
There was Spotify's hacker convention (read: nerd fest), where eager, barely-legal techies (Think Sean Parker or Steve Jobs at age 20) developed new API's under a 24-hour clock inside their downtown offices. Sleeping bags, weed, laptops and hard drives in tow, these youngins were hungry and passionate. They knew how to take the little they learned and manipulate it to create something entirely different, fresh and new. They moved in a way that my mind could hardly fathom now, so I could actually learn something by being there. But all I could think was: Am I really one of the oldest people in the room?
On another night, I found myself in the Lower East Side of Manhattan, in the penthouse suite at the Hotel Rivington, where Creative Artists Agency was hosting an RSVP-only affair for CMJ. The younger producers and songwriters like Benny Blanco got the most shine, while the dated, accomplished mavericks looked on pitifully. Was it perhaps because their memories of the good old days (when they couldn't seem to shake the spotlight) felt like yesterday? These days, the only spotlight they saw was the one they cut on as they thumbed through pages of some dead icon's autobiography.
Like them, I was trapped in my shell of standards, conditions, shoulds and bad experiences. So by the time we got to the Mondrian Soho's street-level venue, Mr. H, that same night, my running list of 'shit I don't like' was like a novel. Still, the night went on and once beyond the velvet ropes (and the little person who manned the line) and my attitude, we grooved to throwbacks from the '90s -- which in itself was a slap in the face. I remembered living those songs when they originally released, what I was doing, who I was with. But when my modest two-step/hip-roll got trumped by the girl who decidedly took to the stripper poll to twerk (Repeat of the night before at Fader Fort when SZA performed... different girl, no pole, same issue), I snapped out of it. I was convinced she was onto something and my mood changed in light of what I had witnessed. LynnGee and I decided not to go to Westway for the Player's Ball after that. Besides, it was already 3 a.m., and I was ready to turn down and put on some slippers.
Fast-forward (or rewind) to Mass Appeal's homage to street art. Though the young people who graced our presence were a couple of notches removed, decades younger than graffiti's initial ascension and the artists featured, I felt a bit more comfortable there. People walked around with Sharpies (and sometimes Krink markers if they were 'serious'), knew spray paint names like Krylon and name-dropped artists like Futura and Shepard Fairey. Some were too cool for school and interestingly, couldn't tell you jack shit about Rammellezee or REVS, but that's neither here nor there. At this dope event, I was the median. I could be schooled and school someone else on the art of context. I was home.
The night before the Fader event, I ran into Lopez and Drea at the hidden speakeasy that was the Grey Goose party. My cup runneth over as cute, post-college grads served us from their ever-flowing tap. By 10:30 p.m., approximately a half hour after I had arrived, I was the girl ready to shake her tail-feather. And while I didn't (if it weren't for the ache in my back from all the moving recently, I might have), I was on 10. Still though, a fabulous gay boy in a sequins camo blazer read me like a list of excuses, urging me to fly free sur la table.
Epiphany! Which I inadvertently blurted out in my drunken stupor..."Why don't gay guys age?"
To which the other one replied, 'How old are you, hunny, 25?'
#Win. Conversation over. I reminded myself that age was all in my head. I could be whoever I wanted to be, whenever I wanted. That is, until celebutante and entrepreneur Hannah Bronfman walked in with some friends. As she and I chatted for a minute, my brain flopped between staying cool and "in the moment," and trying to figure out how to hide the bold, super-sized "35" written across my forehead. Figuratively speaking, of course.
To be honest, I was over the charade of living the life my younger self had attained. I was overworked and I had grown tired of living in the shadows of my titles. Managing Editor. Publisher. General Manager. Executive Editor. Senior Producer. Editorial Director. Vice President. And every time someone traded my last name for "from [current place of work]," I grew more weary. I would think to myself, How much longer will I be known for something that I do, as opposed to who I am? Is who I am what I do? Do any of these people really know me?
I was starting to annoy myself. Where had all my spontaneity gone? Why was I so caught up in all of these little moments? Why was I obsessing about my new age? Could everyone tell how much I was fidgeting on the inside? It had only been a week into 35 and I was already deadlocked between the Invisible Man and the Spook Who Sat By the Door. This could not be good. Neither my heart nor my mind was ready to see the world this way. It was a hard truth to swallow, a bitter pill no one warned me about when I was younger. I was ego-tripping something awful.
It just feels like I'm totally being setup for an epic fail, like it's all downhill from here. And this wasn't the kind of obsession with age for fear of sharing the number, it was about being halfway to the end of the story, one step closer to death, one step closer to nothingness. The truth is, I can't afford to go nutter before it all goes down. And I've got to put the kibosh on this never-ending spiral downward before I lose it all.
This story appears from a collection of stories by Amy Andrieux, Editorial Director at TheStarkLife.com, entitled "Saturn's Return," which sees Amy documenting her 35th year since birth and reflecting on moments past. All of these stories are inspired by real life happenings, with some exaggeration and embellishment. Some names and places have also been changed to protect the innocent.
REAL LIFE. REAL NEWS. REAL VOICES.
Help us tell more of the stories that matter from voices that too often remain unheard.