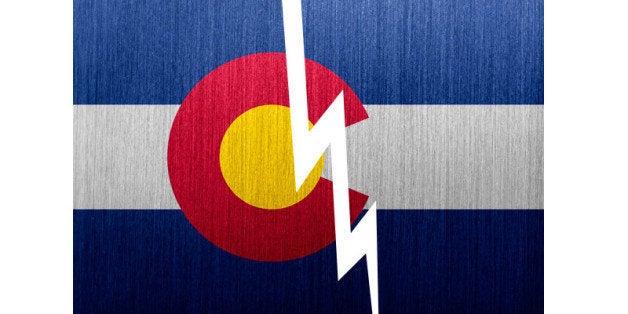 Following the Weld County commissioners' proposal to secede from Colorado and form a 51st state, commissioners say they will meet with counties from western Nebraska and Kansas, which have expressed interest in joining the effort.
Some south and southeast Colorado counties may also attend a meeting on July 8 to consider how the boundaries of such a state would look, and whether it's feasible, Weld County Commissioner Doug Rademacher said on Thursday.
Weld commissioners met earlier this week with eight northeastern Colorado counties, including Morgan, Logan, Sedgwick, Phillips, Washington, Yuma, Kit Carson and, most recently, Lincoln, counties for a preliminary meeting on the North Colorado proposal. Those counties also will be at the July 8 meeting.
Jennifer Finch, spokeswoman for the Board of Weld County Commissioners, said commissioners have heard from officials in Wallace and Cheyenne counties in western Kansas.
Dale Patton, chairman of the Cheyenne County Board of Commissioners in Kansas, said he didn't personally know of that correspondence with Weld commissioners, but he said he would like to get in contact with them.
"I understand their sentiments," said Patton, who lives 10 miles east of the Colorado state line.
When Weld commissioners announced their proposal earlier this month, they said they felt agriculture and oil and gas are under attack in the Legislature, and the needs of rural Colorado counties are being ignored.
Patton said Cheyenne County similarly feels as though the urban areas of the Kansas don't know -- or care to know -- what rural residents need. He said much of the county's revenues from oil and gas development go toward state coffers and are never seen again, even though the county is in need of that money for basic services.
Because of that, the county has been losing residents, Patton said. According to the 2010 U.S. Census, Cheyenne County has a population of just more than 2,700 people.
Patton said rural Kansas counties have talked of seceding from the state for years.
"This is probably the most intense it has been in 12 to 15 years," he said of Weld commissioners' talks of secession.
At one point, Rademacher said, El Paso County in southern Colorado also expressed interest in the new state.
Rademacher said he expects six to eight more counties to be represented at the next meeting at the Akron, Colo., fairgrounds, which is in Washington County.
"We basically are going to have to decide at that point, how much bigger we want to get," he said of the July 8 meeting. "We can't have a checker board of counties that want in."
The public can attend the meeting, but won't be able to participate.
Rademacher said he's gotten mostly positive feedback from his constituents, with 15 emails in support of the measure to every one email against.
"The snowball is getting bigger," he said.
Rademacher said if the proposal makes it to the November ballot, he expects at least 60 percent of voters to approve the creation of a new state.
But, while he said the support is there, Rademacher doesn't see the effort coming to fruition.
Under guidelines in the U.S. Constitution, North Colorado would have to get the consent of the Colorado General Assembly and the U.S. Congress to move forward with forming its own state.
"Realistically ... we will not see the finish line. But it will be an interesting exercise."
Realistically ... we will not see the finish line. But it will be an interesting exercise.
-- Doug Rademacher, Weld County commissioner ___
(c)2013 the Greeley Tribune (Greeley, Colo.)
Distributed by MCT Information Services
Calling all HuffPost superfans!
Sign up for membership to become a founding member and help shape HuffPost's next chapter
BEFORE YOU GO
PHOTO GALLERY
Secession Attempts