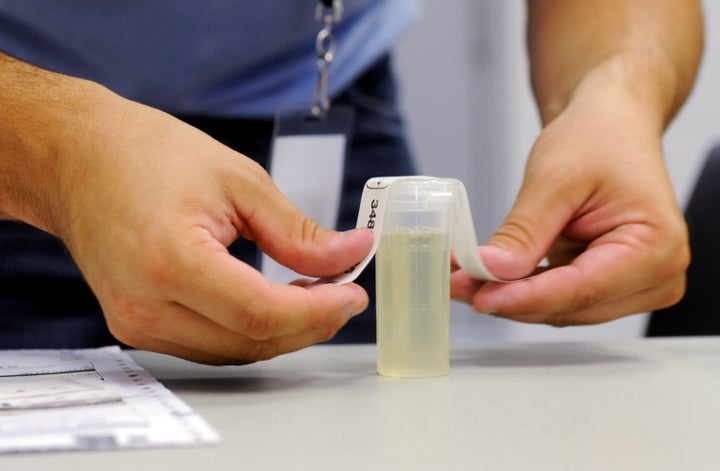 The Indiana House of Representatives approved a bill Tuesday that would drug test people who apply for welfare, along with members of the Indiana General Assembly.
"I feel it is imperative that your tax dollars go to those who are truly trying to better themselves. We must provide incentives for people to bring themselves out of poverty and to do the right thing," said Rep. Jud McMillin (R-Brookville), the bill's sponsor, in a statement. "I am excited to help our state become a national leader on this important issue."
McMillin initially proposed a pilot program for drug testing only welfare applicants, but last week state Rep. Ryan Dvorak (D-South Bend) amended the bill to include drug and alcohol testing for lawmakers. It's a legislative counterattack employed by Democrats in several of the 30-plus states where Republicans are pushing drug tests for the poor and jobless.
Indiana is the first state where lawmaker drug testing has actually advanced, though the measure's fate in the state senate is uncertain. McMillin told HuffPost that he has senate sponsors who he expects to pick up the bill and help it move forward.
McMillin withdrew his bill on Friday, saying Dvorak's amendment likely violated the Constitution. On Monday, he came back with a new version of the legislation that softened the lawmaker drug testing provision. Instead of blanket testing for every member of the General Assembly, the new version of the bill lets lawmakers opt in to a system of random screening similar to the one for families seeking cash assistance. (If they don't consent, they lose their parking spaces and other perks.)
Though House Republicans said the testing provisions mirror each other, the bill has different standards for "reasonable suspicion" for a lawmaker and a welfare applicant. The latter can be reasonably suspected of drug use if he or she has been convicted of a crime, charged with a drug offense, or "failed to attend a scheduled meeting or complete online requirements regarding [welfare] assistance."
The bill gives leaders in the General Assembly leeway to form "reasonable suspicion" that a lawmaker is using illegal drugs, but while it mentions convictions and drug charges, it does not specifically say whether lawmakers who miss scheduled votes or hearings will be considered suspicious.
McMillan said he favored making missed votes cause for reasonable suspicion, but that the broader measure might not have passed if it included the stricter language.
"Many people felt it was too much," he said in an interview.
He added that his new bill is tougher than Dvorak's proposal because it would make lawmakers' drug test results public.
In Indiana in 2011, 18,602 families had received welfare cash assistance as of December, 33 percent fewer than the previous year, according to the latest report by the state government. An eligible family of four must have dependent children, can't earn more than $712.25 per month, or possess assets worth more than $1,000. The maximum monthly benefit for a family of four is $346.
Dvorak said opt-out provisions for both welfare applicants and lawmakers make the bill toothless, and that Republicans are only pursuing it to send a political message about getting tough on poor people receiving government benefits.
"It's a bill that does nothing with a hard line message," he said. "I just think it's a complete joke."
Popular in the Community