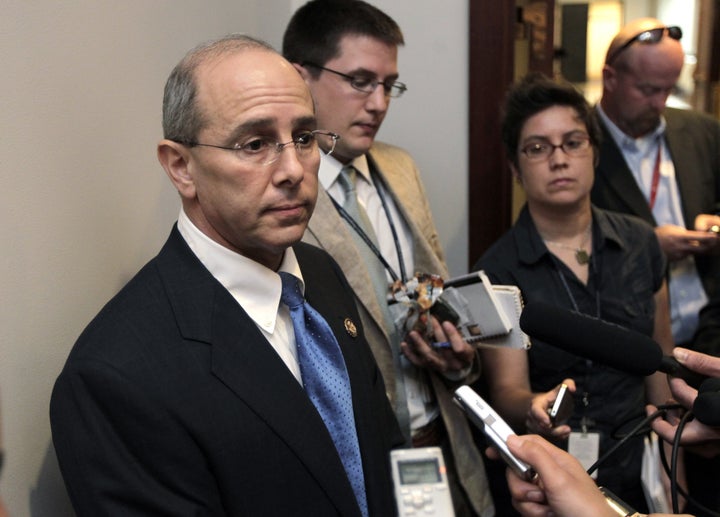 Struggling families will no longer be allowed to withdraw welfare funds at automated teller machines in liquor stores, casinos or strip clubs if Republicans in the U.S. House of Representatives get their way.
The House overwhelmingly approved a bill on Wednesday to push states to ban welfare debit card withdrawals at liquor stores and "naughty" venues, a practice highlighted in a handful of news stories over the past couple of years. The proposal is unlikely to be taken up by the Senate, but it could be folded into a broader legislative package, currently in the works, to reauthorize a payroll tax cut and a federal unemployment insurance measure by the end of the month.
"We have an obligation to root out any kind of fraud and abuse and waste of taxpayer dollars," bill sponsor Rep. Charles Boustany (R-La.) told HuffPost. "At a time you want to insure that every federal program we have has proper integrity and the money is actually getting to needy families, to needy children, this is something we need to act upon."
As the impetus for the legislation, Boustany's office cited news stories about welfare benefits being withdrawn from ATMs in strip clubs or liquor stores in eight states.
"This is another example of setting policies based on attention-grabbing news stories with little connection to the underlying reality and that are designed to reinforce the 'unworthy poor' stereotype," said Elizabeth Lower-Basch, a senior analyst at the Center for Law and Social Policy, a progressive D.C. think tank. "There's no evidence that this is a widespread problem. And even when funds are withdrawn in those locations, it doesn't mean that people are gambling away their benefits."
Welfare, formally known as the Temporary Assistance for Needy Families program, supported about 1.8 million American families in 2011 each month, with benefits averaging just a few hundred dollars. Since the passage of welfare reform in 1996, recipient rolls have not risen to meet increased economic need. Caseloads increased just 14 percent during the recession that started in 2007 even as the unemployment rate nearly doubled, according to the Urban Institute.
Lower-Basch called the bill an effort to "micromanage" a federal and state program that already gives states a lot of flexibility. Several states featured in news stories have already cracked down and ordered strip club and casino ATMs reprogrammed so they can not accept welfare debit cards, she noted.
"Some states have taken action; others have not," Boustany said. "Since it is federal dollars, I believe there is a federal role for laying out the guidelines."
Though only 26 Democrats voted against the bill, several attacked it on the House floor. Rep. Gwen Moore (D-Wis.) pointed out that if there really were welfare beneficiaries hellbent on spending their benefits at strip clubs, the measure wouldn't actually stop them. "It is just another effort to berate those people who are in the lower class," she said.
Answering that charge, Boustany claimed Republicans are committed to preserving the integrity of the welfare program. "These abuses erode public confidence in the program, and we want to make sure that that doesn't happen," he said. "We see this as a valuable program, and it's certainly helped many needed families."
Opponents of Boustany's measure claim that since practice of withdrawals at these types of ATMs is not widespread, the bill amounts to a high-profile effort to damage public confidence in welfare. In California, Less than half of 1 percent of benefits were withdrawn in casinos and adult entertainment locations and there's no evidence the money was spent where it was withdrawn, according to the Western Center on Law and Poverty.
The ban on welfare card withdrawals at casinos and strip clubs previously passed the House as part of a broad spending bill in December. Other provisions of that measure, which Republicans are pushing in negotiations over the reauthorization of the payroll tax and extended jobless aid, include drug testing for unemployed people and denying benefits to claimants who don't have high school diplomas.
This article was updated to reflect approval of the bill in the House.
Popular in the Community