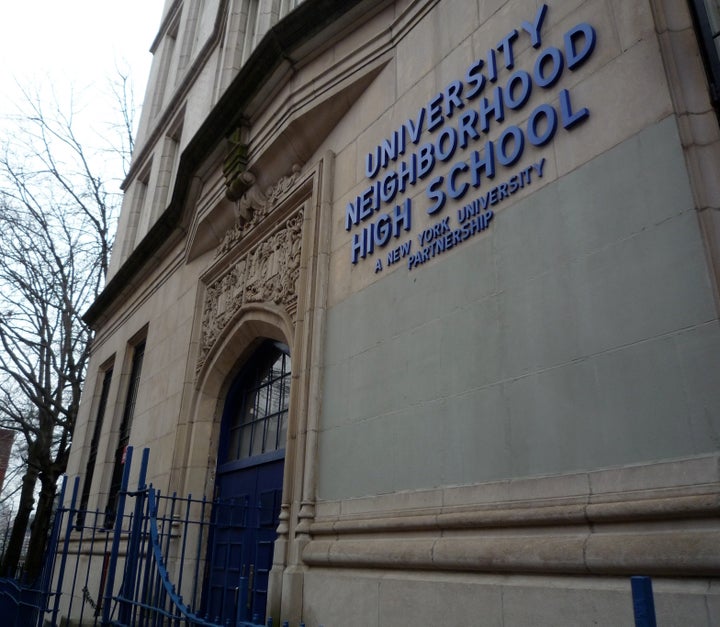 Big Victory: As a result of intense pressure, on Tuesday March 7, the NYC DOE announced City Charter School of the Arts would not be co-located at University Neighborhood High School.
The New York City Charter School of the Arts is well connected and University Neighborhood High School is not. The charter school, which went into operation at the downtown private Pine Street School last September, now has eyes on the high school's building at 200 Monroe Street, an ornate Lower East Side Manhattan landmark built in 1902. Last week the Department of Education held a walk-through at the building to determine whether the charter group is happy with the space.
The City Charter School of the Arts is part of a web of charter schools muscling in on traditional public school space. Its advisory board includes Arthur Levine, President of the Woodrow Wilson National Fellowship Foundation and Joseph Polisi President of the Juilliard School. Its Board of Trustees has representatives from hedge funds, elite private schools, and major charter school chains. Its founding principal comes out of Harvard and the Uncommon Schools charter schools network. The charter school is already scheduled to expand although as a brand new program there is no data to demonstrate it is successful in educating children or wanted by parents and community resident. They have a very professional webpage, but a webpage does not make a school.
Parents, teachers, students, and community residents are banding together to stop the invasion and possible take-over. Valerie Cruz, president of the UNHS parent teacher association, testified against moving the charter school into their building at a recent Community Education Council District 1 meeting. According to Cruz, "Our kids come from homeless shelters, our parents barely speak English, and yet they're figuring out how to thrive, and yet the teachers are figuring out how to work with four bathrooms and you expect us to share some more? From where?"
The UNHS PTA is has gotten positive support from City Councilmember Margaret Chin and they are trying to enlist Congressional Representatives Nydia Velasquez and Jerrold Nadler in their campaign. Ms. Cruz does not want to see a battle between charter and UNHS families and argues that both groups will be ill-served if the City Charter School of the Arts moves into the building.
The approximately 400 students at University Neighborhood High School reflect the local community, about one-third Asian (mostly Chinese), one-third Latino, and one-third African American. Many are English Language learners and almost all qualify for free or reduced price lunch. About 15 percent live in temporary housing. The high school is already so short on space that many students eat lunch in the school nurse's office. The building has no gymnasium, so gym class is running up and down the steps when weather does not permit them to use the near-by park.
University open in 1999 and for a long time it was a troubled school with a graduation rate under 50 percent. But since 2011, with support from New York University and Baruch College-CUNY, graduation rates and student test scores have improved to the point that the anticipated graduation rate for June 2017 is over 90 percent.
Since New York State passed a pro-charter rental assistance law in 2014, the de Blasio administration in New York City has approved 73 out of 81 applications by charter schools and charter networks for additional space at public expense. As well-connected charters push for more space in public schools, will your school be next?
De Blasio is launching his reelection campaign and is at his most vulnerable to pressure. Whose pressure will he succumb to? As part of the campaign to save University Neighborhood High School, the Parent Teachers Association launched an online petition.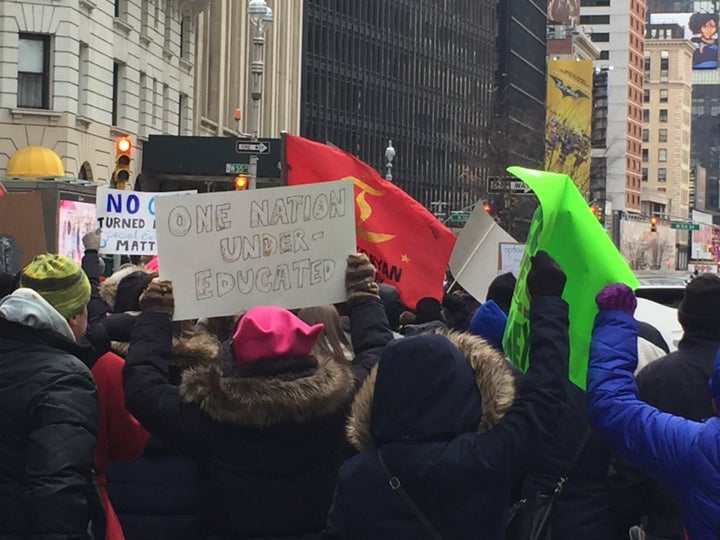 There is widespread resistance in New York State to the voucher/charter/tax credit anti-public school trifecta endorsed by both the Trump administration and New York State Governor Andrew Cuomo. On Saturday March 4, in freezing weather, thousands of protesters marched in eight New York State cities demanding that state officials support and fully fund public education.
Related
Popular in the Community