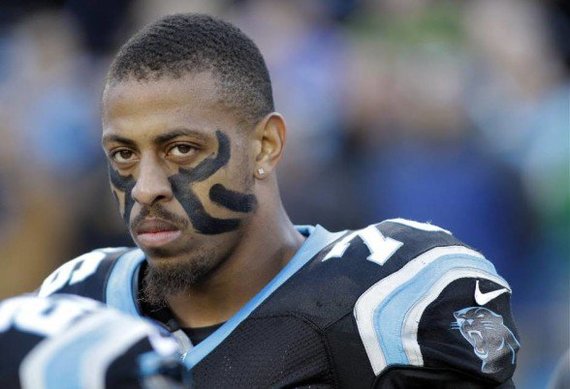 With the recent signings of Ray McDonald and Greg Hardy, the NFL and its team and owners have proven once again that they are tone deaf to domestic violence.
Greg Hardy and Ray McDonald were both accused of domestic violence last year. Both, presumably, will play in the NFL this season. Do they deserve it?
In the 21 st century, there have been 769 arrests of NFL players, 89 were related to domestic abuse, according to USA Today. The NFL or the team disciplined its player only 30 of those 89 times.
And that was before Ray Rice.
As the photos and video evidence helped detail the violence and horror commonly associated with domestic violence, the NFL was finally forced to take a stand. But don't be fooled; it wasn't the violence that caused the NFL and its owners to take a heavy position against domestic violence, it was probably Radisson Hotels pulling its sponsorship from the Minnesota Vikings because of Adrian Peterson. Once the Peterson case forced the hands of key sponsors, the NFL acted swiftly.
The common reason for acting so negligently when enforcing consequences in regards to domestic violence was the league wanted the legal system to "play out."
Of course, there is a huge problem with this reasoning when it comes to domestic violence.
In the California case, People v. Gomez, a psychologist testified that "about 80 percent of the time a woman who has been sexually assaulted by a boyfriend, husband or lover will recant, change or minimize the story."
When the victim of domestic violence refuses to testify eliminating the key witness, prosecuting can be almost impossible.
We saw this in the Greg Hardy case. In August, Hardy was found guilty in a bench trial on charges of communicating threats and assaulting a female. In North Carolina, though, you can appeal the case to get a jury trial. When the victim in the case refused to testify, with prosecutors alleging she was paid off, the case was dropped.
What message is being sent when Hardy receives no punishment from the league after being found guilty when all facts were present?
None of us are in support of domestic violence... I think we all understand that. This is about signing a player who we think can help our football team, someone we did an exhaustive amount of research and due diligence on. And we're going to give him a chance. We're going to give him a chance under conditions that we think will bring the best out in him. We're going to hold him accountable to that. No one is for domestic violence. We all understand that.
If Dallas is against domestic violence, should the Cowboys not be against those who commit the crime?
What's the difference between being against the crime, but not against the person who commits the crime?
Can we now differentiate those who commit deplorable acts from the actions themselves?
The ignorance of this matter neither starts nor ends with Garrett.
The owner of the Cowboys, Jerry Jones seems to think --or justify his football move by stating that-- Hardy has paid his debt to society:
He's paid a terrific price. [...] Had he not had this incident his contract would be one like Ndamukong Suh, possibly, but he doesn't have that. So he's got more to come because the league is going to rule on if he has suspensions this year. All of that is all incorporated in that agreement and the bottom line is we hope and feel that he won't do that, go down this road again.
Let me remind you, Hardy was paid for the entirety of the season last year. Hardy just signed a one-year $13 million deal. Where's the price?
This problem isn't exclusive to the NFL. The recent case involving former NFL Safety Darren Sharper may show that it's not the NFL that's broken, but civility as a whole. Sharper was facing the prospects of a life in prison if convicted. Prosecutors in four states accused him of drugging and assaulting nine women.
In California, he pleaded no contest to the three counts for which he was charged, and agreed to a 20-year sentence that will effectively be reduced by the year he has already served and credit for good behavior while incarcerated.
In Orleans Parish, he is expected to plead guilty to reduced charges and receive another 20-year sentence, though it was not clear from courtroom sentences how his jail time on the Louisiana charges would be cut to the 10 years behind bars.
In Arizona and Nevada, he pleaded guilty to reduced charges with shorter maximum sentences.
Instead of life in prison, Sharper will be out before he turns 50.
It's called a "global resolution" that will see him spend 10 years behind bars on all charges in criminal cases in California, Nevada, Arizona and in state and federal court in Louisiana.
If Hardy were suspended for a year without pay, and forced to take classes and actually show remorse for the actions that led to a bench trial guilty verdict, he would be paying the price Jones referred to. A second chance would be warranted. Hardy, however, isn't being granted a second chance, he's still on his first.
And the only price being paid is on the women who continue to be viewed as second class citizens by a league that has made it clear money and wins are all that matters.
Photo Credit: AP Photo/Bob Leverone
Calling all HuffPost superfans!
Sign up for membership to become a founding member and help shape HuffPost's next chapter