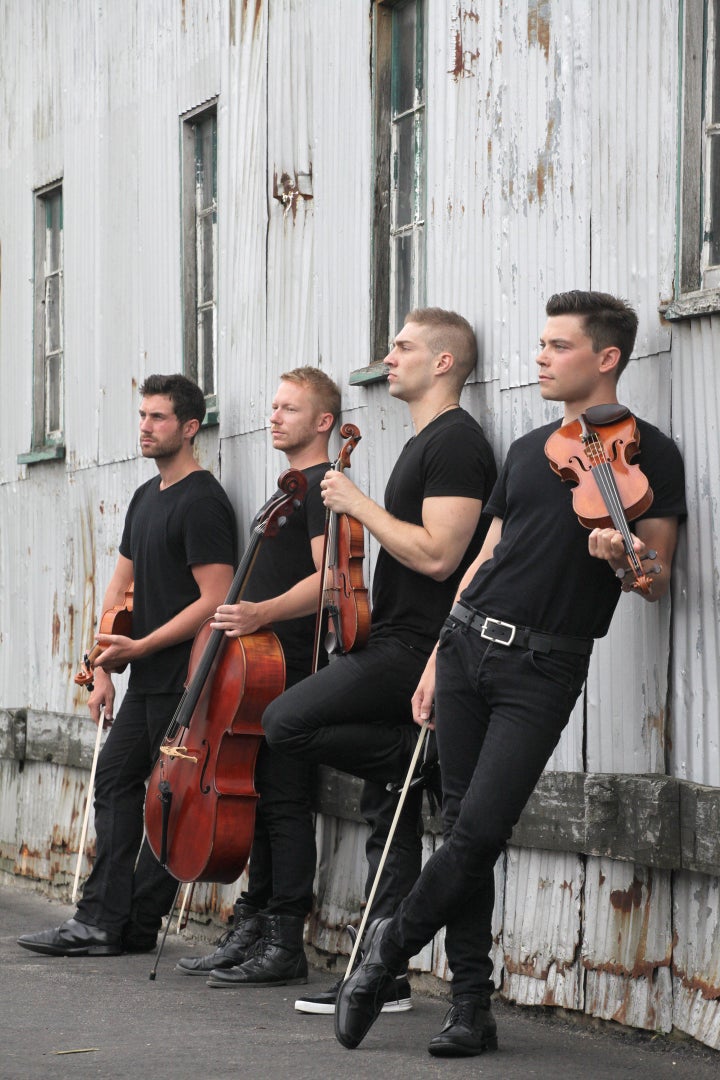 The four boys of " Well-Strung: The Singing String Quartet" know their chiseled torsos and matinee idol faces make them seem like an inspired novelty act. In fact, second violinist Chris Marchant says he has lost track of the number of times the all-male string quartet turned down offers to perform nude during their 2012 summer stint in Provincetown, Mass.
But moments after the hunky group took the stage of Manhattan's Marjorie S. Deane Little Theater in the West Side Y last week, the audience's initial catcalls gave way to enthusiastic applause -– a response that Marchant believes is indicative of Well-Strung's fanbase, which he hopes will listen as closely as they're looking.
"One of our aims is to blur the line between high and low art," he says.
An evening with Well-Strung is anything but typical. Along with Marchant, first violinist Edmund Bagnell, violist Trevor Wadleigh and cellist Daniel Shevlin tear through a set list that includes Mozart and Dvořák compositions alongside string arrangements of recent pop hits by Adele, Britney Spears and Ke$ha, during which the boys provide vocals. In addition, each of the handsome stars offers up winking anecdotes of growing up gay in between numbers, lending much of the act the breezy feel of cabaret with a hint of vaudeville.
Take a look at some photos of Well-Strung, then scroll down to keep reading: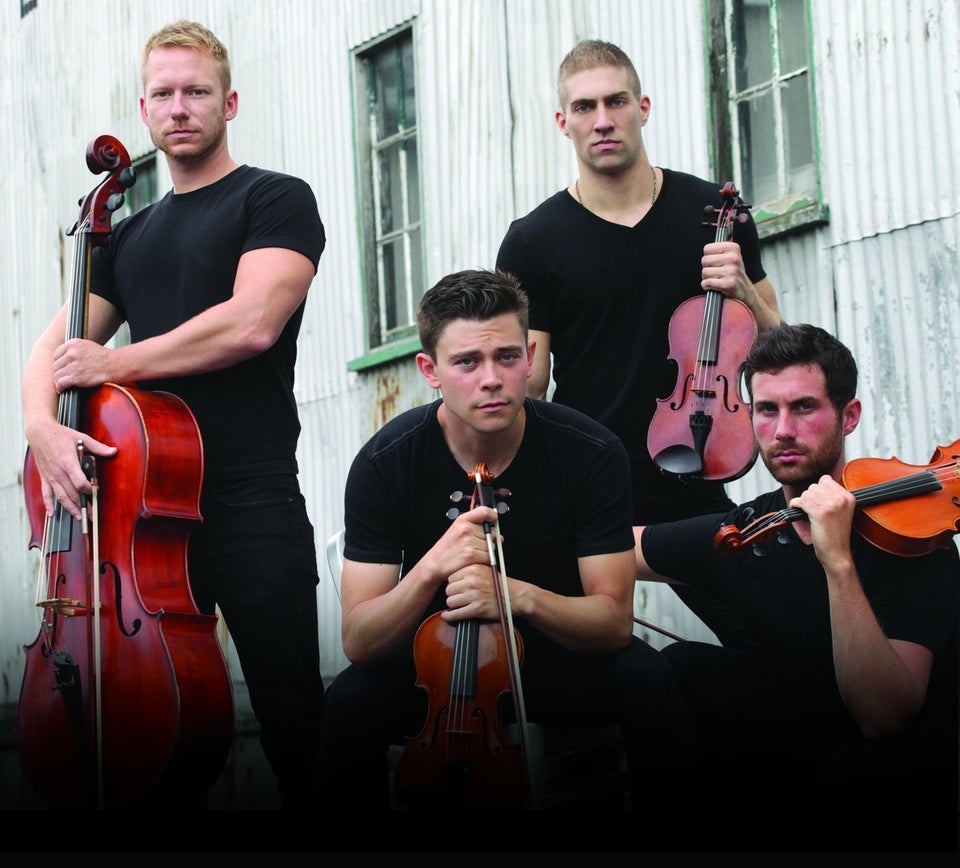 The Men Of Well-Strung
The final result is, according to Bagnell, "not quite a concert and a little bit more than a cabaret performance."
"Plus, we're not just giving you idle chatter in between songs with a cocktail, we actually want to say something about ourselves," he says. A Well-Strung show's heightened theatricality should come as no surprise given that Bagnell, Marchant and Shevlin all have theater credits, while director Donna Drake was among the original cast of Broadway's "A Chorus Line" in 1975.
It's difficult not to fall for Well-Strung's undeniable charms, even if some of their jokes feel canned. In one particularly adorable moment, Wadleigh reveals he spent much of his childhood idolizing Martha Stewart, while Marchant's transformation from scrawny adolescent to his current buff self, as depicted in a retrospective photo slideshow, prompts sighs from the crowd. Still, despite the group's classically-trained chops, a Well-Strung show is ultimately better suited for fans of musical comedy than those who'd seek out a chamber ensemble at Carnegie Hall –- not that the boys mind one bit, of course.
"This is the first time I've been able to play music as entertainment," Wadleigh, who had been pursuing a career in musical academia prior to joining the group, notes. "Some people have a very serious attitude [when it comes to classical music] about protecting an ancient art, whereas we can just have fun doing it."
Adds Shevlin: "I think that really excites people about our interactions with each other. They're not used to seeing what physicality goes on in between four players."

Audiences who missed out on Well-Strung's three-week New York run needn't fret, as the group is now booked to play the city's Highline Ballroom on May 5. A summer return to Provincetown's Art House is currently in the works, just ahead of a European debut at London's Leicester Square Theatre in September; the group's producer and manager Mark Cortale says that future dates in Los Angeles, New Orleans and Sydney are also being planned.
And those who've been dreaming of taking Well-Strung home can also do so, at least figuratively -- their debut CD features 11 of their pop and classical tracks.
What lies beyond that for Well-Strung is anybody's guess, and although Marchant says he's been tinkering with material for the group's forthcoming sets, there will undoubtedly be one constant.
"Ke$ha will always be in the show; she's our artist-in-residence," he quips.
Support HuffPost
Every Voice Matters
Popular in the Community