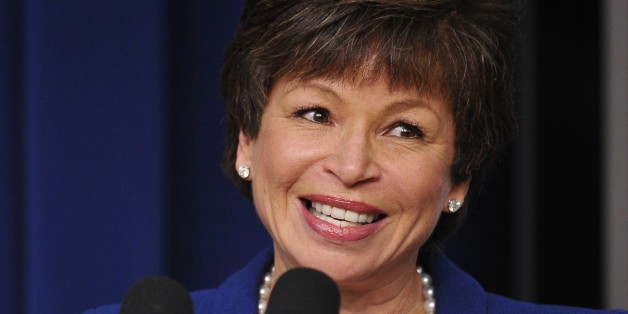 In Washington, D.C., it sometimes seems like no good deed goes unpunished. But these days, apparently, six years' worth of good deeds can make you a contender for Public Enemy No. 1.
That's why the recent campaign of criticism targeting senior White House advisor Valerie Jarrett is, in some sense, unsurprising. After a defeat of the incumbent president's party in a midterm election, it's not unusual for the knives to come out. But usually the folks who get pilloried at least deserve it. Valerie Jarrett is one of the most tireless, transparent, accountable and accessible public servants we've ever worked with. And, as leaders of some of the nation's largest advocacy organizations, we feel a moral obligation to tear down this half-baked caricature of one of the country's most powerful women.
Since President Obama took office in January of 2009, Valerie Jarrett has been the public face of the president's moral core. On civil rights, women's rights, immigration reform, LGBT equality, reproductive justice and a host of other issues vitally important to the voters who elected President Obama in 2008 and reelected him in 2012, she has been a true champion. Why? Because for Jarrett these are issues that reflect the deep struggles of actual people -- the voices that don't get heard very often inside the Washington, D.C., bubble.
She knows that for every roadblock that gets thrown up on Capitol Hill, or for every cheap shot in the press, there is a real person out there in America who is being denied access to reproductive health care, who battles against new obstacles to their fundamental right to vote, who risks deportation simply for trying to get their children an education, or who faces discrimination at work because of who they are and whom they love.
In all her time in the White House, Valerie Jarrett has always remembered those people. Why? Because she sees it as her job to never forget them.
So if you want to know how the Obama administration achieves victories like an executive order protecting LGBT employees from discrimination by federal contractors, or how the progress of women and girls remains at the forefront of the president's agenda, or how a U.S. attorney general can join protesters in Ferguson, Missouri, bringing hope for change at a challenging moment, the answer is that many people deserve credit, but it was Jarrett who created the opportunity. She takes every 10 p.m. phone call. She answers every inquiry. She creates a path forward from stalemate, and she creates coalitions from chaos.
Apparently nothing makes enemies like that kind of accomplishment. But it's one of her greatest virtues that she doesn't do what she does to win adoration from a certain set of Washington insiders. She came to D.C. to help President Obama make progress for all people, and to help Washington create opportunities for families who are struggling just to get by.
That's why, on behalf of the millions of Americans our organizations represent, we are so deeply grateful for her ongoing work. When good deeds get punished, it's often because the beneficiaries stay silent. We refuse to be silent in the face of this criticism. It's time to let her -- and the entire Obama administration -- get back to work for the American people. After all, there are big battles to take on, and big victories left to win.
Marcia D. Greenberger and Nancy Duff Campbell are Co-Presidents of the National Women's Law Center.
Chad Griffin is President of the Human Rights Campaign, the nation's largest lesbian, gay, bisexual and transgender (LGBT) civil rights organization.
Wade Henderson is President and CEO of The Leadership Conference on Civil and Human Rights.
Janet Murguía is President and CEO of the National Council of La Raza.
Cecile Richards is President of Planned Parenthood Action Fund.
REAL LIFE. REAL NEWS. REAL VOICES.
Help us tell more of the stories that matter from voices that too often remain unheard.