The lights went down and the introduction, which went something like this, began. Tonight, we are delighted to have NYU neuroscientist Joseph LeDoux, world-renowned specialist on memory and emotion, particularly fear, teamed up with Lenny Kaye, the legendary guitarist of the Patti Smith Group, to talk about "How We Get Highly Strung ..." As the opening remarks began to wind down, Lenny looked me straight in the eye, offered me his fist to butt, and said, "have a good set." The stage left door swung open and we stepped out with our acoustics strapped on, approached the mics, and began to strum the opening riff of the A minor blues philosophical rant, "Mind-Body Problem."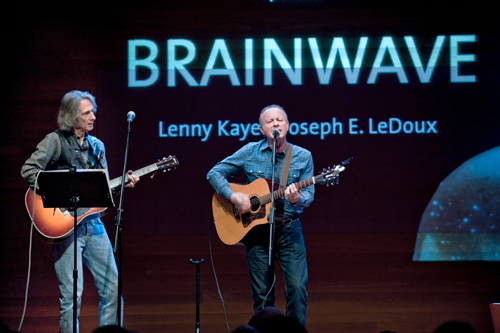 This was my fourth appearance at the Rubin Museum's Brainwave Festival. For the past several years, Tim McHenry, program director at the Rubin, has been teaming scientists and artists for conversations about where their fields intersect and sometimes collide. Some of these marriages work better than others. The event with Lenny, though, was special for me. For the first time I wasn't just the scientific straight man paired with an artist. I got to wear hats as both a scientist and musician.
Tim came up with a marvelously ambiguous title, "How We Get Highly Strung," and then left us to our own devices. Lenny and I didn't have much of a chance to communicate until a week or so before the show since he had been on tour in Europe with the Patti Smith Group. When he returned we exchanged a few ideas over email, and each came up with a set of questions to ask the other. The double entendre of the title ("highly strung") linked guitars to fear, and opened up wide ranging topics in between. We had no trouble finding things we wanted to chat about, and we also came up with a set of songs with mind and brain themes that we wanted to play.
I chose two songs from the forthcoming CD, Theory of My Mind (Knock Out Noise), by my band, The Amygdaloids. These were "Mind Over Matter" and "Piece of My Mind" (on the CD, Rosanne Cash sings "Mind Over Matter" with me). "Mind-Body Problem," the song we opened with, is from The Amygdaloids first CD, Heavy Mental. Lenny chose to do covers, and came up with two wonderful R and B classics, "All in My Mind" and another song called "Mind Over Matter."
We got together at my apartment a couple of hours before the show and went over everything. Then we marched up 7th Ave, guitars in hand. That was priceless. It was like I had been on a game show and the emcee had said, congratulations, you've won an evening where you get to walk through the streets of New York with Lenny Kaye, carrying your guitars, and then play a gig to a sophisticated, intellectually astute, music savvy live audience at the Rubin Museum in Chelsea.
Our plan for the evening worked well. After starting stage left with "Mind-Body Problem", we took to the cushy seats stage right and started asking each other questions about how we came to do what we do. I talked about what led me to study fear, and Lenny took us through the early days when he was a rock writer and had the opportunity to put together what is still the ultimate 60s garage rock collection, Nuggets. One thing led to another and I went on to explain a bit about what goes on in the brain and body when we encounter danger, and how this can lead to the formation of fearful memories. Lenny then explored his long-standing, fruitful and rewarding collaboration with Patti Smith, but also talked about his other career as a music historian: he has written books about Waylon Jennings and about 40s crooners, and Nuggets itself is quite a piece of history. We took stage left again and did our two very different songs called "Mind Over Matter." Lenny's choice by Nolan Strong the Diabolos has a doo wop vibe, and mine is a more contemporary love song with a country/indie rock feel.
Back to the cushy seats for some more banter, this time about the artificiality of the pop psychology idea that artsy types use the right side of their brain and logical scientists use the left side. We both felt that logical and emotional facets of the mind and brain are called upon when people are engaged in creative endeavors, whether in science or art.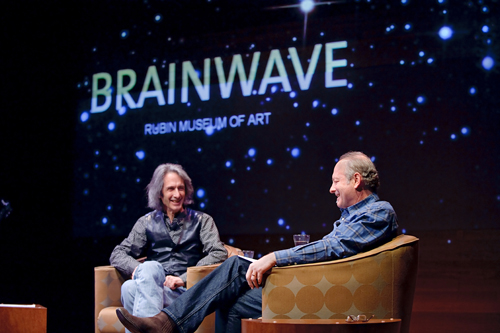 We also explored, from the scientific and artistic perspectives, the question of why music can, like nothing else, work its way through our brains to the deep and sweet spots of emotion and memory. Apropos of this, I read a beautiful quote I took from the liner notes Lenny wrote for The Amygdaloids new CD:
"Driven by the flash of neuron and receptor, much as the telepathic transference of audio emotion between musician and audience, music is the most mysterious of arts, one of synaptic and sympathetic overtone and vibrato, encompassing memory, language, self-definition, mirrored understanding--a central experience that is as much of our human cognition as is the need for relationships, hunting, gathering, nurturing and love."
The crowd gave him a rousing applause. At some point, I also explained how I am trying to use the power of music to convey scientific information in a user friendly way -- The Amygdaloids songs are about mind and brain and mental disorders. Placing little "nuggets" about the brain in pop songs might be a way to reach people who might not ordinarily be prone to read books by me or other brain guys.
We took to stage left one more time and did Maxine Brown's slow and moving R and B classic in 3/4 time, "All in My Mind," and closed with The Amygdalolids' "Piece of My Mind," a fast-paced rocker in 4/4. This took us into Q and A, where we had lively discussion about emotion, memory, music and life.
For the faithful followers of Brainwave, it may have been just another night at the Rubin Museum. But I hope it was as special for the audience as it was for me. They got to experience the fuzzy boundary where science and art meet while listening to a rock legend talk, sing and play in a cozy setting, and while also learning a little about the science of memory and emotion. For me, it was definitely a night to remember -- the night I walked through the streets of NY to my gig with Lenny Kaye. A few days before I would have said it would be memorable because he's a rock icon. But after, I say it's because he's a really great guy.