Do girls weave totally different fantasy lives than boys while playing with dolls? Do lesbians create totally different fantasy worlds than straight women when playing with dolls?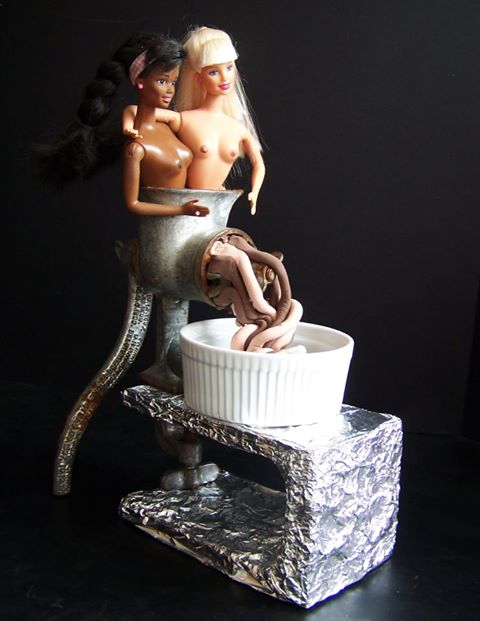 The answer to these questions (and so many, many more) become apparent while watching The Altered Lives of LaVonne Salleé, a bizarrely entertaining short film that begins as the camera focuses on a woman walking two Yorkshire terriers down the street. What makes her dogs stand out? The Barbie dolls riding astride them like cowgirls.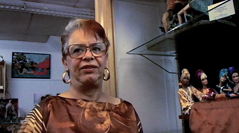 Artist LaVonne Salleé
Salleé always had artistic leanings. She just hadn't found her specialty until 2007, when a walk down Market Street in San Francisco led her into an art gallery hosting the Fifth Annual Altered Barbie Show. As she explains on her website:
I was born in Roswell, New Mexico on January 18, 1946. I was one year old when the Aliens landed there. Rumor has it that, when they crashed, their spirits left their bodies and entered the bodies of the babies in the area. Growing up, I showed creative and artistic abilities but was discouraged in regard to making a profession out of my artwork. At that time (the 1960s), being an artist was thought to be reserved for hippies, bohemians, and people who were not serious about financial security and did not have their priorities in order. I was taught that what other people expected of me, thought of me, and felt about me, was more important than what I thought and felt about myself or what I wanted for myself. So I did all the things I thought would gain the approval of those I wanted to impress. I worked for Corporate America. I earned the titles of Manager, Assistant Vice President, and Criminal Investigator. I retired in 2002 after 25 years.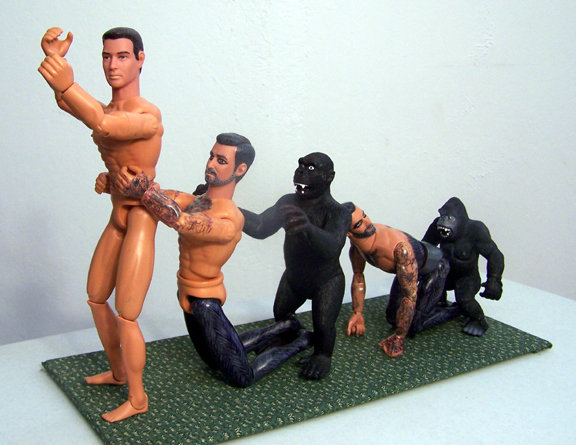 LaVonne Salleé's version of The Evolution of Man
I have no particular connection with Barbie. I did not have one when I was a kid and had no desire for one. I am not affiliated with any of the doll makers or the makers of the props or accessories I put in my pieces. I use these objects as my canvas. I love the idea of using recycled materials for my work. Not only can I paint, work with clay and plaster, I can also do her makeup, hairdo, make clothes, cut in pieces and chop, slice and dice her. I am never bored with Barbie.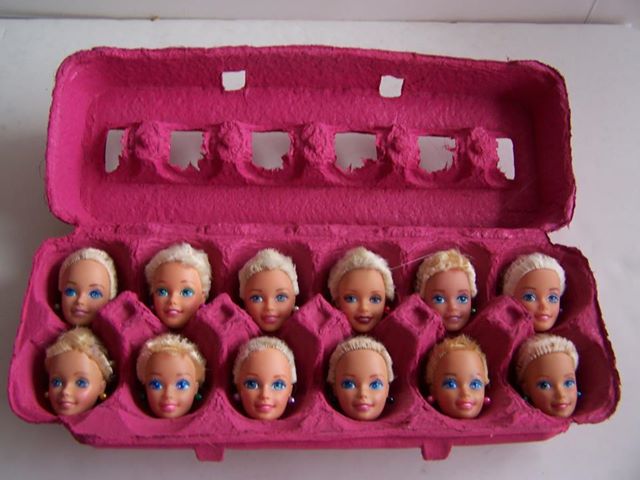 Whether creating mock scenes like "Barbie's Last Sleepover" or "Barbie Gets A Colonoscopy," Salleé has learned to accept the words "You're really sick!" as a compliment. She still marvels that, when people see her sculpture (based on Leonardo da Vinci's famous painting on the ceiling of the Sistine Chapel) entitled "God Gives a Condom to Adam," she'll hear questions about why the Barbie equivalent of Adam isn't circumcised.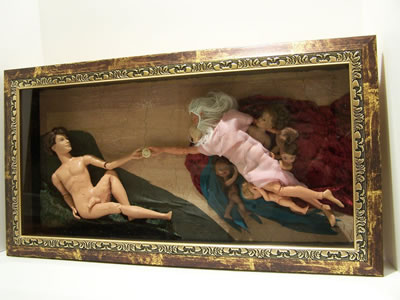 Six years after Salleé found her artistic calling, she has become an established presence in the Altered Barbie subculture. For those who can't make it to a live screening of The Altered Lives of LaVonne Salleé, the following slide show offers more samples of her work:
Whenever one talks about dolls and opera, it's impossible not to think of Jacques Offenbach's The Tales of Hoffmann (which had its world premiere at the Opera Comique on February 10, 1881). In June, the San Francisco Opera (in a co-production with the Barcelona Gran Teatre del Liceu) presented a new staging of Offenbach's opera directed by Laurent Pelly and designed by Chantal Thomas (with costumes designed by Pelly). In explaining why the work of Flemish symbolist painter Léon Spilliaert was such a strong source of inspiration, Pelly writes:
"The association between the worlds of E.T.A. Hoffmann [the German romantic writer whose short stories inspired the opera] and Léon Spilliaert was immediately obvious to me. A realistic fantasy and mystery within everyday life can be found in the painter's work of his central period, as with Hoffmann's works. All of Spilliaert's work seems to show a banal interior, animated by a disturbing magic. Through the eyes of the artist, every object, every piece of furniture, each colored wall takes the viewer into a deep and mysterious realm, transforming reality into something strange and surreal. It's a traditional environment inhabited by shadows and secrets. We have chosen to take this fascinating world as the inspiration for the design of our production and create a space that comes from the imagination of the poet. A world both real and dreamlike, and a device that moves us from one story to another -- a reality both in the theater as well as in the foolishness of Hoffmann. The staging is not designed to be a decorative piece, but as a tool for mobile storytelling.

It is the combination of two geniuses: the poetical and fantastical world of E.T.A. Hoffmann combined with the musical inventiveness of Jacques Offenbach. It is the madness of a poet and the dream of a composer; an extravagant work that one can never completely circumnavigate, which successfully joins the grotesque and the sublime. While Offenbach never forgets the humor, he brings a dark, fatal dimension. In his quest for the absolute and ideal female to the adventures of the poet Hoffmann, Offenbach mixes exhilaration with the macabre, popular melodies with intense lyricism. Les Contes d'Hoffmann represents four eras in the emotional life of a man, four stories that together make a unique opera, a masterpiece of French romanticism, and a labyrinth of dizziness and lightness."
Although a bass-baritone usually sings all four villains (and one soprano may occasionally sing all four heroines), in most productions of Offenbach's opera it is the doll, Olympia, who makes the strongest impression on an audience. Not only does Olympia have to sing -- and act -- one of the most challenging coloratura arias ever written, her scene offers delicious challenges for any production's creative team.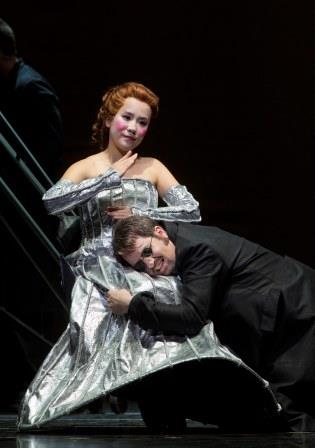 Hye Jung Lee as the doll Olympia with Matthew Polenzani as
the Poet in The Tales of Hoffmann (Photo by Cory Weaver)

I tip my hat to Chantal Thomas for coming up with a brilliant idea with which to keep soprano Hye Jung Lee mystifyingly on the move while astonishing audiences with her aerial prowess. The trick employs a combination of Joël Adam's strategic lighting with the use of an old-fashioned cine jib (the kind of crane fitted with a bucket seat that allows a film director to rise above the action on a sound stage).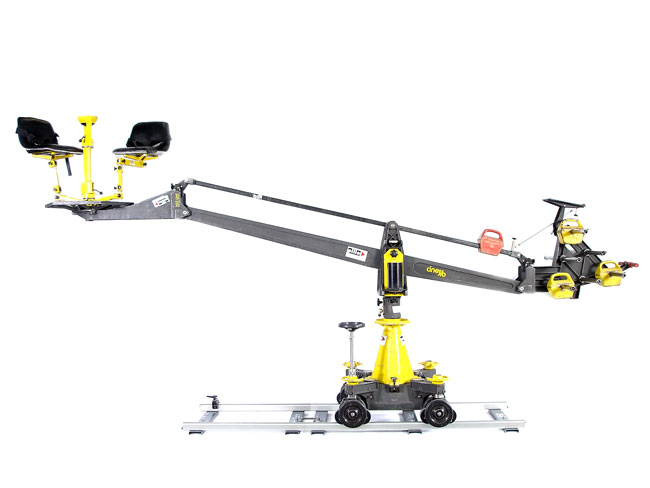 A modern cine jib
Although the first act was tough to beat, soprano Natalie Dessay's intense Act II portrayal of Antonia rested on solid vocal and dramatic techniques (Antonia's death scene was performed with a rare poignancy).
What I found so unusual about this production was the way its creative team had been able to make the scenery "dance" in such a way as to make the characters appear to be living in a cinematic environment. Using modern technologies ranging from Olympia's in-line skates to live video projection of Margaret Mezzacappa as the ghost of Antonia's mother; from standard magician's fire tricks to a live, split-screen video projection that makes it seem as if Hoffmann has lost his reflection in a mirror, this production uses some wonderful stagecraft to entertain its audience.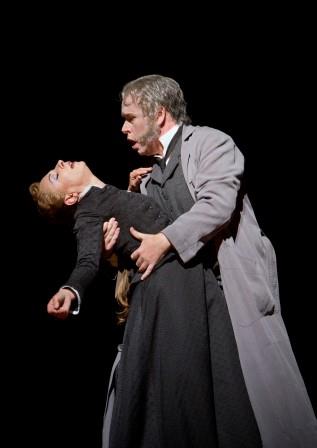 Antonia (Natalie Dessay) and her father, Crespell (James
Creswell), in The Tales of Hoffmann (Photo by: Cory Weaver)
Underlying it all is some solid musical preparation by conductor Patrick Fournillier and chorus director Ian Robertson. Of course, the poet Hoffmann is perpetually drunk. The tales he relates to his drinking buddies about his encounters with Olympia, Antonia, and the courtesan, Giulietta (Irene Roberts) are all figments of his imagination. This makes it easier for a stage director to paint comic characters like Frantz, Andres, Cochenille, and Pittichinaccio (all portrayed by Steven Cole) with the broadest of strokes.
Matthew Polenzani was in fine voice as Hoffmann, while Natalie Dessay's Antonia and Hye Jung Lee's Olympia had the audience cheering. The four villains (Coppélius, Dapertutto, Dr. Miracle, and Lindorf) were all powerfully sung by Christian Van Horn. Angela Brower doubled as Hoffmann's Muse and Nicklausse, with Jacqueline Piccolino appearing in the final scene as Stella.
It's unfortunate that The Tales of Hoffmann is not performed more frequently in America, for Offenbach's score is chock full of musical riches. The following clip contains some highlights from this production:
Related
Popular in the Community