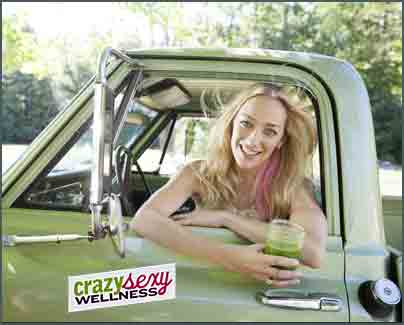 In 2007, I got to meet Kris Carr right before the launch of her very first book Crazy Sexy Cancer Tips. Her take-charge approach to a healthy lifestyle inspired me and others in so many ways. Now, nearly ten years after the diagnosis that changed her life for good, Kris is not only a cancer "thriver," she has created a wellness revolution.
She has a new bestseller on her hands, Crazy Sexy Kitchen, her first cookbook that she calls a veggie manifesto. It will change the way you think about your health.
EYE: For people who are really into health, you are everybody's go-to person. How does that feel? I'm sure that's not necessarily what you had intended initially.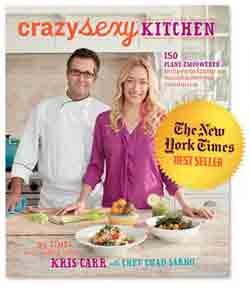 KRIS: I had no idea what I was getting myself into. I was just trying to figure out what I was going to do to feel better living with incurable cancer. When I started to do the research and certainly when I started to write my books, I realized that everybody needs to know this information, not just people who have chronic diseases.
EYE: I'm obviously a Crazy Sexy fan. What do you mean when you say Crazy Sexy?
KRIS: It started as mass emails that I would send to friends and family--my Crazy Sexy cancer updates. It was my way of letting everybody know all at once what was happening to me. I still had my sense of humor and I was still the same old Kris.
Crazy is out of the box; it's forward thinking. Crazy is that kind of speak that somebody might say to you when they say, "Oh, that'll never happen. That's crazy!" And then we say, "Oh really? Watch me!" Sexy is just empowering. So it stuck, and I think it really describes my mission. So we use Crazy and Sexy!
EYE: Your grandmother was very much an inspiration to you when it comes to cooking. But did you ever think that some day you would actually write a cookbook?
KRIS: No. I didn't know what a whisk was. I was on a very different path. I moved to New York when I was 19 to pursue acting and dancing. I started performing when I was a kid, and my diet was what I would eat to stay slim for my job. I had a bad relationship with my diet.
I was either dieting or binging, and there was a lot of chaos around my diet. When I got diagnosed and learned that there was no treatment for the disease that I had and that I would have to learn how to live with it, I decided, "Well, the one thing I can do is learn how to feed myself, how to take care of myself and to be nicer to myself. That's what I can do; I can participate in some way." And it started with the kitchen.
I took many different cooking classes and training courses and certification courses, and I was just doing my best to learn everything about plant-based foods. Then over time, I released a few books for cancer patients. In 2011, Crazy Sexy Diet came out, and that made it to the New York Times Best Sellers list.
EYE: The diet was the why, and then Crazy Sexy Kitchen is the how.
KRIS: Exactly. With Crazy Sexy Kitchen, I even break some of my own rules, where with Diet I'm really laying out a philosophy. With Kitchen, I think I open it up to an even broader audience which is why I brought in my friend Chef Chad Sarno, who is a chef at Whole Foods.
I had no reference. There wasn't cancer in my life,

or in my family, and I didn't know anybody with cancer.

EYE: For many people who don't know your back story, Valentine's Day, 2003, was a life-changing day for you. What were you told on that day?
KRIS: I was 31-years-old. I had pain that had been misdiagnosed for a few years that I was trying to avoid as well. I wasn't totally on top of my health situation, but finally I got to a place where I couldn't walk. I was doubled over in agony and I could barely breathe.
I got myself to the doctor, and they found lesions on my liver doing an ultrasound. Then they did a full body scan and found lesions on my lungs. I had no reference. There wasn't cancer in my life or in my family, and I didn't know anybody with cancer. Anyway, long story short, it came back that I had a very rare sarcoma, and it was stage four when they found it.
That's the end stage. But the good news was that it's slow moving, and it can change. It can become aggressive, which is why I get checked every year and a half now to make sure I'm still stable. So I'll be honest, if I had been able to have chemo or radiation or surgery or anything like that, I maybe wouldn't have changed my life.
EYE: What is the one thing that you really want people to know? Is it that we can have control over our health?
KRIS: I think we can participate. We really can make a difference, and the most important thing I could recommend is just to accept where you are right now. It's okay. You don't have to fall apart or beat yourself up. You can lean in and go one step at a time. Learn how to befriend yourself.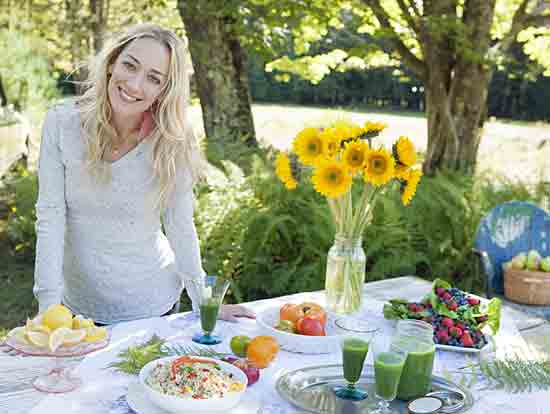 Photos of Kris Carr by Bill Miles
Related