There's no doubt that technology can be stressful. While 24/7 connectivity certainly makes some things more convenient, a plugged-in life can take a toll on our well-being. Scientists have linked heavy tech use with decreased focus and productivity, increased stress, disrupted sleep and stunted creativity, among other concerns. But one of the great ironies in our always-connected world is that technology can also be leveraged to help us de-stress (as we know first hand from the creation of HuffPost's GPS for the Soul app).
In that spirit, the HuffPost Healthy Living editors tested out a handful of well-being apps that promise to promote a more balanced, zen life. Check out our thoughts below, then tell us in the comments what apps you swear by.
Health through Breath: Pranayama Lite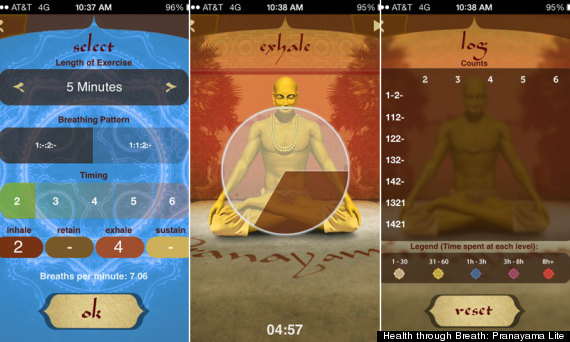 Price: Free. The full version costs $5.99. Available for Android and iOS.
How it works: This app is essentially a guided breathing course. You get to choose from a variety of music, sounds and animations to coach you through a few minutes of inhaling and exhaling. You can also log your sessions to keep track of your progress, with the goal of working toward more advanced training. (Only the beginner sessions are available in the free version.)
Time commitment: From five to 60 minutes, whenever you feel like it. With the full version, you can create more customized sessions.
How we felt: There's good science to back up a fact we all know: A few deep breaths really can do wonders for kicking stress to the curb. We felt much lighter after focusing only on our breath for just a few minutes, and the sounds and animations of the app helped keep the mind from wandering during the process.
Would we use it again: Maybe. We don't absolutely need an app to remember to take a few deep breaths every once in a while. But under a lot of stress, we might lean on the app to steer our minds back to clarity.
Zen Space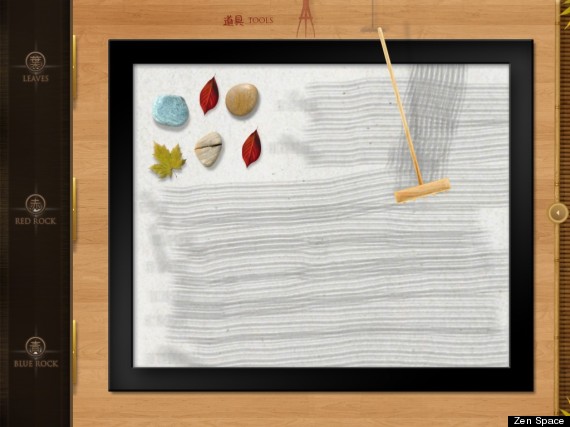 Price: Free. (Heads up: It's only for the iPad.)
How it works: This app allows you to create your own zen garden and save your images in order to revisit your design. Complete with a selection of soothing music, Zen Space lets you choose what tools and add-ons you want to use in order to create the most optimal, peaceful experience.
Time commitment: Anywhere from one minute to one hour -- completely up to you.
How we felt: Any step toward creating more calm in our lives is a good step, and this app allows you to do that. The music is relaxing and it definitely set a pace that can help regulate breathing and get you into a meditative state. That being said, we found our minds wandering after a few moments of use. When it comes to this method of creating inner peace, you might be better off with something more tangible. We'd rather unplug from our devices and take the real zen garden over the virtual one.
Would we use it again: We'd use it again, especially when looking for some soothing music, but it wouldn't be a go-to app.
Zen Wisdom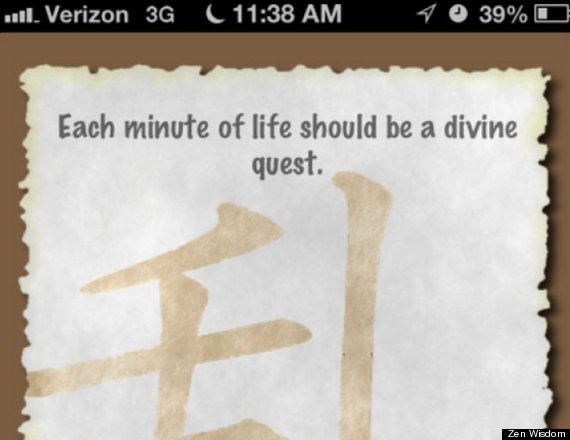 Price: $0.99, for iPhone, iPad and iPad touch.
How it works: The Zen Wisdom app presents a "daily wisdom" quote from the Zen Buddhism tradition, with the option to save or share it, as well as a comprehensive collection of random Zen quotes that can be perused and saved to a favorites folder at any time.
Time commitment: Virtually none.
How we felt: Most us could use a little more zen in our lives, and this app is a good place to start. Many of the daily quotes (from the Dalai Lama, Alan Watts, Buddha, and more) were genuinely calming and comforting, as well as applicable to anyone's life. Zen is all about finding peace and wholeness in the present moment, and the words of wisdom offered good reminders to be mindful and seek simplicity. Although the design and typography left something to be desired, the quotes themselves ("simplify yourself as much as possible") are a good introduction to Zen, and they're important reminders to keep life's challenges in perspective.
Would we use it again: We'd use the app again, though probably not regularly. There's not a whole lot you can do with it, but the daily quote is a nice way to insert a little bit of Zen wisdom into your day.
Buddha Board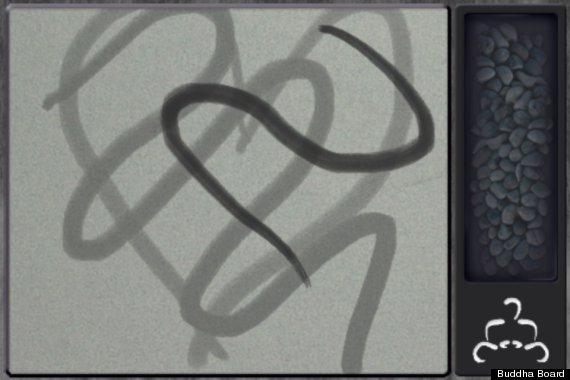 Price: Free, for iPhone, iPad and iPod touch.
How it works: You "dip" your finger into a water tray on the screen and then "paint" on the board, which looks a bit like an Etch A Sketch -- you can customize the brush style, water tray style and board color. Each brush stroke fades out over time, and you have the option to turn on relaxing music. According to the app, "Buddha Board is based on the Zen concept of living in the moment, you create your design on the screen, and then as it slowly disappears, you are left with a clean slate and a clear mind -- ready to create a new masterpiece."
Time commitment: A couple of minutes.
How we felt: We're not all the most artistic, meaning most of the creations were hardly zen "masterpieces," but there was something relaxing about using the app, if only in that it served as a break from a hectic day. It was fun to experiment with the various colors and brush shapes, and the music was actually soothing. It's also very simple, with minimal time commitment, which we liked.
Would we use it again: We might use it again when in need of a distraction during downtime (maybe on the subway). But there's only so many squiggles a non-artistic gal (or guy) can make before it's time to move on.
Serendipitor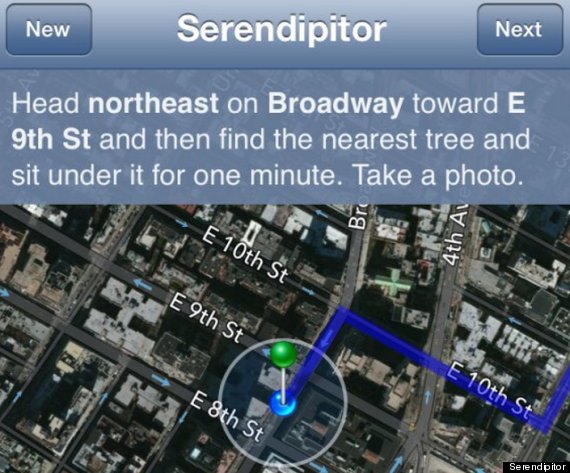 Price: Free for download on iTunes for iPhone, iPad and iPod touch.
How it works: The navigation app is designed to take you from point A to point B in a new way: with mindfulness. Instead of basic turn by turn directions, the app takes you up buildings and under bridges with instructions on who to talk to and pictures to take. The goal is to open your mind and eyes to your environment along your commute.
Time commitment: You should have a decent amount of time to get to where you're going as you'll be asked to stop and carry out activities along the way. You can change the complexity of the route to shorten or lengthen the steps included in the navigation for your time convenience.
How we felt: The use of the app as a navigation system needs some work -- it couldn't find routes to the addresses put in the destination. That meant the only option was to go to a random destination, which required us to carve out time just to use this app. It was however a great way to discover new places and people in the neighborhood. There are also restrictions on what you can actually accomplish, which the app does not account for.
Would we use it again: This app is not for the reserved. The instructions often ask you to follow someone, or ask people if you can take their picture on your phone. It's a very cool concept but not something everyone would feel comfortable doing -- instructions also include "follow that person until they go indoors ... take a picture of the door they went through." We might use it again with friends (not alone) for an activity to get outdoors.
Relaxing Sounds of Nature Lite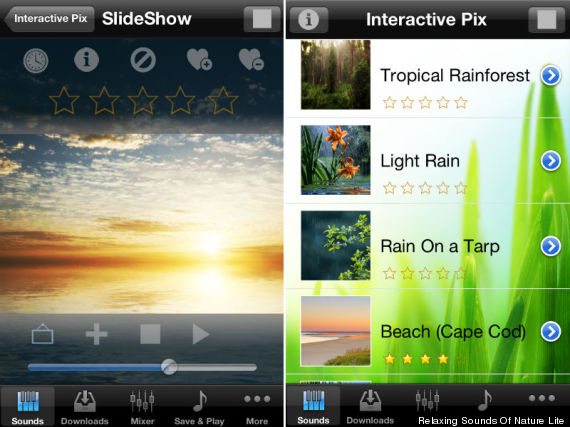 Price: Free for the iPhone, iPad and iPod touch.
How it works: The app has nature-based soundscapes, like crashing waves, jungle sounds and the hum of crickets. Along with sounds, each category has its own collection of images. If you're feeling stressed out, you can create your own visual and sound boards by matching sounds and images as a way to relax, reduce stress or even prepare for sleep or meditation. You can also mix several sounds together for a custom sound.
According to the app's creator, Red Hammer Software, the goal is to "help you get away from the noise of the city, feel free from the problems that surround you and help you fall asleep."
Time commitment: Up to you! Could be a minute, could be 10.
How we felt: We love the sound of waves crashing, crickets chirping and jungle birds calling, but weren't moved by any of these, delivered tinny and digitized, via headphones. The images were nice, but not particularly compelling or unique. That said, it's helpful to have a tool that reminds you to downshift: Using the images and sounds as a sign that it was time to rest, relax and get to the business of sleeping was worthwhile.
Would we use it again: Instead of listening to "the sounds of nature," we'd rather make time for the real thing. But we might take a page from Red Hammer Software and create a pre bedtime ritual.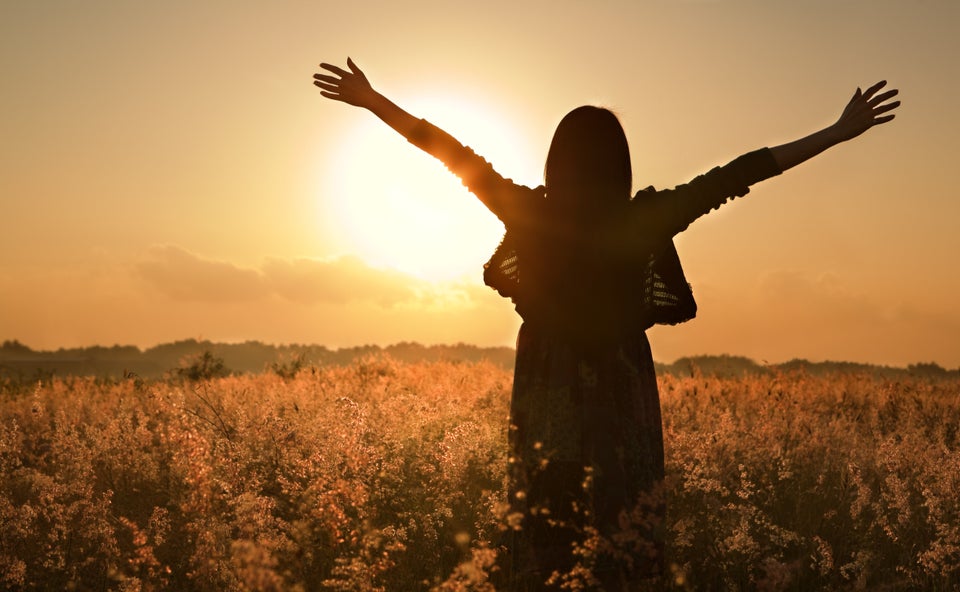 7 Ways To De-Stress In A Minute Or Less