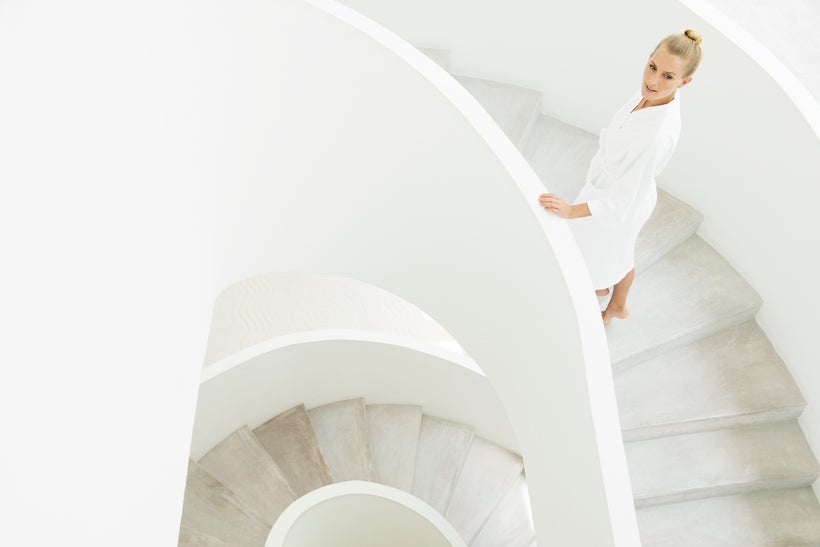 Megatrends (1982) author,  John Naisbett , perceived the concept of high tech high touch. The meaning of this phrase is that you need to serve people using technology by making them feel human, not part of the machine. In our modern society where technology has taken over, people are spending more time interacting with machines (cellphones, computers, etc) than humans. Many of the predictions from his book are a reality, including the shift from industrial to high tech,  institutional to self-help,and the need for more personal human interaction. Thus, in seeking self-help solutions, many of us are yearning for the softer side of life, and flocking to spas to experience 'high touch' nurturing to bring life back into balance.
Did you know that when humans hug their immune system enhances dramatically? This is precisely why there is a therapeutic effect with touch and getting a massage not only feels good but is important for our health and wellness. Thai Therapy Massage is also excellent for the immune and lymphatic system. So visiting a spa and getting physical contact and touch is life enhancement at it's best. Of course, immersing yourself in nature, walking barefoot on fresh grass or the sand is also therapeutic, and getting grounded through earthing is another healing modality.
Sometimes a body treatment can be more rewarding in the long run than a new object/outfit/shoes. Wellness experts are reporting that the best way to obtain healthy habits is to become aware of your body and your needs. Self-Care is the buzz word.
The sooner you begin to get in touch with your own body, it's needs and messages, the better. This is the beginning of a life-long relationship. You are the CEO of your own health. The first step is to visit a healing retreat or spa and become thev master of your body and it's needs.
This is why there are so many health savvy travelers seeking holiday escapes that make a difference in their overall well-being. And smart resorts are designing programs to feed the world-weary soul of their guests with nourishing, life-affirming experiences.
"Resorts around the world offer health-focused programs for travelers looking to dine on waistline-friendly foods, tone up with fitness classes, relax the mind with meditation and indulge in revitalizing spa treatments." US NewsTravel
Wellness Week/Wellness Travel is a fast growing trend in luxury resort travel which meets the demands of the ever more stressed guests. Spas were the epicenter of wellness tourism as exclusive destination resorts, and serene sanctuaries, dedicated solely to healing and wellness. Now the all-inclusive luxury brands, already a favorite leisure destination, may offer a specialized week within the resort.
"Vacations concentrating on wellness are compelling because everyday commitments create obstacles for people to do what they would like to do for their health," says Dave Aidekman, founder of The Trip Tribe, a website connecting like-minded group travelers.
The all inclusive resorts are providing a niche with unbeatable options, such as the adults only Beloved Hotels, in Playa Mujeres, a new beachfront boutique property. They are offering an ultra deluxe Wellness Week Program, aptly named the "Joy of Life" .This universal theme for the year-end retreat is perfectly timed for peaceful reflections, connecting with the inner guidance, replenishing and revitalizing their guests for the new year ahead. Carefully designed to address those who are seeking to experience overall well-being. Its like an all-you-can-eat foodie fest for vegans with a cornucopia of gourmet treats for the mindful eater.
A wellness resort that focuses on Wellness Week can help you relax, get fitter, eat healthier—and have fun, too.
With an unstructured program, getting into the flow at this retreat appeals to people who want a break from the stress of making a lot of decisions. Everything is set up for you, all you have to do is choose your favorite offerings from a list of spa treatments, exercise and healing energy classes as well as a perfectly aligned menu of the freshest most healing foods.
With a cornucopia of healthy food, healing treatments and classes, you can submerge yourself, experiencing a total immersion. Spending a week just focusing on your own personal health and wellness, including vegan cooking classes with a vegan master who teaches Ancestral Eating.
1. It is not only the type of food but the methods of cooking, preparing baking, combining and more.
2. Ancient food relied upon Seasonal varieties, unprocessed with more plant based staples of fruit and vegetables.
3. More vibrant and nutritious, farm to table fresh, so it was lower in calories.
At the Beloved, In addition there are different types of yoga from Bikrum to Stand Up Paddleboard and even experience a session with a Mayan healing master.
You can experience healing rituals including sound therapy, and an interactive resonance concert is another highlight of this treasure trove of experiences. There is even a Cacao Ritual, a ceremony that facilitates an inner journey of relaxation to link into insightful messages from your heart. Accessing the ancient Mayan traditions, guided meditation experiences and the mastery of the guide, make these healing modalities unlike any other.
Remember when you spend a week at a wellness retreat, such as the Joy Of Wellness, make sure you combine it with a digital detox! This is becoming a necessity, to escape from the 'matrix' of electromagnetic frequencies, such as cell phones, internet, and even television. With all the good food, luxury pampering and beautiful beach accommodations, this is probably the easiest place to get unplugged and really enjoy your freedom and healing!
REAL LIFE. REAL NEWS. REAL VOICES.
Help us tell more of the stories that matter from voices that too often remain unheard.
This post was published on the now-closed HuffPost Contributor platform. Contributors control their own work and posted freely to our site. If you need to flag this entry as abusive,
send us an email
.