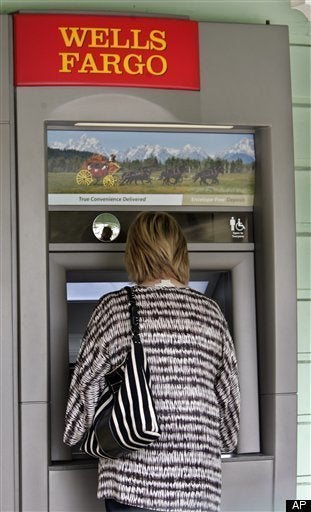 Three of the biggest banks in the country -- Wells Fargo, Bank of America, Chase -- all touted their decisions last week to reduce overdraft fees amid criticism from lawmakers and growing public frustration.
But plenty of fees - from foreign currency surcharges to balance transfer fees - are still being charged by most banks, which are expected to make $38.5 billion from overdraft fees alone this year, according to economist Michael Moebs who tracks the industry.
And Wells Fargo, which received $25 billion in bailout funds last fall, is now being accused of taking advantage of customers who make math errors on ATM deposits through a little-known policy.
According to a class-action suit filed in San Diego Superior Court, Wells Fargo customer Brandi McLay says that when she and other customers have made ATM deposits and mistakenly entered a dollar amount lower than the amount of the cash or checks on the keypad, the bank "pockets the difference," as first reported by Courthouse News Service.
McLay claims that when such "Under-inputs" are below than $10, the bank retains the money under an "Excess Funds Retention Policy."
McLay's lawyer, David Gallo, says that the bank has not responded to the complaint.
A Wells Fargo spokesperson declined comment on pending litigation but emphasized that the bank does not charge such a fee, telling Huffington Post: "We do not assess a fee in such a case, if the customer makes a mistake."
But Gallo says he has reason to believe "that it has occurred to many people," most of whom were unaware that the bank kept their money since the amounts were so small.
Such a policy is not unique to banks - the Pennsylvania State Employees Credit Union charges a $1 processing fee when depositors make math errors, according to a spokesman. The PSECU Website describes ATM deposit adjustment charges (e.g., entry errors, math errors, deposit incorrect endorsements) but the spokesman emphasized that refers to pass-through fees when their members go to other financial institutions and make entry errors. "Our general philosophy is to try to limit fees whenever possible because it's not in our interest to make money off of our members," said the spokesman.
Consumer advocates at the Consumer Federation of American and the National Consumer Law Center had never heard of such a policy at banks and credit unions. "That surprises me," says Mark E. Budnitz, a law professor affiliated with the NCLC. "Banks keep adding more and more fees, according to various studies, and they are supposed to disclose all those fees."