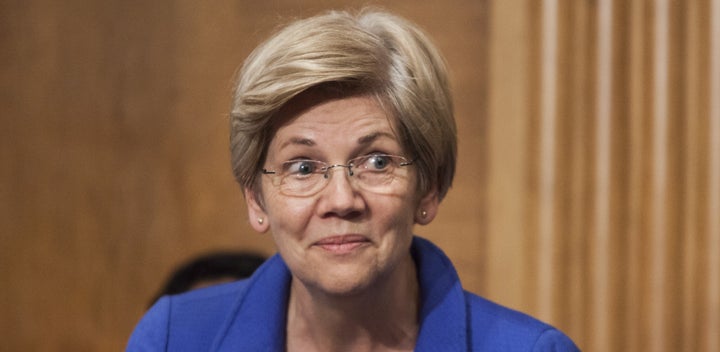 John Stumpf is the chairman of the Wells Fargo board of directors. This prestigious body is tasked with holding company executives accountable for misdeeds, and the chairmanship is its premier position. So it makes sense that Sen. Elizabeth Warren (D-Mass.) would ask Stumpf what punishments the board is considering levying against company executives in the wake of a major scandal.
Late last week, the Consumer Financial Protection Bureau levied a $185 million penalty against Wells Fargo for creating literally millions of fake accounts for its own customers ― replete with bogus fees ― in an effort to meet aggressive internal sales targets. On Friday, Warren sent a letter to Stumpf asking if the board is considering clawing back pay to top executives as a result of the mess.
But here's the thing. Stumpf is not only chairman of the board at Wells Fargo. He's also the bank's chief executive officer. When Warren asks him to re-evaluate prior executive payouts, she's asking him to consider ponying up part of his own fortune. She and her four Democratic colleagues in the Senate who co-signed her letter to Stumpf weren't shy about its implications for his own bank account.
"Will Wells Fargo take action to claw back any or all parts of any other senior executive's incentive compensation ― including your own ― as a result of the settlement with the CFPB and other entities?" they wrote.
Listen to HuffPost's discussion of the Wells Fargo scandal in the latest episode of the "So That Happened" politics podcast, embedded below. The discussion begins at the 13:00 mark.
Much of the letter focuses on the pay received by former Wells Fargo Senior Executive Vice President of Community Banking Carrie Tolstedt, who left the bank in July with a compensation package worth up to $125 million in stock options and awards. Tolstedt reportedly had authority over the 5,300 employees who the bank said it fired over the course of five years for creating bogus accounts.
The fact that thousands of employees were involved in creating millions of accounts over several years, of course, suggests that company-wide policies implemented by top managers may have had something to do with the trouble. As CEO, Stumpf had authority over Tolstedt and everyone else who worked at Wells Fargo.
Stumpf received $19.3 million from Wells Fargo in both 2014 and 2013. He was the highest-paid big bank CEO in 2012, pocketing $22.9 million, as reported by The Wall Street Journal. He has served as the company's CEO since the summer of 2007.
Sens. Sherrod Brown (D-Ohio), Jeff Merkley (D-Ore.), Jack Reed (D-R.I.) and Robert Menendez (D-N.J.) all signed onto the letter, the full text of which can be read here.
Popular in the Community