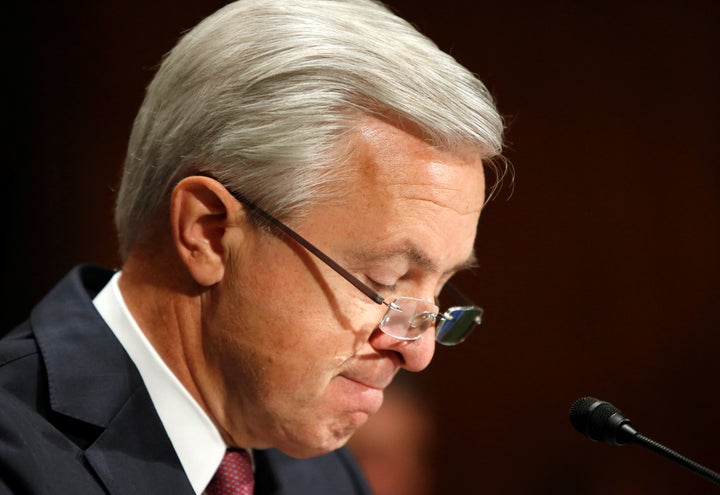 For the first time since the financial crisis, a big bank is publicly forcing its CEO to give up a small part of his millions in salary and stock ― making him take at least some symbolic, personal responsibility for misconduct.
Wells Fargo CEO and chairman John Stumpf will forfeit $41 million in unvested stock, give up his $2.8 million annual salary (for a time) and get no bonus this year, the bank announced Tuesday in the wake of a massive scandal. Stumpf is hardly at risk of homelessness, though: he still has his job ― much to the consternation of critics ― and another $247 million in Wells Fargo stock he's accumulated.
The bank also fired 5,300 low-paid workers over the past five years in connection with the scandal, none of whom, presumably, had as comfortable a safety net.
For the unusual fact that a bank CEO is facing any kind of penalty, you can thank Sen. Elizabeth Warren (D-Mass.) who has tirelessly gone after the banking industry since the financial crisis devastated the country in 2008.
Warren, who excoriated Stumpf last week in a blistering and pinpointed series of questions and non-answers at the Senate hearing over the scandal, is largely responsible for the creation of the Consumer Financial Protection Bureau. The new post-crisis regulator finally held the bank to account for defrauding millions of customers. The CFPB and the city of Los Angeles fined the bank a combined $185 million earlier this month.
In a series of tweets on Wednesday, Warren called Wells Fargo's announcement "a step in the right direction," but said more must be done.
On Tuesday, Wells Fargo's board also said that Carrie Tolstedt, the executive responsible for the banking unit that had been ripping off customers, was leaving effective immediately, pushing up her retirement date from the end of this year. She will also get no severance pay or bonus for this year, give up $19 million in stock and won't receive some "retirement enhancements."
In a blandly worded press release, the bank's lead independent board member, Stephen Sanger, hinted Stumpf's future was far from secure. After announcing the board would retain an outside law firm to investigate the scam, Sanger said it would "take all appropriate actions" to address misconduct.
No bank in the wake of the financial crisis has forced a clawback of compensation from its chief executive. JPMorgan came closest during its London Whale scandal a few years ago. After the bank lost $6 billion on a credit derivatives trade, chairman and CEO Jamie Dimon had his 2012 pay cut from $23.1 million the year before the scandal to a mere $11.5 million.
Industry critics treated Wells Fargo's move fairly skeptically.
"Our biggest concern is that too many people are focused just on the CEO," Dennis Kelleher, the president and CEO of the nonprofit Better Markets, told The Huffington Post. "This was a breakdown of the entire corporate chain of command."
Starting in 2011, Wells Fargo employees opened more than 1.5 million sham checking accounts and applied for more than 565,000 credit cards using customer names and money without those customers ever knowing. The fraudulent accounts helped employees meet punishingly aggressive sales quotas and helped the bank tout its ability to "cross-sell" financial products to its customers.
The bank's stated goal was for every customer to have eight accounts with Wells. Low-paid retail bank employees who didn't meet short-term sales quotas could lose their jobs. (The Department of Labor announced Tuesday that it is investigating the bank for its treatment of workers.)
Stumpf, who was blasted at a Senate finance committee hearing over the scam last week, faces a similar grilling by a House committee on Thursday.
Popular in the Community