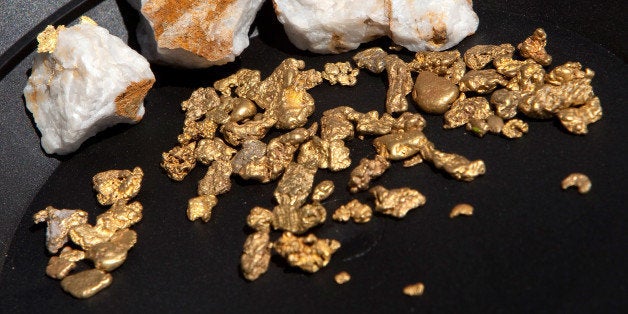 SAN FRANCISCO (Reuters) - Three bandits wearing ski masks crashed a stolen SUV into the Wells Fargo History Museum in San Francisco early on Tuesday and held a security guard at gunpoint before making off with a display of gold nuggets from the 19th century, police said.
The predawn smash-and-grab heist took place at the Montgomery Street building in the city's Financial District on the site where the original Wells Fargo bank was founded in 1852.
"The security guard went to investigate and found the vehicle had crashed into the revolving doors. Three suspects exited the vehicle with their faces covered, held the security guard at gunpoint, and took gold nuggets from a display case," police spokesman Albie Esparza said.
"One suspect was armed with a handgun," he added.
The dark-colored GMC Suburban was left behind, and the thieves made off in a four-door sedan. The SUV had been reported stolen from San Bruno, about 12 miles south of San Francisco. The guard was not injured.
The value of the stolen Gold Rush-era nuggets was not immediately known.
The museum's website describes its collection as "an impressive display of gold dust and ore from California's Gold Country," along with the 19th-century stage coaches that are the bank's symbol. Photos of the crime scene showed that at least one of the nuggets was left behind.
Wells Fargo spokesman Ruben Pulido said: "We're disturbed this happened to the Wells Fargo History Museum, but are grateful no team member was harmed. Additionally, the historic stage coaches on site were not damaged."
Pulido said the museum, visited by thousands of tourists and Bay area visitors each year, would reopen soon.
(Reporting by Robert Galbraith; Writing and additional reporting by Michael Fleeman in Los Angeles; Editing by Steve Gorman and Eric Beech)

Popular in the Community