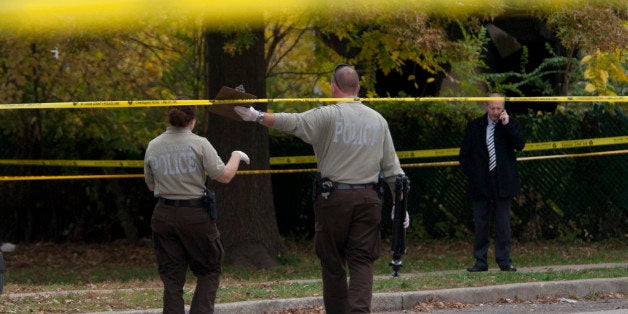 WELLSTON, Mo. -- A tiny St. Louis County police department with a budget so tight its $12-an-hour cops had to buy their own guns was disbanded this week after a string of embarrassments.
The 23 Wellston Police Department officers who patrolled the town of 2,000 handed in their badges Tuesday afternoon, after five of seven city council members voted to eliminate the department. Cops had faced recent criticism for incidents that included pepper-spraying a handcuffed woman and shooting a suspect to death.
The town's police duties will be taken over by officers from neighboring Vinita Park. Chief Tim Swope said during a press conference on Tuesday that he plans to hire as many as 10 additional officers for his force of 21, and former Wellston officers are welcome to apply. Swope said Vinita Park officers earn $20 dollars an hour and receive benefits.
That's significantly better than those who worked for Wellston, where officers had to buy their own guns, ammunition and uniforms.
Wellston, which covers just 596 acres, is home to about 2,000 people, 95 percent of them African-American. The impoverished town is blighted with vacant buildings and plagued by violent crime. Wellston's website says the town was founded in 1909, then dissolved due to "government difficulties" and reestablished in 1949.
It's unclear whether Wellston, like many small cities in St. Louis County, used its police force to bedevil residents with fines and fees. The U.S. Justice Department report examining conditions surrounding the August police shooting of teenager Michael Brown in nearby Ferguson found some municipalities in the county used police and local courts as cash machines to fund city government.
Both Wellston and Vinita Park failed to comply with an advocacy group's open records request for police department and municipal court finance details. Newly elected Ferguson City Council member Wesley Bell was hired by Wellston to deliver the data, according to the group Better Together. St. Louis Public Radio reported that Bell also helped negotiate Vinita Park's deal to take over Wellston's policing.
Bell could not be reached for comment.
Calling all HuffPost superfans!
Sign up for membership to become a founding member and help shape HuffPost's next chapter
BEFORE YOU GO
PHOTO GALLERY
Ferguson Protests Around the Country