Passion: Empowerment, innovation, smiles
Favorite song: Chelsea Wolfe- Flatlands
Hidden gem: Fatty's (Astoria)
Angry tweet: «New Yorkers- You're too much in my face. Leave me alone, but love me»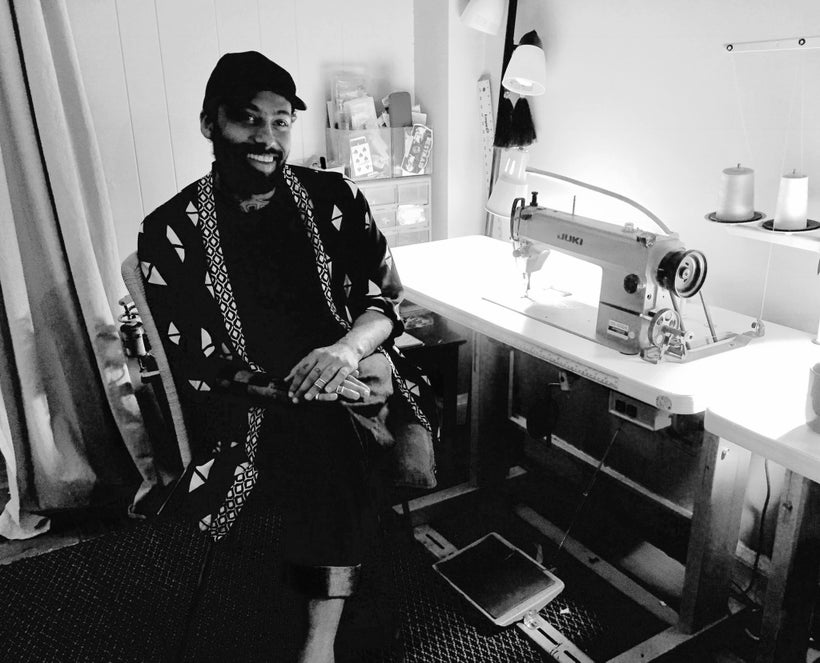 Fabio Costa. Brazilian by origin, New Yorker by living. The iconic Project Runway designer has made an impact. Through his fluid way of dressing and designing, he creates a liberating butterfly effect, causing changes to how we perceive fashion and gender-appropriate clothing.
«My mum moved to NYC when I was four years old to give me better quality of life. I came here every summer and went to private schools and to visit my mum. During those visits I realized that the world is so much bigger and there's so much more happening»
(See his video interview embedded further down)
Exposing The Core Of His Spirit
Little did he know how Project Runway would change his life and what NYC had in store for him when he packed his bags and moved, two days after finishing high school in Belo Horizonte, Brazil.
«I come from a very traditional culture, so bending rules regarding gender or clothing was very easy back there. I could get noticed just by having a different hair color or haircut. In New York that is the basic. As soon as you come to New York you become nobody. That's empowering and at the same time crippling.»
«Moving here was a sense of freedom in expressing myself; what to wear and allowing myself to be different. I became emancipated into being confident and that affected the way I dressed, but also made me understand the messages I was constructing and how it would affect people.»
«You need contrasts. You need to challenge people and make them feel uncomfortable, but you need to feel uncomfortable as well. That makes the whole grow.»
After reaching the finals of Project Runway season 10, Fabio decided it was time to start his own company. Having influenced so many by being genuine and staying true to his convictions, he named the company «NotEqual»
«I wanted to create clothes that don't indicate gender. Don't have back and front. Have free interpretation. The design process doesn't stop when I'm done with it, but it passes on to you to figure out how you want to wear it»
«What I want to achieve is the understanding that we are not equal with proportion, but we are the same. I'm creative and talented, but all my thinking comes from the core of the spirit. That is crucial for my design.»
Changing The Life Of A Little Kid
A painting he got from this little boy hangs in his apartment. To remind him every day of how powerful design can be.
«One day I got an email from this mum in South Carolina complementing me on what I had done in Project Runway and my clothes. In the last paragraph she said that the real reason she was reaching out was because of her 5 year old son. He was going to school in dresses and wore dresses around the house. The mom wanted to support and help him in not feeling strange. She was asking me for advice on how to shop for dresses and make life simpler for her son. That crashed my world. It made it seem real.»
«I cried for days before I responded to the letter. Then they came to New York and the little boy had made a painting for me. It was very special to see that long after I'm gone I've passed on something that has had an impact on someone's life. At least for one person and his life»
The Tolerant Yet Bigoted City
Among 8,550405 strong personalities living in New York, you got to reinvent yourself and go to more extremes if you want to challenge conventional thinking and be somebody. It's different here than any other place. It can paralyze you or make you stronger. The latter is true to Fabio, even though it's been a rocky road. His experience on New York and tolerance is different than what most people might expect.
«Since you can do and wear whatever you want, people can interpret it in anyway they want too. I would wrap a bed sheet and put safety pins in and go to work. Needless to say it wasn't accepted. I couldn't go home to change, so I would have to walk around all day feeling like a clown. When I thought I made people uncomfortable or tried to make people think with the way I dressed, I was doing the opposite because people's reaction would make me uncomfortable»
«I cried for days before I responded to the letter. Then they came to New York and the little boy had made a painting for me."
This flip side to the city is rarely discussed. Perhaps even ignored. New York is suppose to be accepting and tolerant. It's what NYC is known for. And for the most part is. We all expect that from the biggest melting pot in the world. Apparently, the city doesn't practice what it preach all the time.
«You live in New York with a lot of progressive minded people, but there are also conservative people. Since you have all walks of life, all cultural background it can be difficult. If I'm wearing a skirt as a man, the responses can be so diverse.»
«You need contrasts. You need to challenge people and make them feel uncomfortable, but you need to feel uncomfortable as well. That makes the whole grow.»
And that's why he continues to challenge and pushing through innovative design. When you expose the core of your spirit and use your talent to make the whole grow, you can make exceptional impression. And impact. You've moved many already, and I have no doubt there'll be many more to come.
On a last note, I'll share a piece of advice to remember if you're ever lucky enough to meet Fabio.
«I tried to introduce the Brazilian hug here in New York. In Brazil you hug until you feel the heartbeat. It's a form of saying hi in an honest way. That's what I miss the most. Getting a hug from someone here is the most awkward thing.»
He deserves it and I'm sure some of you could need one as well.
Follow our Facebook page for more intimate meetings with New Yorkers
REAL LIFE. REAL NEWS. REAL VOICES.
Help us tell more of the stories that matter from voices that too often remain unheard.
This post was published on the now-closed HuffPost Contributor platform. Contributors control their own work and posted freely to our site. If you need to flag this entry as abusive,
send us an email
.