Passion: Photography, Comedy & Naked Girls
Song that makes him happy: Blind melon - No Rain
Angry tweet: «Don't stand in front of the doors on the subway!! You don't own the spot and you're not hot shit»
Hidden gem: Forgetmenot
3 favorite places in the neighborhood: Cafe Petisco, Kossar's Bialys, The Pickle Guys.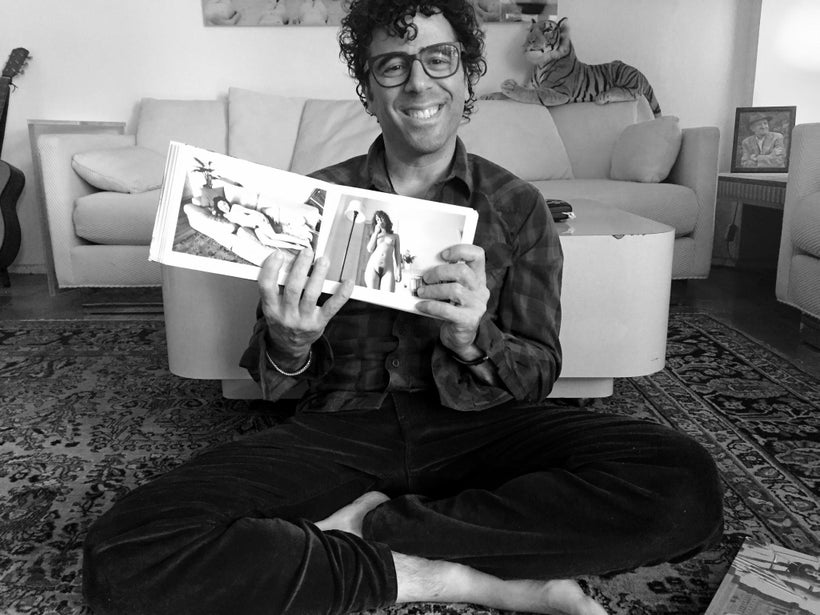 «Naked Happy Girls». The title of his first book, containing photographs of… yes, you guessed it right… naked girls having fun. In their homes. Andrew Einhorn has been fascinated by natural nudity since the late 80's and made a living out of it. It's not porn, but it's still sexual or what?
(See his video interview further down)
"Oh, for sure, It's always sexual. I don't photograph anyone I can't sleep with. Kidding! There's definitely a sexual component. I've been single for a long time. I love being single and I love my freedom, but this fills, like, a thirty percent void of almost love. My old therapist said I was a bee looking for honey: You go, you get it, and you're off to the next flower. And I don't mean that in a sexual way, because I rarely have sex with these people, but it definitely provides an energy."
Playboy TV, Nudity and Fashion Photography
Let's talk more energy. I've met a few people. It's kinda what I do for a living. Few can compare to the uncensored wittiness of this one. The harmless, playful jew guy. I get why girls feel comfortable getting undressed for him. No surprise, that kind of personality combined with a passion for nudity: Playboy TV was a match made in heaven. He got his own show in 2007 airing for two seasons. The show expanded on his concept by following him with cameras as he solicited new models for his second book. Question is: How on earth did he get into this in the first place?
"I came from a different background with just photo journalism, and then I moved into fashion. I thought I'd be a famous fashion photographer but I realized quickly that I got bored. The thing I liked the most about fashion was the one-on-one with the women. And I really, honestly, hated the hair and the make-up and the fancy clothes. That turned me off!»
The realization happened in Philadelphia, late 80s. He was more intrigued by skin and personality. Half a boob or a little bit of butt. He gradually morphed into an interest of doing naked pictures. Scared, yet had the guts, he did his first shoot. It was fun and sexy. From that point on he never looked back.
In 94, New York was ready for Andrew. A day he'll never forget.
"Day 1. Union Square. Kids on skateboards at 11 o'clock at night. Warm weather. I remember everything. It really is the city that never sleeps. I just remember thinking it was so much activity. They were so many people, so well-dressed. It felt so alive. I was so happy. And I think I felt more free and liberated at that moment. I'm not quite sure why."
"I realized, New York is fun, you can approach anyone and do anything. I'm outgoing, so I was like, 'Fuck, I can stop girls at at the Chinese New Year! Or in in a restaurant!' and say 'Do you wanna pose naked for me!? And some will do it! It's great!»
Andrew has been in NYC for 23 years. He is 52, looks like 38. Seems like the city keeps him young. Or his work. Maybe both. Anyhow- 23 years of photographing naked girls. Takes persistency. But I'm also thinking- Been there. Done done. Move on?
"It never gets old! People always think that, but no. It's always an adventure, always something new. If I was shooting in a studio everyday I'd get tired. Also if I was shooting the same type of woman every day. But it's always new people, new locations. Even our society has changed, so someone I shoot today might be into punk, acid, rock, mushrooms, skydiving and blogging, whereas 20 years ago they would have been different. So I guess you adapt and you follow trends in society, and it keeps me feeling young. Eventually it might get awkward, when I'm 70 and they're 19."
The Dog That Gets Under Your Skin
There's another thing that never gets old. The city. NYC. Andrew would never consider leaving.
"I just feel like there's nothing like New York. And you can really tell when you go away and come back, it always feels… Good. And it's the people, more than anything. The culture. The history. The attitude. Everything."
"These fun events like Mermaid Parades, Chinese New Years, Tattoo festivals and Lesbian marches… These places where people gather, to do something for free, for what they see as the benefit of society. And there's so much joy and happiness. It feels so freeing and fun.»
Andrew has gotten under the skin of many New Yorkers. Just by being «a dog», according to him. The nice, quirky guy. If you can convince a girl to get undressed and be photographed, you have figured one part of the NYC recipe I guess. So why don't we let the man share some decent advice for newcomers who wants to make it in the city…
«I would just tell you to be open to adapting. People often think they know what they want, and then they're not that good at it, and they don't have the drive and ambition and the business sense and the creativity. You gotta be great here at whatever you do, obviously. There's so much competition. You gotta be willing to change or compromise, otherwise you might be stuck and miserable. And obviously the expense is so much, you might have to live in Queens with three other people in a one-room because that's $1100 and that's all you can afford, and it's sad. But money's always gonna be an issue. And career.. Other than that, just keep an open mind so you can embrace everything."
"I've heard a lot of people say after 2-3-5-7 years, like, 'I'm done, I did it. Like it was an experiment. Like, 'I really wanted to come to New York and see what it was like, and it sucked the life out of me. Now I've accomplished this goal of living in the city, now get me out. I need the suburbs, the country, or something else. Because it's too much'. And I can understand that."
If you wanne hear the story of more New Yorkers, follow...
REAL LIFE. REAL NEWS. REAL VOICES.
Help us tell more of the stories that matter from voices that too often remain unheard.
This post was published on the now-closed HuffPost Contributor platform. Contributors control their own work and posted freely to our site. If you need to flag this entry as abusive,
send us an email
.