Passion: Biking, architecture, pizza
Song that makes him happy: Nas -Memory Lane
Angry tweet: "«The rent is too damn high» (Jimmy McMillan) Stop it with the luxury skyscrapers!"
Hidden gem: Park Ave Viaduct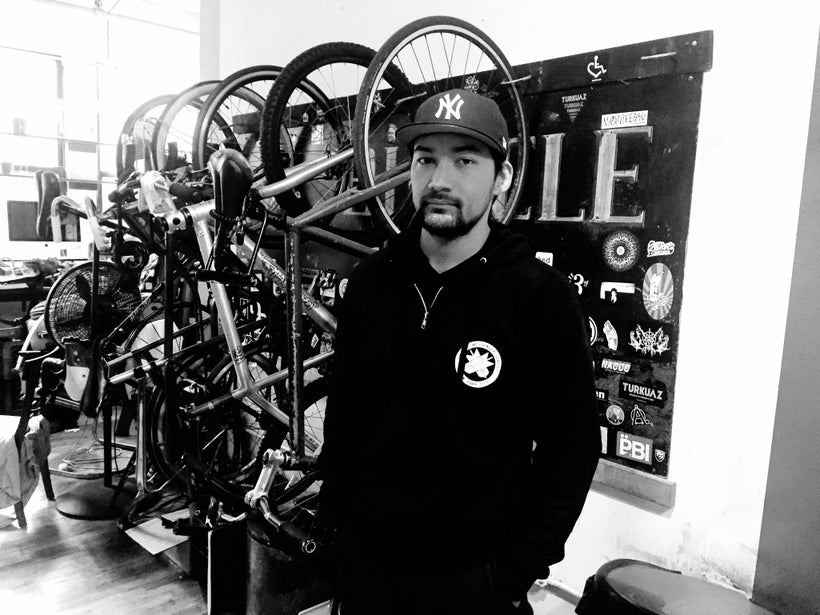 «We're the fast moving guys in Manhattan»
He's a living map. Carrying items from A to B anywhere on Manhattan. With his bike. Faster than any vehicle could ever get to the destination. Bike messengers are an iconic necessity to so many in the most accelerated city in the world. Hiromi has been on it for a decade. Still going strong.
«I can ride for days and be fine, but getting on and off the bike carrying heavy things, picking things up and dropping them off. That takes a toll.»
(See his video interview further down)
The Current. The Flow. The Chaordic NYC.
WTH are these bike messengers made of? Why do they voluntarily seek death? Riding fearlessly on a mission. Like an action movie. Impossible for people like me. Navigating through the never-ending chaos of jaywalkers, tourists, cabs, cars, buses, trucks, selfie sticks, maps. From the outside it looks like a messy chase. To Hiromi, it looks differently. More like a river….
«The flow of people and traffic. You ride down the street and you're surrounded by cars. If you're looking at it from the sidewalk it's chaotic with thousands of cars and a big mass of shit. But when you're in the middle of it and flowing through it, all the traffic moves in this methodical way. It looks dangerous and chaotic, but it's really like controlled and logic.»
«If you get cut off by a cab when you're riding, you just float around on the other side and the rest of the traffic float with you. It feels like a current. Same thing if you're a pedestrian, you're on the sidewalk and it's really crowded. That's why people get mad at the tourists when they walk with a map and just stop. It's like they're stopping the current of people. So if you want to stop, you gotta find a safe spot like a garbage can or something and stay behind that shit so you're not blocking the current»
Hiromi started working as a bike messenger 10 years ago. It was never intentionally. Happened organically after changing his lifestyle at high school.
«At the end of high school I was really out of shape. When I started noticing how out of shape I was, I was like- I need to get a bike and go hang around with my friends who got bikes too. We went to cruise around Central Park and the city. That's when I really started figuring out how to move around the traffic»
«I had so much fun with it. After a few months I thought I should get payed to do it. There's always been this allure about bike messengers and that culture. I always noticed bike messengers being out in the city and it always looked like the most bad ass job, so I thought maybe I'll try to do that and see if I can make it through one month. I wasn't sure about what I wanted to do with my education, so this was buying me time. I just wanted to do something cool»
Still staying cool. And still loving it. That's more than most people can say about their jobs 10 years later. Besides riding the river, having flexibility and staying in shape, Hiromi pinpoints that he has learned so much about NYC since he started his job. He's born and raised in the city, but his job gave him a whole new perspective on people and neighborhoods.
«In terms of my relationship to New York City, my growth as a New Yorker and how I see people here, it has been widely changed the last 10 years. Normally people have these bubbles. They're home, they have their home neighborhood. Then there's a train line that runs into work. And then they have a bubble around work. The majority of their life in the city is just time spent between these two bubbles»
«The other day I met this Mexican food delivery guy. I passed him on the street and was like: I wonder if he's an immigrant, if he got kids, he looks my age. Then he started talking to me because he had a question about my bike. He was like «cool bike». We talked for a couple of minutes and it turned out he was a skydiver instructor from the west coast. He was just delivering food to stay afloat. I was like wow- I totally misread your story. That's amazing.»
«It's such a different thing to have the whole city laid out. This whole city is my office»
The Childhood Neighborhood That Died
Riding all day allows Hiromi to meet people from all walks of life and see different parts of the city; How it changes with seasons, time and days. Some for better. Some for worse. Every now and then he rides through his childhood neighborhood.
«The Village I grew up in was a whole different world. All my class mates had different background. Artists, cool hippie parents. It was a warm, cool community. Now it feels like a cold place where rich people happen to live»
«It feels strange that my childhood neighborhood doesn't exist anymore. It's still there. On the map, but it's not the same neighborhood»
In general though, there is nothing that can compare with the fascination he has for the city.
«I'm a big fan of architecture and how the buildings are aesthetically, street life and what comes with people living on top of each other. The vibe of this city. I find that to be really beautiful. Diversity is a big one. You have people from all walks of life. Everyone's got their own story»
Thank you for sharing yours mister! It was a pleasure!
Want to hear the story from more New Yorkers. Follow our page
REAL LIFE. REAL NEWS. REAL VOICES.
Help us tell more of the stories that matter from voices that too often remain unheard.
This post was published on the now-closed HuffPost Contributor platform. Contributors control their own work and posted freely to our site. If you need to flag this entry as abusive,
send us an email
.