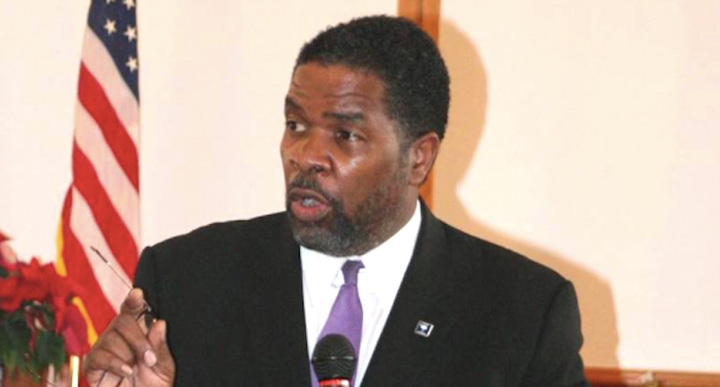 A black South Carolina lawmaker advocating for the removal of Confederate monuments says he recently received a threatening email containing a racial slur and telling him to "go back to Africa."
Wendell Gilliard, a Democrat in Charleston, told local station WCIV-TV that he received the message on Thursday from a person identifying himself only as "John Calhoun." That's the name of the seventh vice president of the U.S., who once argued that slavery was "a positive good."
The disturbing email, sent from the account generalleeflag666@gmail.com, threatens to bring a "group" to Gilliard's house and states, "We wear suits. No sheet." 
WCIV-TV shared a screenshot of the email with the racist slur redacted. The full message reads:
"We tired [sic] being understanding with you N*****s! If you don't like the Flag and our monuments you should go back home to Africa. This our country and we both know you will not have your way. We despise you and I don't understand why you're fighting a losing battle. What's your address? Maybe I will bring my group to your house. We wear suits. No sheet. How about 3AM?"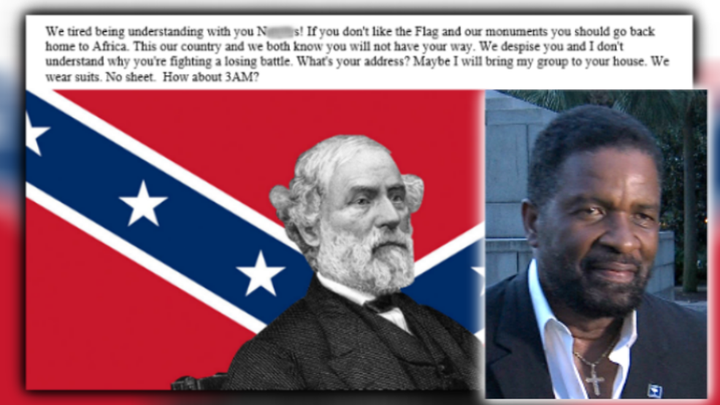 Gilliard was shocked by the message, but admitted it seems consistent with the times.
"Hate groups are on the rise in South Carolina," he told HuffPost. "The Klan and skinheads are growing in numbers."
The Southern Poverty Law Center says there are 12 active hate groups in the state. Ten years ago, there were 43. However, Heidi Beirich, intelligence policy director at SPLC, told SCNow.com that much of those groups' work can now be done online, reaching people who aren't part of any particular organization.
She points to Charleston shooter Dylann Roof, who murdered nine black people at the Emanuel African Methodist Episcopal Church in June 2015. "He was never a member of any hate group. He learned everything about hating black people from the web."
"Dylann Roof was radicalized online, and that makes him just like a lot of ISIS killers who have no connection to the Islamic State," Beirich said.
The threatening email came a couple of weeks after Gilliard ― speaking in the aftermath of the white supremacist violence in Charlottesville, Virginia ― argued that there were places for Confederate monuments other than public squares.
"If I was mayor of this city, I would bring those statues down," Gilliard told The Post and Courier, a Charleston newspaper. "Not to erase anything, but I would put them in a museum. To me, that's the answer to all of this."
Gilliard said he believes Confederate monuments are "an economic killer" and that they discourage many people who might otherwise visit Charleston.
He said he didn't know if any friends or colleagues had received similar messages, but is hoping that law enforcement officials can track down the sender.
REAL LIFE. REAL NEWS. REAL VOICES.
Help us tell more of the stories that matter from voices that too often remain unheard.
BEFORE YOU GO
PHOTO GALLERY
Cities Look At Removing Confederate Statues