(From: Beautiful/Decay) I first met Wendell after we interviewed him for an issue of B/D a few years back. You never know what artists will be like when you actually meet them but Wendell's been one of the most sincere artists I've met in a while. We've been trading studio visits for around a year now and will be in a group show together later this month at Pedersen Projects in Pomona. Wendell is also getting ready for a solo show in October at Kravets|Wehby and a group show at Galerie Jean-Luc&Takako Richard in Paris so I stopped by his studio to check out the progress. Turns out Wendell had a studio jam packed full of massive paintings well on their way to being finished.
Before I get into images of the paintings let me break down Wendell's process. He usually starts each piece with a list of notes and descriptions of various stories, scenes and images. As these lists develop, he comes up with ways to connect them together to create complex narratives. Sometimes the story is evident, and sometimes they are private narratives that turn into coded abstractions.
Once the idea is fleshed out on paper, Wendell creates these digital collages that lay out the painting. It's amazing how detailed these Photoshop collages are. Some parts of it are hand drawn on the computer while other parts are images found online that are then digitally manipulated. Just a few weeks ago Wendell called me to see if I had photos of seaweed on a person's head. Now I know why.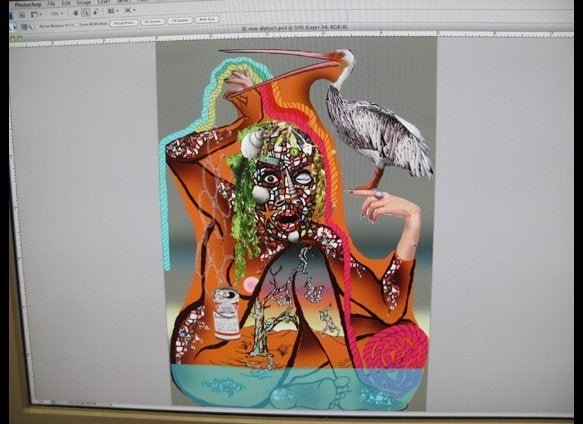 Beautiful/Decay: Wendell Gladstone
Related
Popular in the Community