Texas gubernatorial candidate Wendy Davis received a hostile greeting in Los Angeles Thursday morning, when life-sized posters depicting her as "Abortion Barbie" began popping up throughout the city ahead of her fundraiser there.
The posters say "Hollywood welcomes Abortion Barbie Wendy Davis," and they show Davis' face on a mostly-naked barbie doll with a plastic baby in her belly. Conservative pundit Erick Erickson nicknamed Davis "Abortion Barbie" earlier this year because when she was a state senator, she stood on her feet and spoke for 11 hours straight to filibuster a draconian package of anti-abortion bills.
Davis' campaign told The Huffington Post that it spotted at least five of the posters in different outdoor places around the city, including one on the campus of the University of California, Los Angeles. Although it's unclear who is behind the posters, a Davis campaign spokesman blamed Davis' Republican opponent, Greg Abbott, for the political attack, noting that Abbott thanked a supporter last year who called Davis "retard Barbie" on Twitter.
"It seems that Greg Abbott can't let a week go by without showing how out of touch he is with women," said the spokesman, Zac Petkanas. "This is just another in a long line of offensive actions and comments by Greg Abbott in an attempt to demean Wendy Davis."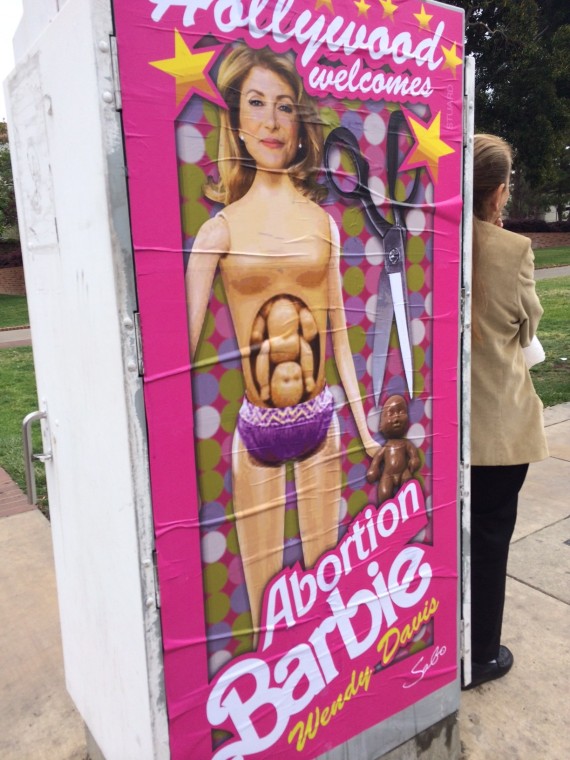 Abbott's campaign said it does not know who put up the posters. But the San Antonio Express-News reported Thursday evening, after this story was published, that the posters were funded and commissioned by Kathryn Stuard, a conservative political donor in Texas. She said she paid a street artist in Los Angeles named Sabo to create a total of 20 posters.
"It hits people with the truth," said Stuard, 53. "The artist is very edgy."
She added, "I do support Abbott but the campaign had nothing to do with these (posters)."
While conservatives have sought to paint Davis as a single-issue candidate, she has authored bills and taken stances on many other issues. She filibustered a $5.4 billion budget cut to public schools, advocated for strong water and transportation infrastructure, established a veterans' court to address treatment and counseling and passed bipartisan equal pay for women legislation during her time in the state Senate.
Erickson said in February that he is pleased with himself for giving Davis the nickname "Abortion Barbie," because it seems to have stuck.
"There was polling in Texas done last year that an overwhelming majority of Hispanic voters between 18 and 30 would not vote for someone, regardless of party, if their number-one issue was abortion," Erickson said. "It seemed very obvious, then, to go on and solidify Wendy Davis as a one-note wonder, a one-issue candidate on abortion. And it seems to have worked."
This article was updated after publication with the name of the person who funded the posters.
Before You Go

Reviews For Wendy Davis' Shoes On Amazon
Popular in the Community