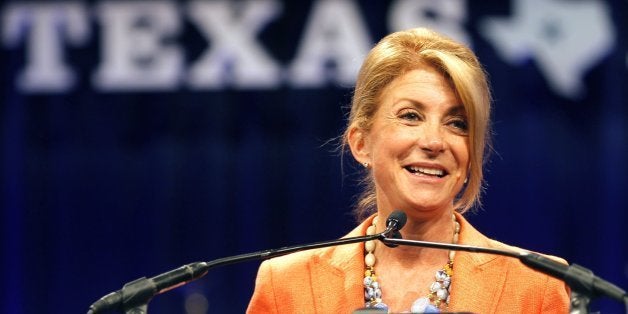 Sept 19 (Reuters) - Heading into the final weeks of the campaign, Texas gubernatorial candidates Republican Greg Abbott and Democrat Wendy Davis held their first debate in a Rio Grande Valley border town as they targeted support from Hispanic voters.
Friday's televised debate in Edinburg, Texas, gave both a chance to appeal to Hispanics, an increasingly important voting bloc in a solidly Republican state that has not elected a Democrat to statewide office in two decades.
Abbott, the state attorney general, holds a commanding lead in polling and fundraising over Davis, a state senator who drew national attention with an ultimately unsuccessful filibuster which sought to stop legislation restricting abortion.
Edinburg is in Hildago County, which is 91 percent Hispanic and where about one in three people live in poverty.
Among the contentious issues covered in the debate were voter ID laws, and the management of a border crisis that in recent months saw thousands of unaccompanied children from Central America crossing into Texas from Mexico, thrusting the Rio Grande Valley into the national spotlight.
"I'm in favor of requiring voter IDs," said Abbott. "Voter fraud is real and the voter IDs is the only way to stop it."
Davis accused her opponent of defending "a law to suppress minority voting," referring to federal court rulings that the state's voter ID regulations and changes to the redrawing of electoral boundaries that were defended by Abbott are discriminatory toward Hispanics.
She has focused her campaign on education, women's rights, equal pay and her personal story of overcoming poverty to attend Harvard Law School.
Both parties know the booming Hispanic population in Texas could upend Republican dominance by 2030 when Hispanics, who are Democrat-leaning, become a majority in the state.
Abbott and Davis both have campaigned in south Texas and their campaigns have Spanish-language websites. Democratic Latina State Senator Leticia Van de Putte is running for lieutenant governor and Abbott has made his Hispanic wife, Cecilia, a prominent part of his campaign.
Abbott's first television commercial was produced in English and Spanish, and featured an endorsement by his Hispanic mother-in-law, Mary Lucy Phalen.
"The Hispanic vote is very important to both parties for different reasons," Republican strategist Bill Miller said. "Democrats need a very big turnout if they hope to win, and Republican are trying to hold their own." (Reporting by Marice Richter in Dallas; Editing by Daniel Wallis and Simon Cameron-Moore)

Before You Go

Reviews For Wendy Davis' Shoes On Amazon