After months of speculation, Texas state Sen. Wendy Davis (D-Ft. Worth) officially threw her hat in the ring on Thursday and announced her candidacy for governor.
"Thirty-two years ago, I walked across this stage, the granddaughter of farmers from Muleshoe, Texas, who could only afford to rent the land they farmed," Davis said at the Wiley G. Thomas Coliseum in Haltom City, Texas, the same venue where she received her high school diploma.
"I had no real idea what the future looked like. Today, I see it pretty clearly. It's looking right at me. It's you. It's all of you. And all of you deserve to have your voices heard. Because our future is brightest when it's lit by everyone's star. And that's why, today, I'm proud to announce my candidacy to be the 48th governor of this great state."
Gov. Rick Perry (R) announced in July that he would not be seeking reelection, and his attorney general, Greg Abbott, is the Republican candidate to replace him. A poll released Wednesday by the nonpartisan group Texas Lyceum shows Davis trailing Abbott by only 8 points -- 29 to 21 percent -- with the rest of voters undecided.
Davis attracted national media attention in June when she stood on the Senate floor and spoke for 11 hours straight to delay a package of severe abortion restrictions. Davis' filibuster was at least temporarily successful, forcing Perry to call a second special session to pass the bill.
But the June filibuster was not Davis' first -- she took a stand against a $5.4 billion budget cut to public schools in 2011. She has also advocated for strong water and transportation infrastructure, established a veterans' court to prioritize their treatment and counseling, and worked with Republicans to pass bipartisan equal pay for women legislation, which Perry later vetoed.
Raised in Texas by a single mother, Davis became one herself at the age of 19. She went on to graduate from Harvard Law School and was elected to the Texas state Senate in 2008.
Davis also faces tough odds due to Texas' demographics. The state has not elected a Democratic governor since Ann Richards in 1991, and it overwhelmingly voted for Mitt Romney in 2012. But Davis' supporters say the state is ready for a new kind of leadership.
"The EMILY's List community has known for years that Wendy Davis is a powerhouse who stands up for all Texas women and families," said Stephanie Schriock, president of EMILY's List, which works to help pro-choice Democratic women get elected to office. "Wendy can win because she believes in Texas, not politics –- she has the grit and vision to fight for the future of Texas."
Davis said Thursday she is prepared for the long, bumpy road ahead of her.
"Until every child from Longview to Lubbock to McAllen to Mesquite makes it to a stage like this, and gets their diploma, and knows that nothing will wash out the road to their future dreams, we will keep going," she said. "Until the corridors of power are the corridors of the people, until problem-solving trumps partisanship, until our state is 'a lot less lone and a lot more star,' we will keep going. As long as we can make this great state even greater, we will keep going. Because with the right kind of leadership, the great state of Texas will keep its sacred promise that where you start has nothing to do with how far you can go."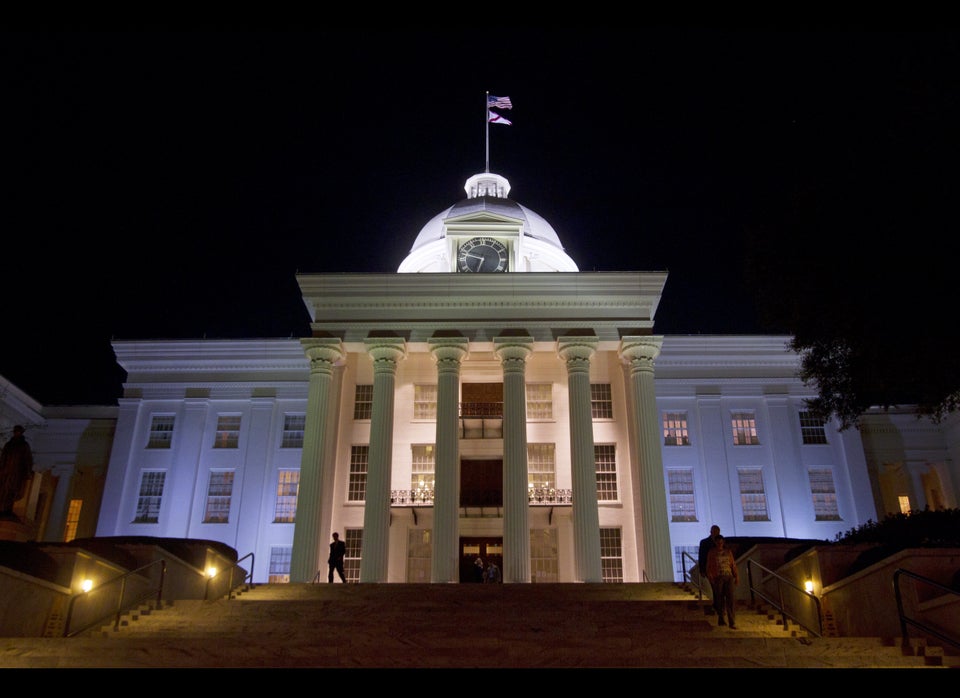 U.S. State Capitol Buildings