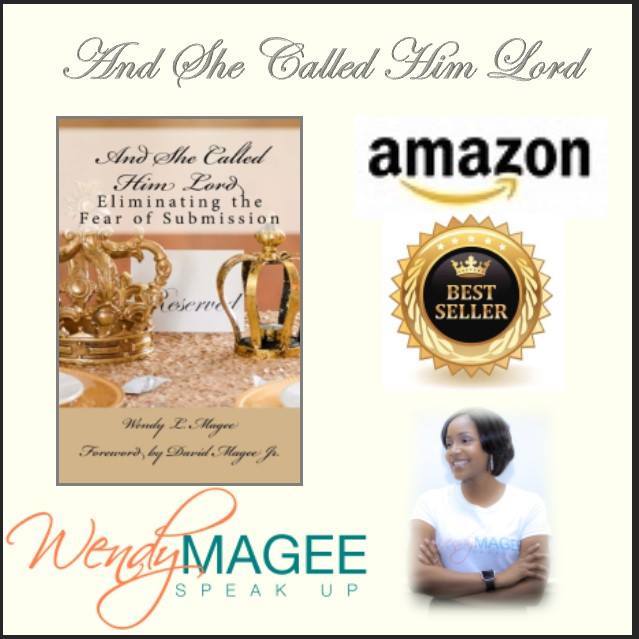 Wendy has been married to David Magee Jr. for 10 years. They have two beautiful children, Kaleb and Kyrie. Wendy was born and raised in Port Arthur, TX. She obtained her Bachelor's at Wiley College in Criminal Justice, and currently resides in New Orleans, LA as the Director of Operations for CASA Jefferson. In May 2015, Wendy obtained her Master's Degree in Human Services from Lubbock Christian University. Wendy self-published her first book title And She Called Him Lord on January 8, 2016. She believes when people begin to understand God's purpose for marriage, it will provoke them to live an Unbelievable life that will compel people to investigate the power of God for a divorce-proof marriage. In December, her book was the recipient of the Henri Award for Christian Living. She was also featured in the Nov/Dec edition of Break Thru Magazine. In February 2017, Wendy started Speak Up ministry where her focus is to lift up marriages and relationships through edification and empowerment. She plans on extending her knowledge of having a divorce-proof marriage beyond the church through inspirational and empowerment speaking engagements. Wendy enjoys spending time with her family, playing volleyball, and working with young adults through her husband's non-profit Harnessing Youths' Potential and Energy (H.Y.P.E). She attends Mount Carmel Ministry and is an Ordained Minister under the leadership of Apostle Arthal Thomas Sr. Together her and David work with the youth and young adults in the ministry.
Helping people to achieve their goals is what inspires me! I believe that God has given me the gift of clarity. I don't see goals as BIG task, but I'm able to break it down into attainable task. I'm inspired when I see people do what they love, which is their God-given ability.
I'm currently in the relaunching phase of my book "And She Called Him Lord." I'm working on two anthologies to be released later this year, and a study guide to my first book. I am also about to launch two additional t-shirt lines on my website as well.
My advise to entrepreneurs is do you homework before entering into contract. Know the person, their work, and ask around. I could have saved a lot of money if I had done that when I first launched. Listen to the holy spirit before working with people to make sure your vision line up with Gods mission and purpose for your book, t-shirt line, or products.
Through different speaking engagements, I want to get people on a course to start Dating on Purpose which leads to a Divorce Proof Marriage, and get people to push toward purpose.
You can connect with Wendy Magee @
When I first published, I felt like it would be hard to receive because of the topic. Marketing has been hard as well, when churches don't respond to you. I have mailed so many books to different people, with no responses. At the end of the day, God told me to step back and allow him to do the work. I had to forgive those that used me and my money, and wasn't interested in promoting my book. When I did that, I started to meet other authors, people in the marketing industry to help me with my book.
Popular in the Community