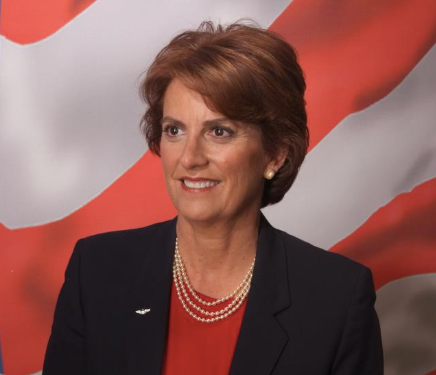 A Republican running for Congress in Arizona compared abortion to the Holocaust this week ― a trope that has a long history in the pro-life movement.
Wendy Rogers, a retired Air Force pilot seeking the GOP nomination in the state's 1st congressional district, made the comparison during a campaign event in Maricopa, Arizona, on Monday after she was asked about restricting federal funding to Planned Parenthood.
"The callousness that our country has for life is very disturbing," Rogers said, according to audio captured by a tracker for Democratic opposition research firm American Bridge. "I have visited Auschwitz twice — maybe three times; three times. I have visited the killing fields in Cambodia. This is what happens to a country when the callousness for life erodes to that depth."
She further called Planned Parenthood a "despicable organization," and criticized "crooks" in Washington for failing to defund it.
"As someone who is 100% pro-life, I think what the Democratic Party has done to promote a Culture of Death is very much like the Holocaust - Planned Parenthood and other abortion doctors have killed millions of babies this decade alone - barbaric!" Rogers told HuffPost in response to a request for comment.
Rogers is one of four GOP candidates vying to challenge incumbent Rep. Tom O'Halleran (D-Ariz.) in November. This is her fourth run for Congress, falling short in the primary each time. The National Republican Campaign Committee this year added her to their 'Young Guns' program. 
Comparing abortion to the Holocaust is commonplace within the pro-life movement. Conservatives have similarly warned that other hot-button issues, like gay marriage or gun control, could lead the U.S. down the road of Nazi Germany.
This has been updated to include a comment from Rogers.
Calling all HuffPost superfans!
Sign up for membership to become a founding member and help shape HuffPost's next chapter