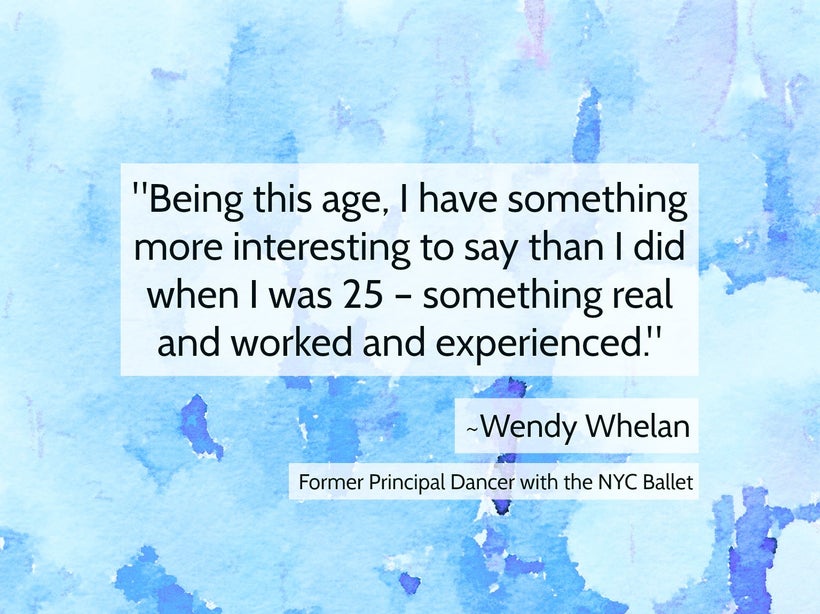 I don't know what it's like to be a 46-year-old dancer nearing the end of her 30-year career with the New York City Ballet. But I know what it's like to be a 44-year-old woman getting the same message – about my own life, and the lives of women everywhere – that tore Wendy Whelan apart:
"I just don't want people to see you in decline."
As Wendy shares in the new documentary Restless Creature: Wendy Whelan, that's what Ballet Master-In-Chief Peter Martins said to her in explaining why he didn't want her dancing The Nutcracker anymore.
"And I was like, I'm— I'm in decline?" said Wendy. "Am I that bad? He was like, 'Oh no, you can do a lot of things still.' I had never, ever been told, 'If it's my call, I'm not putting you on stage.' I couldn't believe it.
"My body started hurting that January. I've never been in pain my whole life. My toes never bled. My back was fine. I mean, I had little issues here and there, but I had never been in debilitating pain until I had that meeting….
"It started to eat me up. It started to take everything from me. It started to steal what I had."
If Peter Martins didn't want her dancing The Nutcracker anymore, fine. If he wanted a younger dancer for the job, so be it. But to spin the decision into something aimed at protecting Wendy Whelan from the shame of being seen "in decline" is what's shameful, as though there comes a time when the progression of our lives is no longer something to share but to be hidden away.
What I want to know is, what's wrong with seeing a woman in decline?
What's wrong with seeing the arc of a woman's life?
What's wrong with seeing the evolution of one of the most celebrated ballerinas in the world? Evolution need not refer only to her physical abilities. What about the evolution of her interpretation of the roles she's been living and breathing for years?
In August 2013, Wendy underwent hip surgery to repair a labral tear – the source of pain she'd been dancing through for months. She dedicated herself to recovery so she could get back to the New York City Ballet, and she did just that, returning to the stage the following spring and dancing her final performance there in the fall.
"I know it's unrealistic to think that I can dance ballet forever," says Wendy in Restless Creature, "but maybe it's possible to keep dancing…. I'd like to really sort of expose myself a little more and express myself a little more in ways that I can't necessarily do in just the ballet…. As scary and uncomfortable as it is, I just, I wanna— I wanna see more of what's in me…. I just haven't tapped it yet."
Wendy Whelan retired from the New York City Ballet in 2014, but she was far from done, dedicating herself to a number of contemporary dance projects, which you can learn more about at WendyWhelan.org, where Wendy also addresses her aging in her art:
"This is who I am," she says, "and I feel that I still have so much to say on stage and through my work. In fact, I actually feel that, being this age, I have something more interesting to say than I did when I was 25 – something real and worked and experienced."
In this respect, what of Wendy Whelan's incline?
REAL LIFE. REAL NEWS. REAL VOICES.
Help us tell more of the stories that matter from voices that too often remain unheard.
This post was published on the now-closed HuffPost Contributor platform. Contributors control their own work and posted freely to our site. If you need to flag this entry as abusive,
send us an email
.