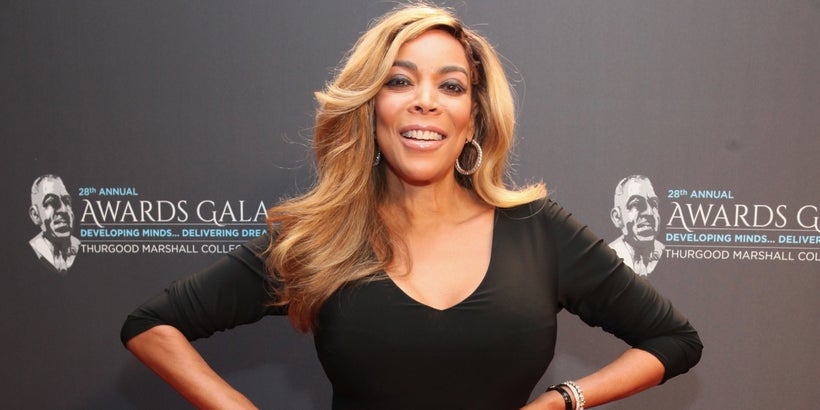 "I love nesting," said Wendy Williams, cozied up in a satin green Gucci robe on a couch stuffed with shaggy pillows in her office in Chelsea on a recent afternoon. We were just outside the set of The Wendy Williams Show, her Emmy-nominated talk show now into its eighth season. The room was full of files of designs for Williams's upcoming homeware line with HSN (on top of her third ready-to-wear collection for retailer, which launches on Friday), and gifts from "Wendy watchers" — from an enormous, pink rhinestone-covered sculpture of a swordfish from a viewer who went to Williams's office to make sure it was transported safely to a miniature papier-mâché Wendy that two Canadians hand-delivered to Williams on a 24-hour trip to New York. ("And the Louboutins are still on, her wig didn't pop off, and neither one of the boobs broke off," Williams noted.)
Still, Williams, who in addition to her show has published seven books and had a 23-year-career in radio, had more pressing matters on her mind: her son Kevin's driver's license test, not to mention his grades, which she had just deemed good enough for him to take an Uber on prom night. She stopped her busy day to share her culture diet — along with how she got in the middle of things with Nicki Minaj and Remy Ma, and just how real the struggle is being a black woman in TV.
What's the first thing you read in the morning?
My family. Read, as in, let me tell you something: You better do well in school today. Then I read the dog, like, You be a good boy, don't give me a headache, because the dog chases after my shoes. [She lifts up a sneaker with a huge fur pom-pom.] By the way, this is Wendy for HSN, and that's a clip-on. Sold separately. Anyway, then I come in, and what am I reading on the way in? Sometimes a magazine or a blog, but mostly I just sit.
What are the books on your bedside table right now?
I don't have one right now, but I'll tell you why: It's still winter, and I don't read books during the winter, because I don't have time — nor interest. I save my reading for vacation. You know, I'm in the publishing business, I have seven books out, and I'd like to write more. But I think that reading a book is a luxury for most people, not a necessity. And I don't have the luxury of time anymore during off-season. When I go on vacation, I love a good juicy book, and the book I'd love to have published already for the next one is by Kathleen Biden. Oh yes. You know the story? Joe Biden's oldest son Beau was married to and had two children with a woman, but he passed away, and Beau's brother is now dating his widow. So the book I'd like to read is by the soon-to-be ex-wife, okay. She's going to be a singing canary.
How do you typically get your news?
Through TV. Cable news, as well as local; I love local news. I want to know what's going on locally before I know nationally. When I wake up in the morning on Saturdays and I see national news, I'm like, okay, I'm watching, but I'm waiting for the local news. It's definitely more TV than internet, because my phone gets hot real quick, and I'm like, I don't even want to deal with that, ow, my fingers are burning. I'm definitely not putting that to my ear.
It's a constant stream of notifications, I'm sure.
Yeah. I mean, I get it through Hot Topics and the stuff that we do, because Justin Bieber is as important to the news as Donald Trump — as important as Chris Brown, as important as anybody else, you know? So I go to a variety of sources, like I always have. I love my gossip magazines, and I love what I guess you'd call serious news. I enjoy AM radio — talk, not music — a lot, and also the talk channels on Sirius XM, whether I agree with the host or not. It's important to hear all sides. That's the private part of me. I like loud music, I like my disco and hip-hop, but I like my private corny time with my AM radio and my XM.
Do you listen to podcasts ever, too?
I don't believe I do. Is that on my phone? Is that Jenny McCarthy? No, I don't listen to podcasts.
What TV shows have you been watching lately?
Well, I'll be honest. During the week, when I get home, I watch a repeat of Wendy at 4:00, always. Not in an egomaniacal way, but in a critical way. Did lighting get the lighting correctly? Are the cameramen — I love them, but I'm watching them — getting the right shots of the audience? Does everyone look wonderful and fabulous and exuberant? Is there too much clapping? Am I wrong? Is my outfit wrong? My wig? My makeup? Too much thigh or whatever? You know, I try to run this like a business, and I can't watch everything, but I try to watch what I can, so I watch Wendy. Then I bounce into the 5:00 and 6:00 news, and then I love a little TMZ and Access Hollywood, Inside Edition. All I have to do is put on all the TVs and then walk from room to room while I'm organizing everything, and I get the message, and then I go to bed after lulling myself to Ashleigh Banfield at HLN at 9:00, and then the 10:00 news.
Scripted TV is not so much my thing, because I can't stay up at 10:00 at night to watch a dramedy on a Sunday. I like comfortable TV — a Sex and the City marathon is always comforting. And I do enjoy some reality TV. I enjoy the ratchet shows like, Love & Hip Hop and the [Real] Housewives. But my nightly TV is no longer what it used to be. I'm super busy with this show and this Wendy thing, and also really super busy being a middle-aged woman who understands: sit down, moisturize, and breathe. And then I'm busy preparing. You know, there are people relying on me to be here in the morning. I can't stay up until midnight or catch a cold and then not show up. I've shown up every single day in these past eight years. Every single day. And by the way, I could miss a day if I'd like; I could miss five days if I'd like and they'd totally understand. We have a couple of shows in the bank to send out to seem new. But I never have, and I've never been late. You know why? Because there are people here who have families. People who I met eight years ago who were single — and now you're married? And now you're expecting twins? Oh my god, Wendy, look what you've created. I always look at that at my own creation, in a weird way. Like, wow. So you show up. Barring detriment. I'm not stupid, but you know.
See the complete interview, including how the Women's March has been on Wendy Williams' radar, here.

REAL LIFE. REAL NEWS. REAL VOICES.
Help us tell more of the stories that matter from voices that too often remain unheard.
This post was published on the now-closed HuffPost Contributor platform. Contributors control their own work and posted freely to our site. If you need to flag this entry as abusive,
send us an email
.