Wendy Williams proved that she would "rather go naked than wear fur," in the latest PETA ad targeting holiday shoppers. "As a talk show host where everything has to be so covered up, I welcomed the reason to go naked," she said in her PETA interview.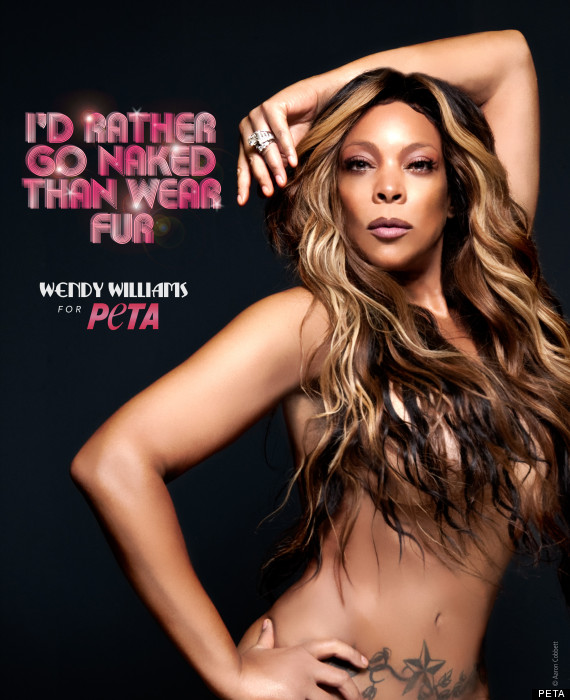 In an effort to promote PETA's national winter campaign, Williams launched her ad in Times Square on Wednesday afternoon, according to a press release from the animal rights organization. The talk show host, who used to wear real mink and fox fur, now says she'd "rather go naked than wear fur."
"I have a little jiggle, but jiggle is what separates the men from the women," Williams declared in her interview, adding, "if this is a sexy ad, I must tell you, jiggle is sexy."
"We should all try to be comfortable in our own skin and let animals keep theirs," she said in the press release.
When people learn that millions of innocent animals are beaten, boiled, hanged, and electrocuted for their fur every year; that each fur coat, each piece of fur lining or fur trim, and each fur cat toy represents the intense suffering of dozens of animals; and that furriers intentionally mislabel the fur of cats and dogs as fur from other species or as faux fur—then every decent human being will want to go fur-free.
Williams is also encouraging those who have old fur coats to donate them to PETA's drive so they can be given to the homeless this winter. PETA is partnering with New Jersey shelters to give coats to the homeless, many of whom have been displaced after Hurricane Sandy.