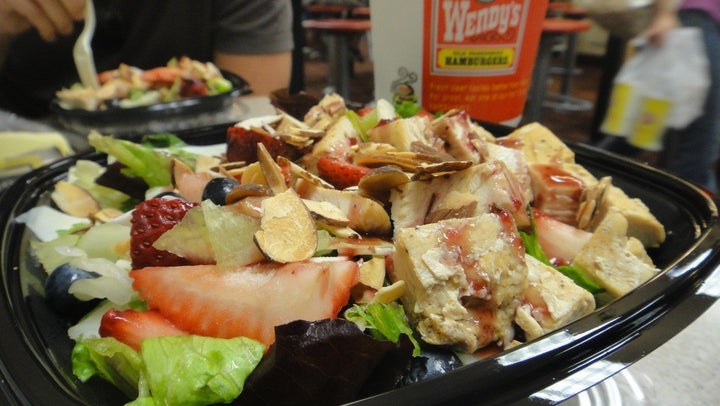 Wendy's has sure come a long way since the days when it was a fast food joint with a logo and sign that used to pride itself on "Old-Fashioned Hamburgers." Nowadays, Wendy's menu is pretty varied, in attempts to cater to a wider public palate. And in our health conscious era, they sometimes highlight their salads more than their burgers, this time with the introduction of their new Berry Almond Chicken Salad, which we assume is only available for a limited time during June-bearing strawberry season. Here's how it rates:
The Claims: The Berry Almond Chicken Salad contains eleven types of various field greens, tossed with chopped chicken breast, shaved Asiago cheese, blueberries, and California strawberries sliced fresh in the store. It can optionally be topped with a small bag of sliced almonds and a fat-free raspberry vinaigrette dressing. Full size: 280-470 calories; half size: 140-270 calories. Prices vary on location.
The Verdict: B. Never mind that it seems very obvious that Wendy's is trying to maintain its fresh food "You Know When It's Real" ad campaign with this new salad; what they have created is pretty decent, regardless of any behind-the-scenes food policy. If you look on their website for additional information about this salad, there's a short documentary-style video where they interview one of the California strawberry farmers they supposedly source strawberries from, in attempts to humanize their food in ways that the scene of a standardized Wendy's fast food establishment can not -- especially during a crowded lunch hour rush. This humanization of food was also done by the folks at Chipotle, who pushed their interviews of local pig farmers as much as they could, to be put in the more virtuous light of a chain that attempts to locally source its ingredients.
According to their claims, Wendy's featured strawberries are only "local" if you're in California, but that's only important if you care. Chances are if you do care, you're not eating at Wendy's anyway. And never mind the blueberries; they don't mention where they come from.
All that aside, if the bottom line is taste, then I have to say Wendy's has put together a good product, one that is actually refreshing if you'll excuse me using a hackneyed copywriter's buzzword in an unbiased fast food review. It's refreshing because unlike most of their other items that are on the salty side - Wendy's really calls attention to their use of natural sea salt these days - this one is actually sweet. Too sweet in fact when you add the fat-free raspberry vinaigrette. Perhaps that's because the first ingredient in the dressing is sugar, whose sweetness is joined by that of raspberries, açaí juice - and, you guessed it, corn syrup. However, the dressing really isn't necessary because the fruits in the salad are quite enough for the fruity flavor - a "complete one-cup serving of fruit" in the full size in fact - and their sweetness is nicely offset by the contrasting saltiness of the almonds and the chicken. The field greens round out the flavor and texture of a salad, making the end result something worth getting if you're not the type that's hung up on eating salads at fast food joints. And if you're not hung up on sweet, corn syrup-laden dressing, you have the option of that too.
Calling all HuffPost superfans!
Sign up for membership to become a founding member and help shape HuffPost's next chapter