The beef happened Monday night when Lovely Robinson allegedly became angry after receiving the wrong order, according to WTVR.com.
Police said the 28 year old woman ordered food in the drive-thru lane. She was asked to pull her vehicle forward because the order wasn't finished, according to Richmond.com.
A Wendy's worker brought out the order, but there apparently was a mistake.
Wendy's manager Latanya Nelson, the victim, said Robinson was the angriest customer she'd ever seen.
"She came in cursing and said I'll come across the counter. So I said, 'OK.'  She jumped over, so I defended myself," Nelson told WTVR.com. "She didn't have me in size, but she had heart I'll give her that. I told her you can't be in here. You gotta go."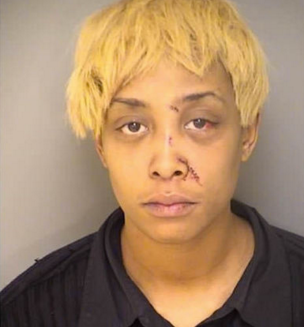 Apparently, Robinson had a real appetite for destruction. Nelson said the two were tussling near the fryer when Robinson bit down on her left knee, leaving a huge bite mark.
Police arrived on the scene and arrested Robinson.
Robinson is also accused of intentionally damaging property, preventing law enforcement from making an arrest, and trespassing, according to multiple sources.
Nelson didn't let the biting slow her down. She was at work the next day, according to WTVR.com.
REAL LIFE. REAL NEWS. REAL VOICES.
Help us tell more of the stories that matter from voices that too often remain unheard.