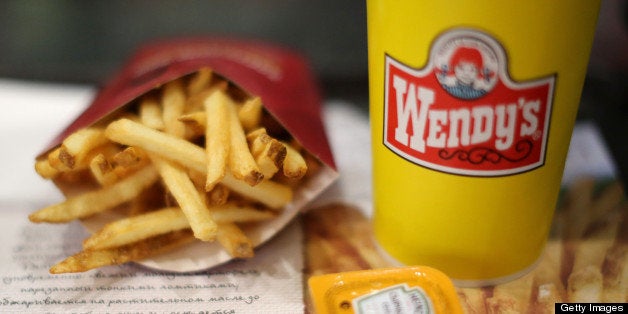 by Christina Bronsing and Anna Lappé
Who has freckles, pigtails, and is still holding out from joining the Fair Food Program? If you guessed the fresh-faced mascot of Wendy's, give yourself a gold star. As part of its efforts to improve conditions in the fields, the Coalition of Immokalee Workers, a group of farmworkers based in Florida, is calling on the fast food giant Wendy's to step up for farmworkers and their families.
The Coalition has had an impressive wave of wins as many companies -- eleven to date -- have signed an agreement to improve conditions for farmworkers.  Of the top five fast food chains, McDonald's, Burger King, Subway, and Yum! Brands (owners of Taco Bell, Pizza Hut, KFC and A&W) have all joined the Fair Food Program. In response to pressure from the Coalition and its allies, the list has grown to include Chipotle, food retailers (Whole Foods, Trader Joe's), and food service companies (BAMCO, Aramark, Sodexo and Compass Group). The overwhelming majority of tomato growers now participate in this farmworker-driven commitment through the Florida Tomato Growers Exchange, which represents 90 percent of the industry.
By signing on to the agreement, companies must now comply with a code of conduct that includes protections for cases of wage theft, sexual harassment, and forced labor. Companies also agree to pay a small premium for tomatoes -- just a penny more per pound. As a result, workers have safer working conditions and have started seeing increases in their paychecks for the first time in more than 30 years.
Think a penny a pound doesn't sound like much? It adds up. Over $10 million has been paid out through these victories since January 2011. That number will only keep growing as more companies sign on.
Wendy's, of all companies, can afford paying this premium. One of the highest earning fast food chains in the country, Wendy's comes in at number two behind McDonald's. Nearly 6,600 restaurants in the U.S. and around the globe afford the company serious market power-- influence that can go a long way to shift purchasing practices. Instead of leveraging that power to demand lower prices from suppliers, Wendy's could be rewarding growers who respect workers' rights.
Other fast food companies have stepped up, like Taco Bell. The fast food giant was the first company to sign on to the Coalition agreement back in 2005, after four years of pressure and organizing. In its announcement, Taco Bell said:
"As an industry leader, we are pleased to lend our support to and work with the CIW to improve working and pay conditions for farmworkers in the Florida tomato fields... We recognize there is a need for reform... We hope others in the restaurant industry and supermarket retail trade will follow our leadership." - Emil Brolick, Taco Bell President (2005)
Seven years later, Wendy's is still dragging its feet instead of following Taco Bell's example -- or more accurately Brolick's own example, since he has now taken over as CEO of Wendy's.
This week, as Wendy's convenes its annual shareholders' meeting in New York City, the Coalition is in town to make sure the company has its priorities straight. On Saturday, May 18th, farmworkers and allies will march from Union Square to nearby Wendy's locations, reminding shareholders that farmworkers aren't an abstract budget line item, but hardworking women and men who deserve respect. (And, sure, to give Wendy's CEO Emil Brolick a dose of déjà vu. He already has some experience with this, after all.)
Christina Bronsing is an activist and researcher supporting social movements that protect the rights of producers and farmers in the face of a largely industrial, corporate food system. Based in New York, she is currently engaged in research, writing and web roles with Food MythBusters, ongoing research around the social and environmental impacts of global quinoa production with Food First, and editorial support for the Food Security Learning Center at WhyHunger. @cbronsing
Calling all HuffPost superfans!
Sign up for membership to become a founding member and help shape HuffPost's next chapter