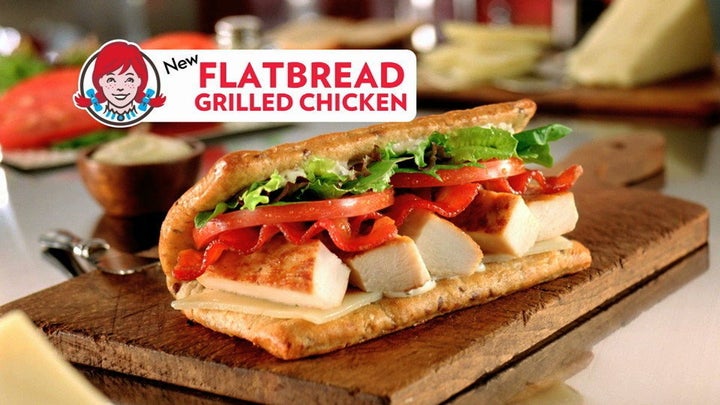 Wendy's has been trying for the past couple of years to recast itself as a cheaper version of fast-casual restaurants like Chipotle and Panera, having realized that traditional fast food burger restaurants are an endangered species.
The chain first signaled its desire to change by revamping its restaurants and logos to look sleeker and more modern. It took another step toward the fast-casual promised land this week when it announced that it was bringing grilled chicken flatbread sandwiches to locations across the country this spring.
In a meeting with HuffPost Full Plate, the company's chief marketing officer Craig Bahner (a fellow redhead!) explained that the sandwiches have been in development for about a year and a half. The company tested five different flavors (including one with mozzarella and tomato) at locations in the Ft. Wayne, Ind., Portland, Maine, Springfield, Mass., and Tampa, Fla., markets before settling on two flavors: Asiago Ranch and Smoky Honey Mustard.
The sandwiches took so long to develop in part because they called for an entirely new type of ingredient: the flatbreads themselves. Bahner described the bread as "truly artisan-style," noting that they include five different types of grains.
"The flatbread is much harder to make than a normal bun," he said. "Making one of our hamburger buns is about an hour-and-a-half long process. We can make about 40,000 an hour. The flatbread takes double the time, and we produce them at one-quarter the rate; it's a process that involves hearth-style ovens and so forth. But the flavor and texture are worth it. And the bread is toasted just before being served, so it's nice and warm."
By emphasizing the artisanal nature of the flatbread, Bahner seems to be positioning the new sandwiches as competitors of the paninis and sandwiches at fast-casual chains like Panera and Cosi. Asked about the comparison, he didn't deny it.
"I'm not going to speak to any one chain," he said. "But I will say that we feel they are of the quality of a sandwich at a fast-casual restaurant."
Whether or not Wendy's chicken flatbread sandwiches taste as good as sandwiches at Cosi or Panera, though, they cost far less. The chain's suggested price for the Asiago Ranch flavor is $3.99 and the Smoky Mustard Chicken goes for just $3.49 -- half the $7 to $8 that Cosi and Panera generally charge for sandwiches.
On the other hand, the sandwiches are pricey enough to qualify as a "premium" menu item, when you compare them to Wendy's discount "Right Price Right Size" menu. If the economy takes a turn for the worse, that could be trouble.
Bahner agreed that Wendy's and its competitors are facing "tough" economic conditions. But he said that factors like the high unemployment rate and sequestration wouldn't deter Wendy's from its plan to offer "fast-casual quality at fast food prices."
"We have to focus on the things we can control," he said. "There's a lot of emphasis out there in the market on value, and we're doing some of that, too. But we're also going to keep innovating on the premium side."
In other words, Wendy's is trying, like Taco Bell, to pursue a risky two-tiered strategy, aiming to appeal to customers who are focused on value as well as those who are focused on health and quality. National TV ads for the new sandwiches, which will hit the airwaves on April 1, show that Wendy's isn't trying to hide its strategy. The ads emphasize quality, taste and health -- and make no mention of price. Check out one of the ads below:
Calling all HuffPost superfans!
Sign up for membership to become a founding member and help shape HuffPost's next chapter
BEFORE YOU GO
PHOTO GALLERY
Wendy's Logo Evolution