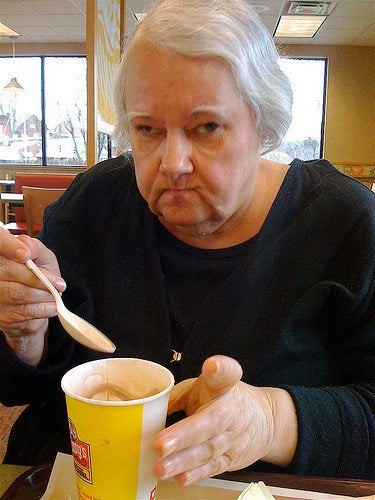 Wendy's is serving up a new kind of, um, questionable combo to raise awareness for a cause.
The fast food chain is partnering up with the Juvenile Diabetes Research Foundation and will dole out four small Frostys -- Wendy's signature ice cream treat -- to anyone who donates $1 to the organization, the global.christianpost.com explains.
As global.christianpost.com points out, while unhealthy eating habits, and sugary foods in particular, are a direct cause of Type 2 Diabetes, they are not linked to Type 1 Diabetes, an autoimmune disorder.
However, as the JDRF promotes on its website, good eating habits -- among those exercising "some good self-control" -- are important to the health of those with Type 1 Diabetes.
One small Original Chocolate Frosty from Wendy's contains 42 grams of sugar. Multiply that by four, and that's a lot of empty calories awarded to those who choose to support the JDRF.
This isn't the only similar partnership in which the JDRF has taken part. In 2011, the JDRF teamed up with Kentucky Fried Chicken in order to offer a similar promotion: Whenever a customer chose to purchase a half-gallon of sugary soda, KFC donated $1 to the JDRF, HuffPost blogger Joe Waters explained.
Perhaps Wendy's should stick to its support of the JDRF Golf Classic, which raises money without giving donors wicked brain freeze. But hopefully anyone buying Frosty's for this worthy cause will share them, rather than scarfing down all four on their own.
CLARIFICATION: This article has been edited to emphasize the fact that excessive sugar consumption, while not beneficial to those with Type 1 diabetes, is not a cause of the condition.
Popular in the Community