Wendy's celebrates spring by continuing its romance with nontraditional burger buns. Later this month it will introduce nationally a Tuscan Chicken on Ciabatta sandwich that it tested last year. Wendy's favorite cheese, Asiago, is back for the Tuscan sandwich, where it will be coupled with spring mix, tomatoes and garlic aïoli.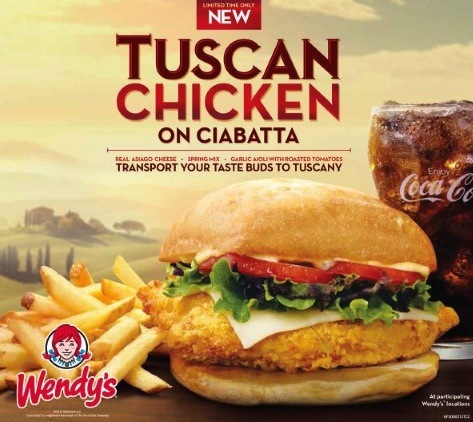 Jack in the Box also is in a "spring chicken" mindset: Tomorrow (April 10) it will introduce a Jack's Blazin' Chicken sandwich with a fiery ghost-pepper ranch sauce. Also on its spring menu are Sourdough Breakfast Melts (with bacon or ham), priced at two for $3.50; a Reese's Peanut Butter Cup Pie and new Vanilla and Caramel Iced Coffees.

These are just some of a wave of new items -- several of them sporting trendy ingredients such as arugula, burrata and aïolis -- heading for restaurant menus in the traditional post-Lent refresher phase. Those pesky fish sandwiches will leave to make room for more interesting and flavorful spring items.
Umami Burger's spring menu includes a new Caprese Burger piled high with on-trend ingredients (roasted portobello mushroom cap, basil-almond pesto, burrata, heirloom tomato, wild baby arugula and truffled balsamic glaze). A new turkey burger called The Springbird (with ricotta and goat cheeses, marinated portobello, braised kale and apple crema) joins the menu, along with a dessert called Arnold Palmer Bowl (green-tea ice cream, limoncello sorbet and a snickerdoodle cookie).
A new Fiesta Burger with guacamole, pico de gallo and jalapeno salsa on a toasted brioche bun is one of more than 30 new items in the largest menu revamp in Hard Rock Cafe's history. The overhaul included a complete reassessment of its burger line and added salads, sides, starters and more.
It's not just chains that are doing spring menu cleaning, of course. Burger bars are perking up their offerings as well. The "Moo Cluck Bloom" spring menu at Moo Cluck Moo in Dearborn Heights, Mich., features a Moo Bloom burger with herbed goat cheese aïoli, Berkshire bacon, watercress and an onion ring. Also new is The Tarragon Cluck chicken burger with grilled rapini, red cabbage slaw, Grana Padano cheese and arugula.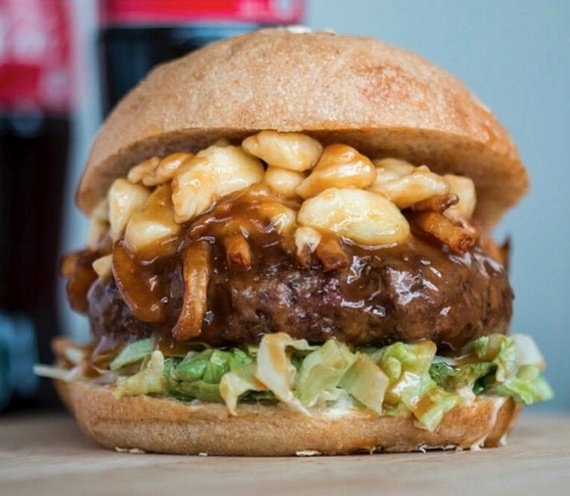 A new spring menu at Jukebox Burgers in Montreal includes a cheese-curd-topped Poutine Burger (above) and a Breakfast Burger, plus Fig and Walnut Salad and more. In Toronto, The Burger Cellar's spring addition is a Watermelon Salad with kale, mint, Kalamata olives and jalapeno.
It's spring everywhere in the Northern Hemisphere! Bread Meets Bread in Glasgow, Scotland, welcomes better (sort of) weather with a new line of what it calls Smash Hit Burgers. The star is a triple-patty burger with American cheese, lettuce, tomato pickle and sauce to which bacon, pastrami, pulled pork or brisket can be added for additional charges. That's the way to welcome spring!